After several months of planning, a group of public officials, mental health professionals, and unhoused people formally announced a set of recommendations for a city response to homelessness that doesn't involve the police.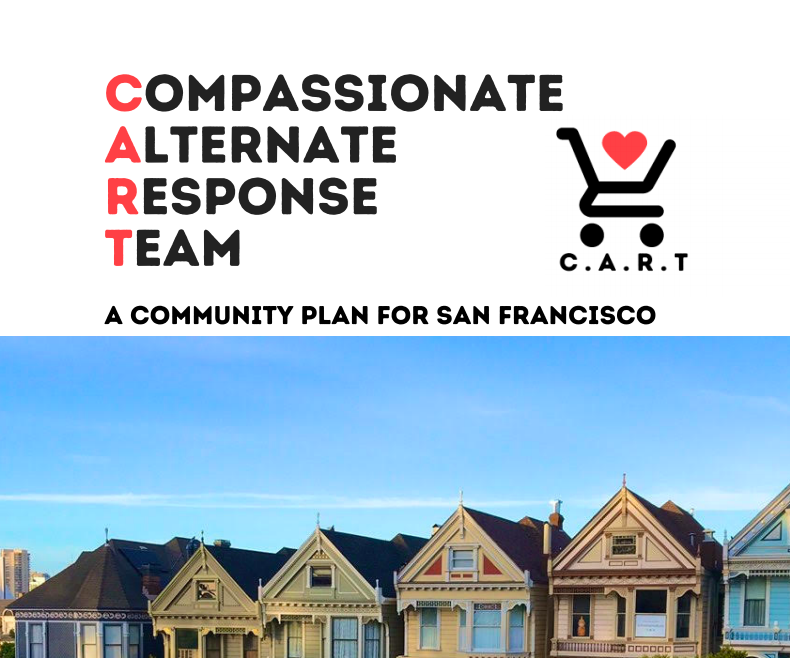 In a 74-page report released Tuesday, the advocates outline a two-component system that would redirect emergency and non-emergency calls involving homeless people to a team of trained dispatchers and first responders acting as a frontline response to homelessness, primarily staffed by unhoused and formally unhoused people.
The Compassionate Alternative Response Team approach would also include a publicly available hotline.
The CART Street Response would create a "community-strengthening hub" made up of housed people with firsthand experience of homelessness who would receive training to more "compassionately respond" to crises experienced by unhoused people in their community.
The hotline would primarily handle C-priority calls, including those related to trespassing, sit-lie ordinance violations, homeless encampments, and reported sightings of "suspicious" people, as well as overflow 911 mental-health calls that have been rerouted to San Francisco's Street Crisis Response Team.
That team was launched in November as a partnership between the Department of Public Health and the Fire Department using a hotline and outreach staff to respond to calls related to homelessness without involving police.
One advantage of CART over SCRT according to proponents is that CART's model is less costly than SCRT—SCRT involves teams of three doing outreach and working with behavioral health clinicians while CART only dispatches pairs of staff and directly employ mental health specialists.
The SF Police Department receives roughly 60,000 calls a year related to homelessness, and according to Police Commissioner John Hamasaki, police often lack the appropriate training to adequately respond to the needs of homeless people, particularly those experiencing mental health crises, and can only really tell them to "move along" rather than providing services and aid that CART staff could connect them to.
"How we have historically addressed [homelessness] has been terribly inefficient, not a good use of resources, and basically putting the wrong people into the wrong place at the wrong time, with a history of really negative consequences," said Hamasaki.
Part of the reason that many calls related to homelessness are often handled by police, Adrianna Camarena, a writer and activist based in the Mission said, is because Healthy Streets Operation Center, which is the city's primary hub for responding to calls related to homelessness, too often involves police.
The head of HSOC is an SFPD commander and 50 police officers were assigned to HSOC in 2018–resulting in police dispatches for calls related to homelessness, often resulting in "move along" orders or disassembling encampments, which can involve in seizure of personal property, such as medicine and wheelchairs.
"It ends up being some kind of balloon effect where police are always involved," said Camarena.
Although the goal of CART is to eliminate HSOC, the SF Homeless Outreach Team would remain in place, focused more on case management and deferring responses to mental-health calls to CART. Deferring this responsibility to CART would also have the advantage of making sure that SF HOT would be able to more exclusive focus on case management and not be used to respond to complaints and conduct homeless sweeps at politically advantageous moments, such as during the Super Bowl during Ed Lee's administration.
"[SF HOT] are working with clients, and then a mayor comes in and says 'no I want you to shift gears. An example of that was how we had, during the Super Bowl, they had a whole bunch of people lined up for that early navigation centers where [homeless people] were so excited that they were going to be placed upon opening, and then the Super Bowl party came and they mayor directed them to switch gears and offer those spots to people along the Embarcadero where the Super Bowl was going to take place. That really eroded trust with the unhoused population," said Jennifer Friedenbach, executive director of the Coalition on Homelessness.
Indeed, of the most important goals of CART is simply to resolve issues of trust between the city and services providers and unhoused people. Often, homeless people are subject to theft of property, including by police, and have negative experiences navigating San Francisco's vast matrix of services, often ending up homeless again at the end of it all.
"This program is going to be really helpful…[unhoused people] need someone to talk to, someone to trust, that's the main thing," said Cindy Kenner, who has been unhoused for 15 years. "You don't trust people out here, on the street, you don't trust nobody. You never know what's gonna happen. If I had this program a long time ago, I wouldn't be here talking to you today, I'd have my own place."
CART has yet to actually begin operations, as CART is still being coordinated between community stakeholders and organizations, members of the Board of Supervisors, and the Mayor's Office. The soonest it could become operational is May 2021. You can follow CART at @CART_SF on Twitter for updates.