For six years the Anti Police-Terror Project has demanded that Oakland divest public money from the Oakland Police Department and reinvest those dollars in our communities, with specific emphasis on the need for non-police mental health services. 
Every step of the way we have been up against Mayor Libby Schaaf's efforts to continue funding police, ignoring the efforts of grassroots organizing by Black Oaklanders and community leaders, all the while painting herself as a progressive voice of the people.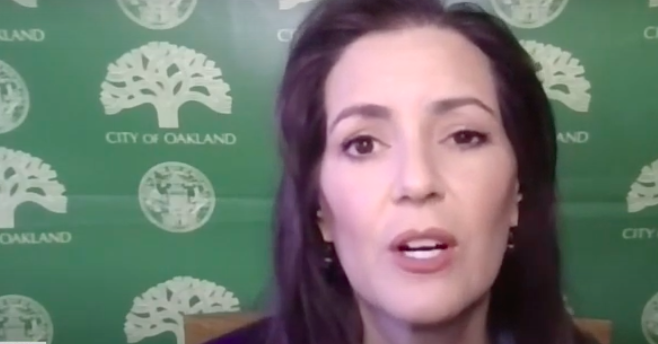 Recently, Schaaf spoke with The Appeal Live about the soon-to-launch MACRO pilot program where she presented herself as a supporter of replacing police with mental health experts as first responders: "I want to give Oakland credit for being an early adopter." She went on to erase the work of BIPOC organizers whose efforts are what forced this program into reality, conveniently omitting that she has led the effort to tank this initiative for nearly two years.
Schaaf won't limit herself to a progressive audience. If the program audience calls for it, she will advocate for increased police funding, too. Two weeks before the Appeal interview, she went on Fox News and asked Oaklanders to call their council members and tell them to "restore the police services that we had to cut" and that "people miss their walking officers, the officers that enable us to clean in and around encampments…"
Mind you, these are services that Schaaf and the city administrator cut in the first place with no counsel or input from the City Council, only to then blame the Council for the cuts.
When we look beyond the performative public statements and focus on the facts, there is no doubtwhich side Libby is on.
In July 2020, after Oaklanders rose up by the thousands to demand the City of Oakland defund OPD, Libby Schaaf cast the deciding vote against a $10 million cut to the police budget.
Schaaf's administration consistently tries to jam police spending into any funding package they can. Currently she's trying to use $44 million from the federal stimulus to give even more money to cops by diverting money to the general fund, neatly tucked alongside a line item to pay $6,391 for a new pool manager at the Lions Pool. Schaaf's spending history tells us that this $44 milllion blank check for the general fund is her easy way to continue sending money to her favorite police department.
Who is Schaaf performing for? 65% of Oaklanders support defunding the Police Department and reinvesting in community resources. We are tired of doing the same things and expecting different results.
We are tired of trying to achieve peace with violence and we are tired of overfunding the Oakland Police Department and starving our communities from the resources they need to forge true pathways to safety.
Libby Schaaf, on the other hand, is committed to ignoring the will of the people while pretending to be on both sides whenever it's politically advantageous; dead Black bodies be damned.
When Shaaf was first elected in 2014 she ran on a platform focused heavily on increasing police funding. The results are that today we spend over $350 million on OPD, while simultaneously finding ourselves in the middle of the largest spike in violence since 2012.
Her bloated police budget, and insistence on a singular and violent public safety plan, has not made Oakland streets any safer. People, specifically Black people, continue to die because we continue to ignore proven public safety strategies that literally would save lives, leaving Oaklanders frustrated and bewildered. Why does the mayor continues to dig her heels in to defend the failed system of policing?
Despite law enforcement attempts to blame the recent homicide rates on the Defund Movement, the reality is that law enforcement has the money now. And our people continue to die now.
We will not build safe communities for all of us if we continue to rely solely on law enforcement. Mountains of data demonstrate that the safest communities are always the most resourced communities. There is no surprise factor around the recent rise in crime when our elected officials commit less than one percent of our general fund to housing while spending nearly half of our general fund on a police department with an abysmal rate of success.
Police are violence responders. Not violence interrupters. Oakland must invest in root-cause preventive strategies. We need to interrupt the conditions that create violence before it happens, not send condolences to another mother as she puts her child in the ground. Oakland must Refund, Restore, and Reimagine. Our lives literally depend on it.
APTP commissioned the review of more than 400,000 Oakland 911 calls and found that only 4% of OPD service calls are for "violent crime," and 7% for "property crime." The vast majority of what the police do does not require someone with a badge and a gun — and then distracts them from focusing on addressing the things Oaklanders say they want them to do: responding to and solving violent crime
Oaklanders are tired of the faulty logic that results in over-spending on police, and underspending on over-traumatized communities due to a failure to commit to investment in programs that actually keep us safe, like housing for all and thriving schools.
Oaklanders need and have been needing immediate relief since long before this pandemic—yet the police budget is the only one the mayor continually advocates for. Even as OPD overspends its allotted overtime budget by millions and millions of dollars every year, Schaff continues to look for new ways to fund their department.
While the mayor refuses to engage with Oaklanders who are imagining a new future for all of us, we have been busy setting up alternative programs — like Mental Health First, Oakland's first, only, and free, non-police service for people experiencing mental health crises, substance abuse issues or interpersonal violence — to show how defunding the police can be achieved.
It's going to take a long time for our society to wean ourselves off the false narratives and political addiction that is police spending. But we owe it to ourselves to take every step to ultimately make it happen so that our children can walk the streets of Oakland without fear — without a police car following closely behind them, and with a thriving, safe, resourced community laid out before them.
Cat Brooks is the co-founder of the Anti Police-Terror Project, the Executive Director of the Justice Teams Network and an award-winning artivist resident playwright and actress with The Lower Bottom Playaz and 3 Girls Theater and the co-host of KPFA's UpFront.