Yesterday the Chabot Elementary school in Oakland received a bomb threat. Children were sent home from school as law enforcement officials combed through the school to check to see if the threat was real. Per local officials, the threat is the culmination of increasing threats received by the school stemming from hateful social media comments, specifically about a playdate that welcomed Black, brown and Asian Pacific Islander children.
The event was picked up by a national conservative social media account and held up as a use case of woke culture gone mad. This led to teachers and school administrators getting viciously racist emails, culminating in yesterday's bomb threat. The bomb threat is a real-world impact of the rightward shift we've seen online and in person in Oakland in recent months. School officials spoke out about the virulent attacks they received in response to the event, which the school held last year without issue.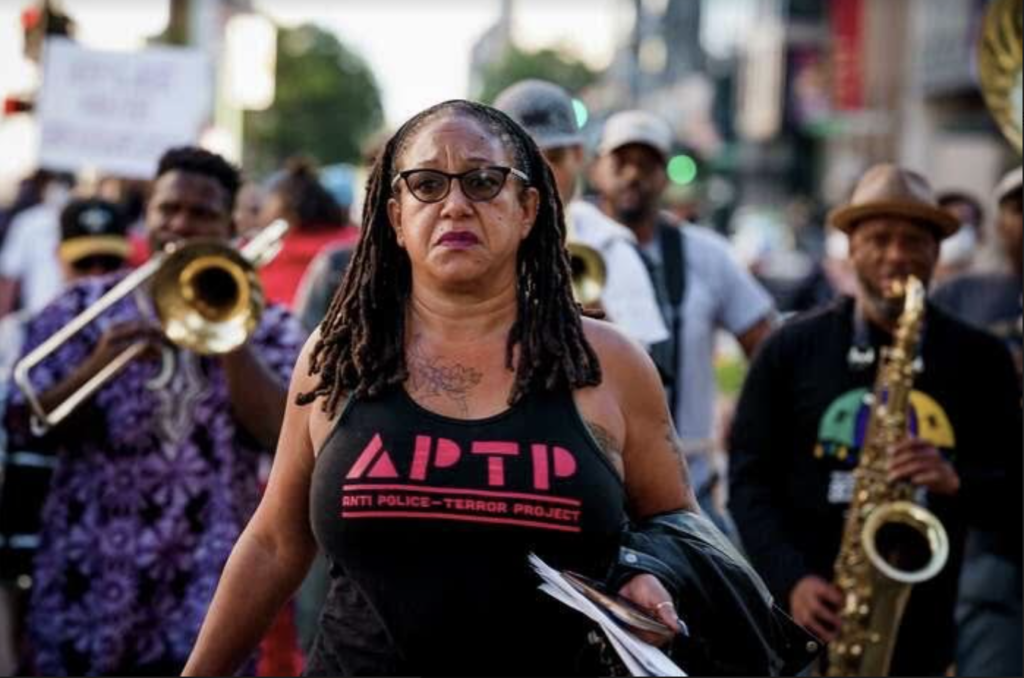 Cat Brooks at a rally. Photo by Jungho Kim

In 2015, the resonance of Donald Trump's presidential bid sent shockwaves through the United States. As a KPFA radio host on UpFront, I sounded the alarm, recognizing the dangerous potential for his success. His inflammatory rhetoric offered a platform for thinly hidden racism to re-emerge from beneath neo-liberal veneers, fostering a new surge in hate. With the Black Lives Matter and Defund movements gaining momentum, a familiar pattern emerged—the white backlash against human rights progress that Black-led movements have faced for centuries.
Fast forward to today, Donald Trump continues to cast a long shadow, emerging as the driving force behind the right wing's charge in the forthcoming 2024 presidential election, despite countless legal charges against his name. And here in the Bay Area, new focal points are emerging closer to home.
Oakland and San Francisco are standing face to face with a local menace that demands our immediate and unwavering attention. The teachings of history hang in the balance, and we teeter on the edge of permitting a forceful reactionary surge to consume our hard-won progressiveness.
In the wake of orchestrated political upheaval, San Francisco District Attorney Chesa Boudin was ousted from office, replaced by a candidate aligned with the SF Police Association and Mayor London Breed.
The repercussions have been dire. San Francisco's police force have reverted to shooting marginalized residents unchecked, the War on Drugs resurged, policies protecting the homeless are being undermined, and gentrification continues its insidious march.
Over in Oakland a similar threat is similarly weaponizing misinformation and capital to strip away our progressive foundations. They are mounting an effort to recall District Attorney Pamela Price, and are aiming to run every progressive out of town. The threat is multi-headed.
The Oakland branch of the NAACP, an institution long lauded for its civil rights work, has always proffered proximity to power as a social change tool. This rarely has fared well for our people. The group's most recent shenanigans include co-opting the Black Lives Matter slogan to defend a corrupt police chief — whose firing they dubbed a "modern day lynching" — and, more recently, calling for a state of emergency. This maneuver, if successful, could lead to the National Guard patrolling Oakland streets. A reminiscent tactic from history, this co-optation of activism is the antithesis of progress. It's a reminder that vigilance is our greatest defense against forces seeking to erode our rights.
Another front is a new actor in town, an organization called "Neighbors Together" reminiscent of Trump in tactics and fervor. It's gaining traction because of the group's willingness to sell out their people for the highest bidder. This organization is backed by out-of-town wealthy elites and monied interests, threatens our values. They exploit mainstream media to distort reality, weaponizing fear and pain for their political ends.
The battle is also waged within our own ranks. Failed politicians like ex-City Councilmember Loren Taylor, driven by self-interest and a desire for power, have aligned themselves with these forces, peddling dangerous narratives.
Our unity, strategies, and determination must mirror the urgency of the situation. If they succeed in taking down another progressive prosecutor, we all know they won't stop there.
It's time to set aside internal differences and rally for a just, equitable, and humane Oakland where all can thrive. Communication, discipline, and organizing are paramount. We need solutions that address the fears and pain of our community. We need to finally get serious about ending our housing crisis, which contributes to our mental health crisis. We need to invest in violent prevention solutions that we know work. Oakland's safety and our shared future is at stake.
Let us not allow history to repeat itself. We are the vanguard, the torchbearers of progressive change. There was no bomb at the school yesterday and no one died, but our children won't forget the threat, and we may not be so lucky next time.
Oakland is not just a city; it's a beacon of hope for people across the nation, a living testament to the belief that change is possible, that progress is within reach. But this beacon can only shine as bright as our collective will allows. Let our legacy be one of resilience, of unity, of a city that refused to surrender its progressive soul.