For W/Bob & David writer, Top Secret Videos actor, and stand-up comic Brian Posehn, San Francisco is more than just another tour stop.
In fact, the Redwood City native—who first made a name for himself in the City by the Bay's considerable comedy scene before relocating to LA in the mid-'90s—still sees it as "home."
So after a two-year absence from the City's stages, Posehn is eager to return for five in-person shows at Cobb's Comedy Club, starting Thu/17.
"Northern California is my favorite part of the country, so it's always a treat," Posehn told 48 Hills. "Even after all these years, Cobb's still feels like my home club, so I'm extra excited to be back doing my non-essential job on my home stage."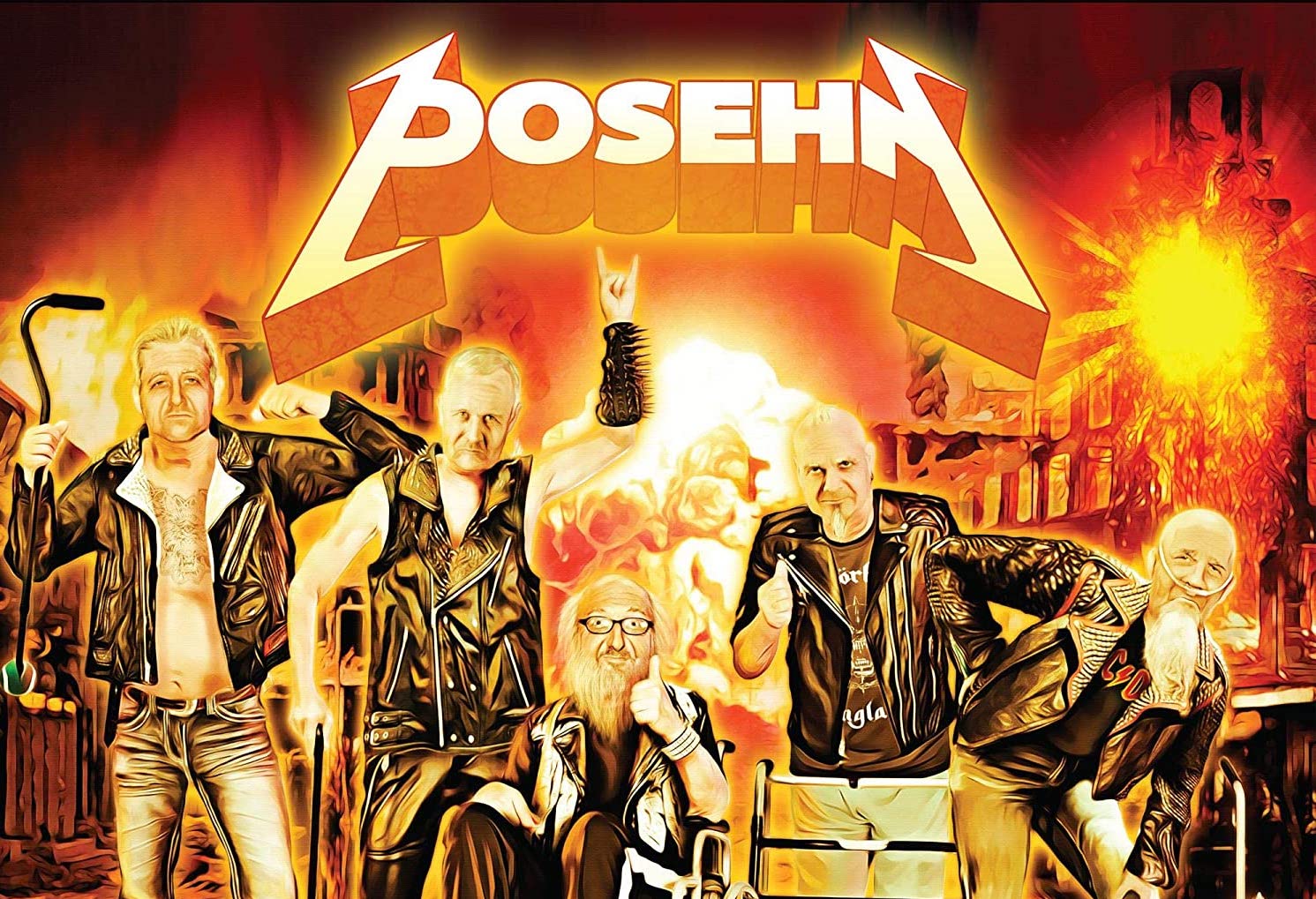 After kicking off each show with a quick "how I spent Covid" recap, Posehn promises to dish about everything else going on in his life—from being a dad and a dog owner to his broader worldly concerns—in between trips to his favorite local Chinese restaurant, House of Nanking.
"I have a lot of new stuff—a whole pandemic's worth," said Posehn.
The multi-hyphenate caught 48 Hills up on his recently-released Grandpa Metal album, sketched out his ultimate career goals, and explained why he's a bigger fan of metal and nerd culture than baking or getting baked.
48HILLS You've been so associated with metal music throughout your career, from your albums to your weekly DJ show on GimmeMetal.com. What is it about the genre that keeps you so engaged?
BRIAN POSEHN I love the stuff I grew up with. It's like comfort food: loud, crunchy, metallic comfort food. And I love a lot of the current metal being created by the old bands and youngsters that were influenced by the classics.
48HILLS What I love about your "Grandpa Metal" single (from the eponymous POSEHN album you made with members from Anthrax, Dethklok, Slayer, and Soundgarden) is that it operates on two levels. There's this "old metal is better than new metal" assertion, but it's also making fun of older people who are stuck in the musical past. What's your stance on old metal versus new metal?
BRIAN POSEHN Ha, yeah, the song "Grandpa Metal" is really about my friend (and bandmate in POSEHN) Scott Ian from Anthrax and how he's stuck in the '70s and '80s and technically hasn't liked a new band since 1992. I still consider myself a "Grandpa Metal," but as I said, I will still check out a new band—especially if they sound like something from 1987.
48HILLS Speaking of blasts from the past, I appreciated a lot of what you had to say about the missed joys of renting videos and DVDs in The Last Blockbuster documentary. That movie and the feature-length All Things Must Pass, about Tower Records, seem to dredge up a lot of nostalgia for the good old days. What have we lost in the transition from in-store physical media purchases and rentals to at-home streaming?
BRIAN POSEHN The physical act of diving through CDs, vinyl, cassettes, DVDs, and Blu-rays to find a "band you heard about" or some "movie that is like this other movie"—or just mindlessly looking with no direction until you find what you weren't even looking for. It still exists at places like Amoeba and Rasputin, and more people just need to make those places a weekly stop, like during the boom of record stores. For me, every day is Record Store Day.
48HILLS Looking at all your TV, film, music, videogame, writing, and podcast work, I imagine that you've already fulfilled so many of your professional goals. What's left?
BRIAN POSEHN I'm not done. It would be super cool to be in a good Marvel Movie (Fantastic 4: Rise of the Silver Surfer doesn't count), a DC film, or a horror flick where I have a bigger part—protagonist or antagonist. I'd love to be in a Blumhouse horror film that a billion people see.
48HILLS So many of us remember you from Mission Hill, The Sarah Silverman Program, Just Shoot Me!, and The Big Bang Theory. If you had the opportunity to resurrect and rejoin one of those shows, which would you choose and why?
BRIAN POSEHN Oh man, wow, that is a tough question. I love all four of those things, and they all meant a lot. I would say The Sarah Silverman Program because she's my pal and she wrote the part for me, so I connected with it the most on a personal level. Mission Hill was a cult classic and we only did one season of it, so it would be nice to explore those characters and stories more than our initial run. But I'd say yes to all of them.
48HILLS Since it's Pride month, I'm curious to hear what you learned about the LGBTQ community in your time playing Brian Spukowski on The Sarah Silverman Program?
BRIAN POSEHN Oh man, the love. People loved those characters and their relationship and related to them, so when I would meet someone who connected with Brian and Steve and they shared that with me, it warmed my heart and made it probably the most worthwhile character I've ever played.
48HILLS You sometimes play guys that don't have the best luck with women, like Kevin Liotta on Just Shoot Me! or Bert Kibbler on The Big Bang Theory, yet you've been in a relationship for over 20 years. What's the secret to its success?
BRIAN POSEHN Good question. We're just really compatible; our personalities are better together. The corny answer is the real answer: communication. We talk about everything. We don't fight, and if we start to fight, we talk it out always. We've tried to never go to bed mad at each other—another cliché—and it has worked.
48HILLS How would you describe the experience of appearing on Nailed It!? Did it make you want to bake more?
BRIAN POSEHN That was a blast—so fun. Nicole Byer is the funniest, warmest host on TV. It was my first job back, and it couldn't have been more fun. And no, I'm good with just eating baked goods. Baking is too hard.
48HILLS Speaking of baking, I know you've mentioned your affinity for pot more than once and also your efforts to quit. Where are you with that now?
BRIAN POSEHN That's between me and Mary Jane. And that is the most Snoop Dogg thing I've ever said.
48HILLS As someone who's been a huge proponent of nerd culture, are there certain "nerdy" things that are too nerdy for you?
BRIAN POSEHN Not really. There may be areas of nerd culture I'm not familiar with or I don't feel a connection to, but I love that it exists for other people. Nerdiness is for everybody.
BRIAN POSEHN Thu/17-Sat/19, $25. Tickets and more info here.