Kloe Chan is a multidisciplinary artist who works with trash. From her live-work studio in Oakland's Jack London Square, Chan exercises her creative muscles in diverse methods and materials. Chan was born in New York City to parents from Hong Kong. When she was four years old, after witnessing the fall of the twin towers on September 11, her parents decided it was time to leave the United States. They settled in Shanghai where Chan was raised until she graduated from high school.
"Contrary to most of my peers who faced high academic expectations from their parents, my siblings and I had the freedom to be expressive. Our childhood was spent rollerskating in the complex, making popsicle rafts, and building kites with disposable chopsticks and plastic bags," she said. This early freedom speaks volumes to her current work.
Chan arrived in Oakland in 2015 to study at California College of the Arts. Her parents, initially reluctant in her decision to study art as a career, were persuaded by Chan's high school art teacher at a parent-teacher conference. They decided to support her decision if she received a scholarship, which she did. She graduated from CCA in 2019 with a BFA in Sculpture and Community Arts.
Numerous individuals have contributed to Chan's journey, but three women played an indispensable role in her growth. Her mother taught her how to work with her hands and how to love unconditionally. Yoko Ono taught her that art doesn't always have to be an object but can simply be an idea. Social justice artist Claudia Bernardi taught her that art can be used to heal and empower communities.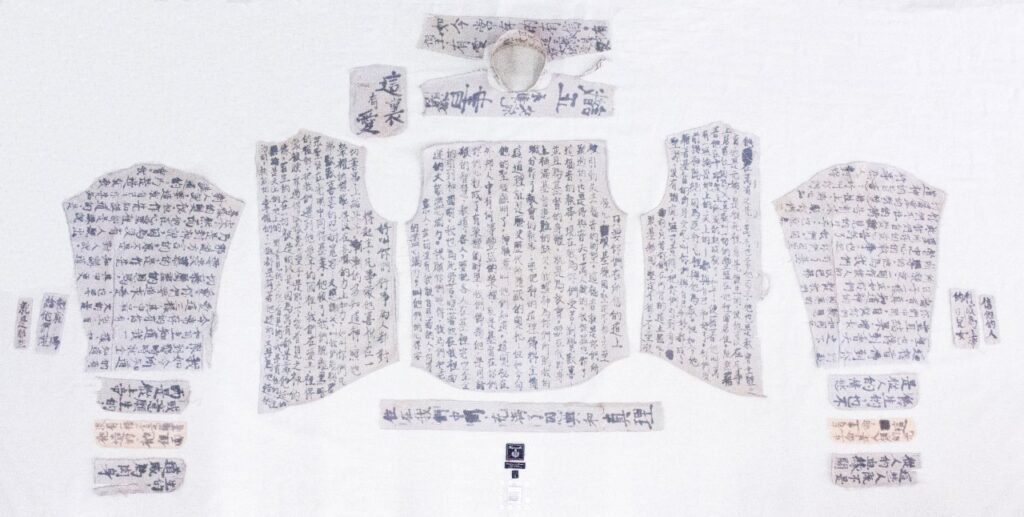 As someone who enjoys working with various media and processes, Chan finds each day in the studio is different, whether she is dyeing fabric with avocado pits in her kitchen, making paper on her balcony, or sitting by Lake Merritt composing poetry on a typewriter. Most of her materials are discarded, donated, or collected; old bedsheets, deconstructed garments, used paper, empty wine bottles.
A remembrance occurs. Chan sees her approach as a privilege to engage with the past while providing a second life. "This process is a dialogue and a dance where raw materials inform the final product as much as my initial idea," she said.
Chan shared that she once suffered from severe depression and battled with suicidal thoughts. "For the longest time, I relied on art to bring me out of the darkness," she said. But art as therapy only worked so far and Chan says what truly healed her was religious faith. "It has liberated me to make art that doesn't just point to everything that is wrong in the world but to find solutions and make meaningful connections," she said.
Her piece, I Will Knit Us a Sanctuary, is one such example of that philosophy. Designed as an interactive, protective cocoon that viewers can enter, it was in incubation for over a year, took three months to knit and measures 12 feet by 12 feet. The piece takes on deeper significance in these times, providing emotional refuge.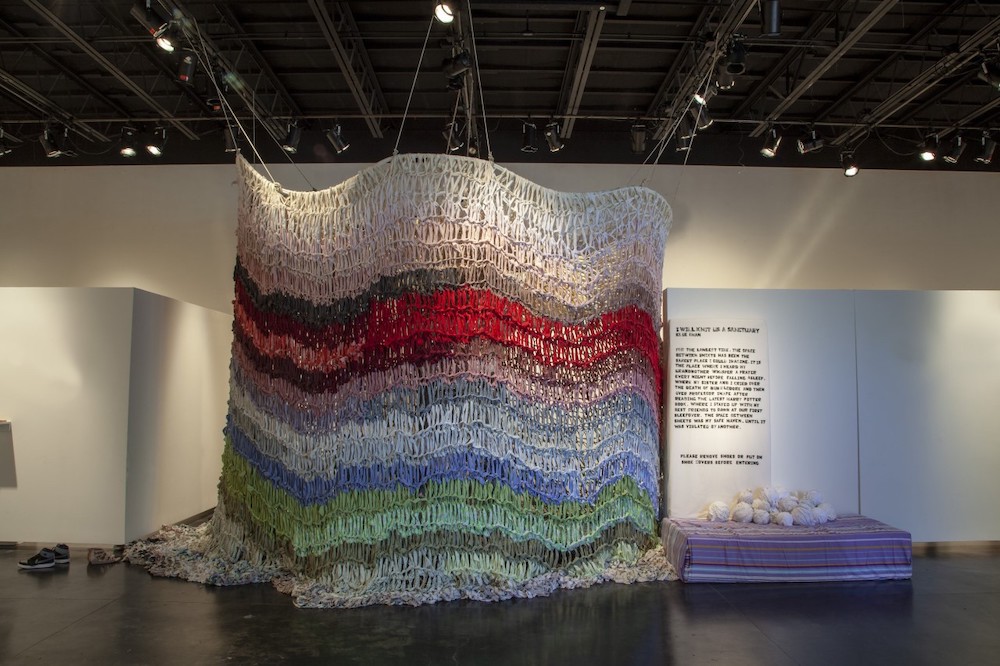 Chan describes her pursuits as resourceful, laborious, and archival—and one must agree. Just before COVID, she had been working on building instruments and sound installations out of scrap metal and salvaged materials for the El Cerrito Creative ReUse Artist Residency Program, which unfortunately, was cancelled. Her dream is to extensively explore the sonic qualities of materials and to bring them to life in a performative way.
Physical space and community play a very important role in her creative process, something she realized more deeply through the pandemic as that access became abbreviated. What motivates her is a vision of bringing people together and all the spontaneous connections that can take place. "There's a lot of potential in the virtual world, but technology-mediated communication still lacks the freedom that physical presence gives," she said. Shelter-in-place did give way to more time spent with family, which inspired a quilt project with her younger brother, helping to alleviate anxiety and uncertainty.
Looking forward to a post-pandemic landscape, Chan hopes that by utilizing the gift of human connection in her work, it will spark wonder and inspire others. "Creativity is often commodified by corporations, but it is a priceless gift that can only be lived, not bought. We are born to create," Chan said.
Chan has exhibited her work since 2014. She was recently commissioned by CCA to create an archive in book form of the Oakland campus as it transitions all facilities to San Francisco. Chan also works in a dementia care center in San Francisco where she engages seniors in art-making as a therapeutic practice. She enjoys cooking and gardening and is learning to play the cello. For more information, visit her website at kloechan.com.