There's a dual purpose behind artist Alice Beasley's illuminating narrative works in fabric. One is to construct takes on who and what she sees around her; people she encounters become characters in her stories, and ordinary objects are transformed into still-life works. Then, there's the politics of her pieces.
"The political world has become insane, and my art is a way to talk back against the craziness around me," Beasley told 48hills.
She was born in Tuskegee, Alabama and grew up in Detroit. She studied journalism (BA, 1962) at Marygrove College in Detroit, and came to the Bay Area in 1970 to go to law school. She completed her juris doctor from UC Berkeley in 1973 and specialized in Civil Rights litigation.
"I started making art to give myself relief from my day job as an attorney. I needed something peaceful and beautiful to counter life as a litigator. I'm retired from my law practice and now, art is just who I am," she said.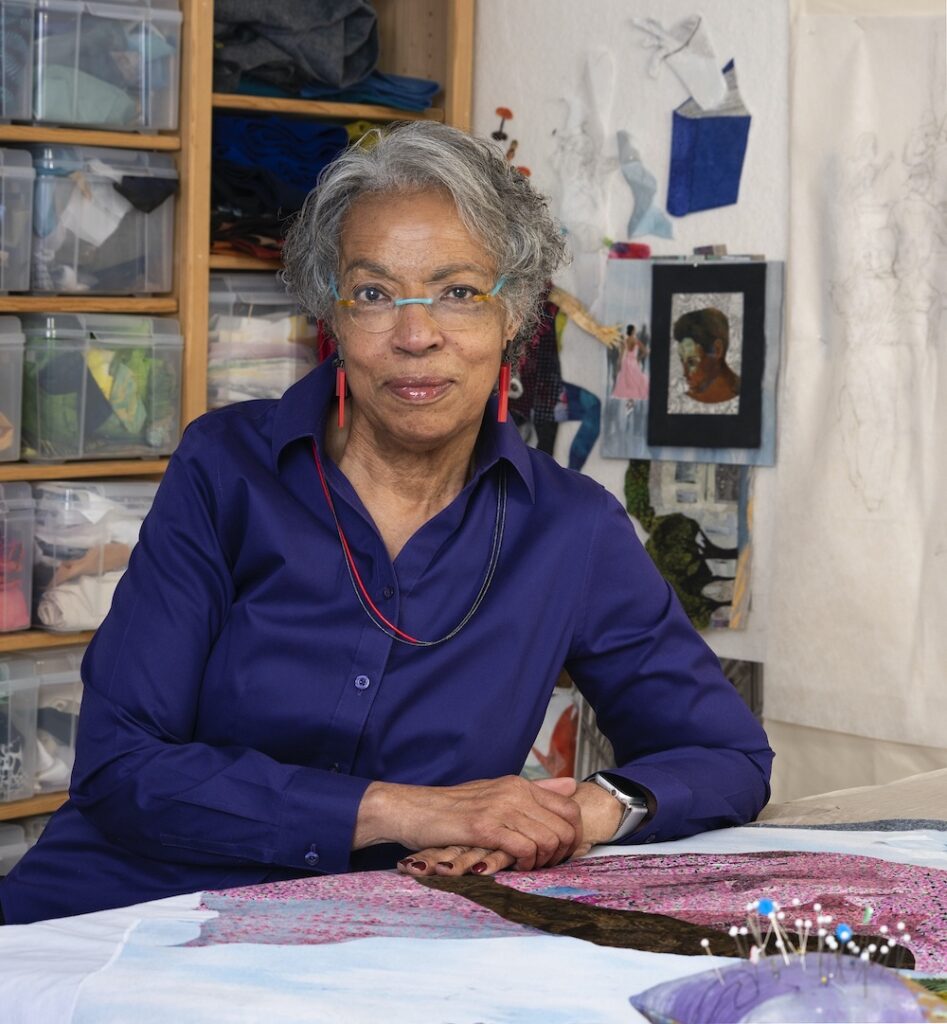 A resident of the Piedmont neighborhood of Oakland, Beasley loves its fantastic access to the myriad of artists and art forms in the Bay Area, from museums and galleries to pop-ups and other creative events. She's inspired by how other artists capture light and form, and learns lessons from them which she incorporates this into her own process. She cites Leonardo DaVinci as an inspiration, fascinated with his mastery of illumination and shadow. In her estimation, he was the first to discover many of the principles that form the basis of art today.
"I'd love to take a deep dive into his techniques," Beasley said.
Primarily working with the figure in a storytelling style, and utilizing machine appliqued techniques, Beasley is a self-taught artist and has had to learn on her own how to produce realistic portraits using fabric. She feels that her whole artistic career has been about perfecting this skill. Each piece is created from patterned fabric and thread; there is nothing drawn or painted on in embellishment.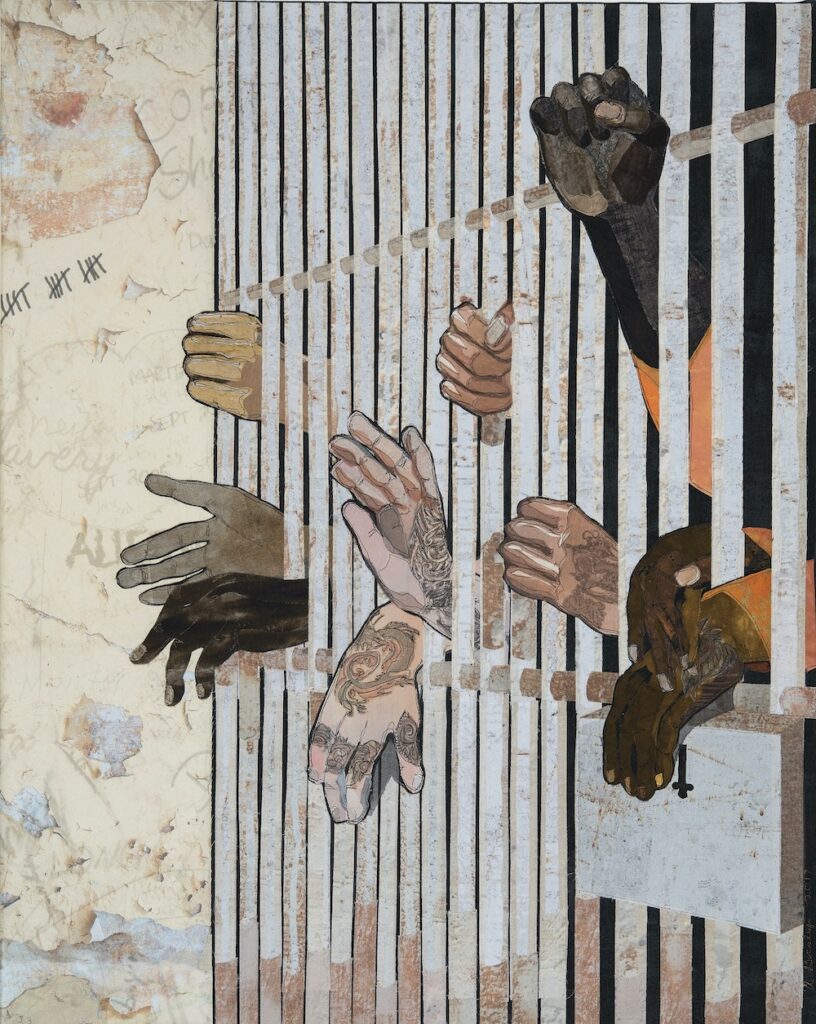 Her studio is on the lower floor of her house in a room with a brick fireplace, and contains serious equipment to create her work. There are two large stainless-steel restaurant prep tables on wheels for cutting and pressing, a Janome sewing machine in a large Horn cabinet table, and a Canon Pro-2100 printer that she uses to print imagery onto fabric. There is a design wall at one end of the room for works-in-progress, while the other walls are lined with wire basket storage units that contain fabrics sorted by color. This is her palette. If she doesn't have a commercial fabric that works, she prints her own, using stock photographs from a website image provider such as Shutterstock.
"If I'm doing a portrait of a person, I start with the face. I select the fabrics that will comprise the various elements, iron a fusible webbing onto the back and then cut out the shapes—usually freehand with a rotary cutter—and assemble these parts onto a muslin base," Beasley said of her process.
After working on the face, she proceeds to fill in the rest of the figure, putting things up on her design wall as she goes along to gain perspective. When the characters are complete, she turns to the background using the same process. Finally, she fuses it to a felt backing and quilts the entire piece, using stitch lines to accentuate detail.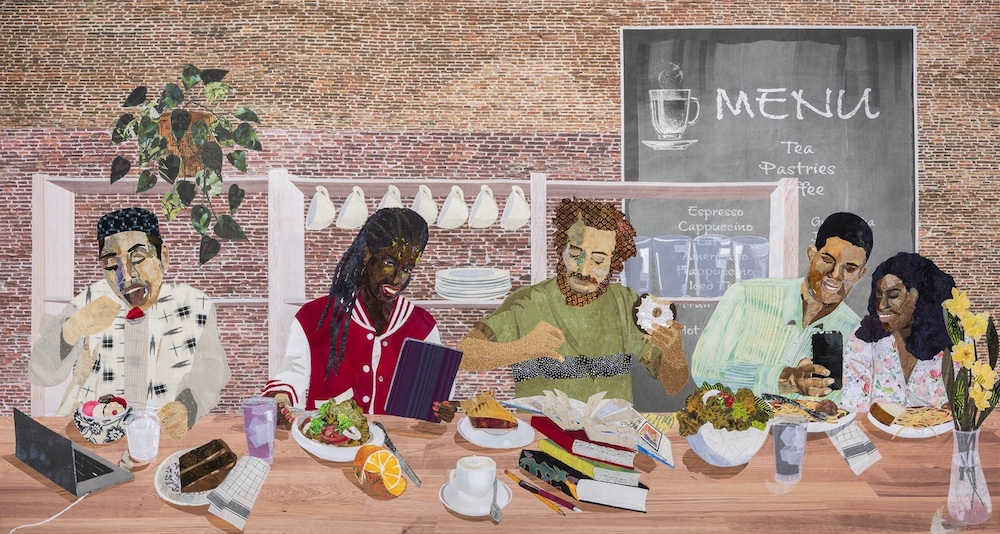 Reflecting on her journey navigating the pandemic, Beasley said the primary effect on her was to slow everything down. She found it difficult to shake the sluggishness that came from being house-bound. Making things particularly difficult was that the previous year, she had undergone a serious health challenge that stopped her in her tracks for six months.
"Just as I was coming out of that and getting back into my studio, the pandemic hit. I think I'm back to normal now, though a little less energetic because I'm in my 70s," she said.
Despite these hardships—or perhaps because of them—Beasley injects humor, realism, and sarcasm into her work, while addressing important subject matter and a retracing of history. The Civil Rights movement is echoed in such works as "Stay Strong," "The Silence," and "No Vote, No Voice." Regarding social media as an outlet for expression, Beasley is not a fan and only an occasional user.
"I think social media continues to reward short attention spans and the lowest common denominators in society," she said.
Beasley's work has been exhibited and included in private collections across the country including the DeYoung Museum, the American Folk Art Museum in New York and the Smithsonian Anacostia Museum in Washington, DC. Internationally, she has exhibited in Japan, Spain, France, and Namibia.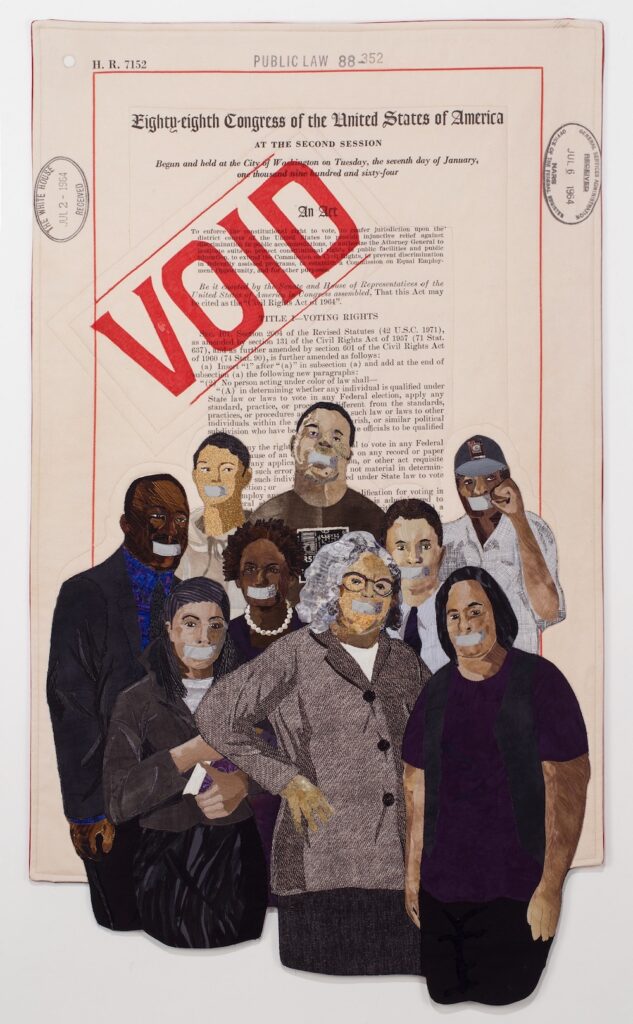 This past spring, she showed a retrospective of her work at Los Medanos College in Pittsburg, California. Her piece, "When and Where I Enter" was featured in the group exhibition "Women's Voices, Women's Votes, Women's Rights" from September 2022 through April 2023 at the Clinton Presidential Center in Little Rock, Arkansas. In addition, she had several works currently on view at 45 Fremont Street in San Francisco.
Her piece, "No Vote, No Voice" has been on the road with the Studio Arts Quilt Associates (SAQA) exhibition, "Layered and Stitched: 50 Years of Innovative Art." Its final venue is the International Quilt Museum in Lincoln, Nebraska, and is currently on exhibit there through December 31. She is also working on a new series titled "Undercurrents," depictions of underwater ballet scenes.
Alice Beasley's work tells us an important American, human story, seen through the lens of the African American experience. Her creative soul seeps into every stitch and placement of color and shape to tell us that story. And if she's not working fabric, you might find her making music. In 2016, Beasley decided to learn to play the piano and is finding it tremendously challenging and rewarding. Her creative endeavors are a treasure to her community and a life map worthy of attention.
"I hope you enjoy my work. I hope that some of it makes you laugh, and that it's not the wrong parts that you are laughing at," she said.
For more information, visit her website at alicebeasley.com and on Instagram.