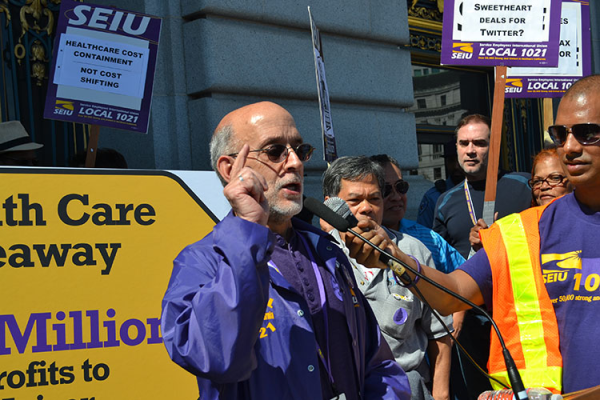 By Larry Bradshaw
SEPTEMBER 1, 2014 — On Labor Day, we celebrate the American worker – but this year, many workers wonder what the celebration is about. Growing economic inequality is dragging down so many working families. These are tough times for many Americans.
CBS News just reported new census data showing that from 2000 to 2011, the poorest Americans saw their net wealth drop by more than $5,000 dollars. During that same period, the wealthiest American's saw their wealth jump by more than $61,000.
But this is also a time of hope. In 2014, a national movement to raise the minimum wage in our low-wage economy has taken off, and shown us a path forward to reducing economic inequality.
The American public understands that voting to raise the minimum wage will have an immediate benefit for workers—and not just fast-food employees, either. In San Francisco and Oakland, for example, voters will consider ballot measures this November to increase the local minimum wage. More than 150,000 workers will immediately get a raise, and that figure is expected to go up in future years.
When employers treat those workers fairly, we all benefit. Projections show those 150,000 workers will earn nearly $200 million in added income every year —and much of that money will be spent immediately, helping our economy grow.
Is it any wonder that raising the minimum wage is overwhelmingly popular among voters? Most polls show that 60% to 80% of voters are in favor of a hike in the minimum wage —although politicians still have some catching up to do.
For all these advantages, though, raising the minimum wage is only step in a long road to treat workers more fairly.
A next step is to provide paid sick days to all workers. This is simple human decency—and it is also good for public health. Many workers without paid sick days, unfortunately, work for restaurants. Others work in occupations where they have extensive contact with the public. Everyone is at risk if these employees are forced to work while they are ill. Oakland voters will be deciding whether to grant between five and nine paid sick days to their workers (which San Francisco already has).
One more step for these very vulnerable workers is to allow them to join together to form a union. It is not just the traditionally low-wage workers who are being exploited. At colleges around the country, including here in the Bay Area, professors are being replaced with temps, and forced to work without any protections or benefits. Workers at non-profits are pulling more dangerous and complex assignments, as medical and law-enforcement responsibilities are shifted to them—without any resources to help.
In the new American economy, those workers are now coming together and joining unions like my own SEIU 1021, as part of their efforts to grapple with our economic difficulties.
This Labor Day, the public and the labor movement both have a challenge. How do we take our hope, and our efforts against economic inequality, to the next level? How do we think bigger and more creatively? How do we change the rules of the game so they are fair to all the players?
In the Bay Area, we have an idea. This is the highest-cost, highest-inequality region in the country. Community and labor groups are uniting to pass a "Regional Referendum" to raise the minimum wage in not just one but several major cities, and to grant cost of living increases and paid sick days for everyone in our community.
In Oakland and San Francisco, voters will weigh in on ballot measures this year. Richmond and Berkeley are likely to vote for strong, progressive minimum wage laws in 2015 and 2016, while other cities around the region—from Emeryville to Santa Rosa to Hayward—are developing legislation for their City Councils.
Washington might be deaf to the pleas of low-wage workers—but this Labor Day we have hope in the states, counties, and cities. We have a path forward. Fast-food workers caught our hearts. Seattle started a movement. The Bay Area can develop that momentum into a model for the nation.
It's time to have hope—and act decisively to give America a raise and a shot at fair benefits and working conditions. That's something to celebrate for Labor Day.
Larry Bradshaw is a vice president of SEIU Local 1021