Housing dashboard and quarterly report show massive loss of affordable housing — and too much housing for the rich, not enough for everyone else, in the pipeline for the future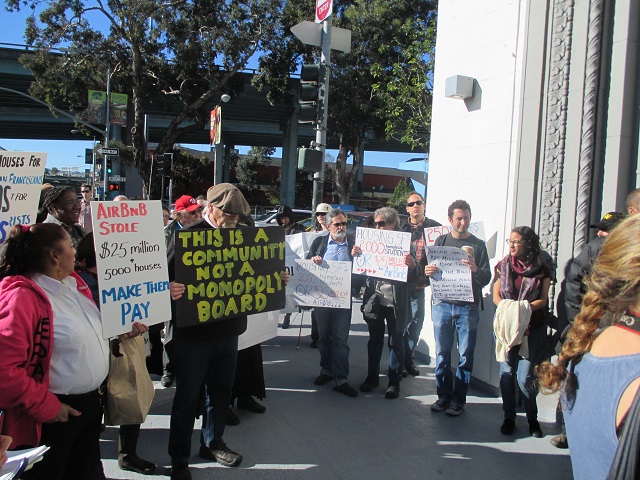 By Tim Redmond
JULY 13, 2015 – The city's report on affordable housing for the final quarter of 2014 finally came out last week – and it's bad news for anyone who thinks we can build our way out of the crisis.
The report says, in essence, that the city is losing existing affordable housing almost as fast as it's creating new units.
That reflects the point that tenant advocates have been making for years: In a crisis, the most valuable affordable housing is the housing that already exists, and stopping the evisceration of rent-controlled housing stock is just as important as any plans to build new housing. Saving existing housing is also a lot cheaper.
The report shows that the city built 6,559 affordable units between 2004 and 2014. That's only about 650 a year.
And in the meantime, no-fault evictions – that is, tenants thrown out so the landlord can make more money in another way – have destroyed 5,470 affordable units by removing them from rent control.
That means 83 percent of the gain the city has made by building new affordable housing has been offset by evictions.
That's a staggering number, and suggests that preventing tenants with rent control from getting forced out of their homes is such a priority that the city needs to spend a whole lot more money on it.
The supervisors refused to fund more eviction defense this year, after Sup. Mark Farrell said that too many of the groups getting that money were coming to City Hall and fighting for things that he didn't like.
The supervisors will have a chance to taken step toward ending the loss of housing tomorrow (Tuesday/14) when a measure by Supervisors David Campos, Eric Mar, and John Avalos to limit short-term rentals by outlets like Airbnb and VRBO. The measure shares two key points in common with a ballot initiative that is likely to be in front of the voters in November: Both would bar hosting platforms from listing short-term rentals unless those units were registered with the city – and would require the hosting platforms to share with the city basic data on how many nights each registered unit is rented.
That way the city can begin to enforce the law. Without that authority, hundreds of units can be taken out of the rental market and turned into hotel rooms, and the city, with a terribly short-staffed planning enforcement division, can't seem to do anything about it.
At the same time, the city's latest Housing Balance Report is out, and it adds some critical perspective.
The report compares the city's Regional Housing Needs Analysis – that is, the amount of housing that local and regional officials say the city needs to build – with what is actually getting constructed.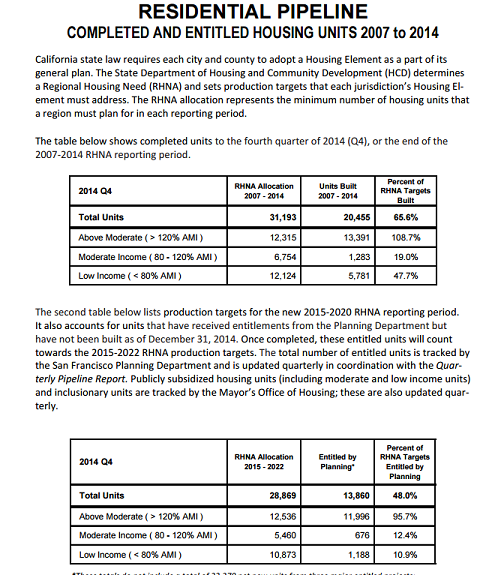 Over the past seven years, the city's own General Plan states that the city should have built 31,193 housing units. Instead, we built 20,455 – just 65 percent of the need.
But when you break it down by category, it gets even more interesting.
In the category of "above moderate income" – that is, market-rate housing, most of which has been aimed at very wealthy buyers – the city had a need for 12,315 units and built 13,391. We are overbuilt in high-end housing.
For all moderate and low-income housing, the need was 18,698 units; only 7,064 were built. That's 38 percent of need.
To summarize: The city has built too much housing for the rich, and only about a third of what it needs for everyone else.
Now let's look to the future.
The report shows a RHNA of 28,869 housing units. The city has already approved and entitled 13,860 units, or 48 percent of that need.
But again, when you break it down, the numbers are dramatic: Of the 12,536 units market-rate units needed by 2022, 11,966 have already been approved for construction. That means the city has approved 95 percent of all the market-rate housing it needs for the next seven years. There's really not much need for any more housing for the rich.
On the other hand, of the 16,333 units needed for low- and moderate-income households, only 1864 – that's 11.4 percent – has been approved.
That, folks, is an admission of a failure of housing policy. A huge failure.
Oh and by the way: Advocates for building more market-rate housing point to Seattle as a great example of how allowing the market to build housing has kept prices down. Apparently not any more.
"We will be like San Francisco in five years," said Lili Shang, the Realogics/Sotheby's International Realty agent who represented the buyers of Moyer's house. "It's a new era."