Fall campaign comes into clearer focus as Lee, Chiu line up with a company that makes money when people break city laws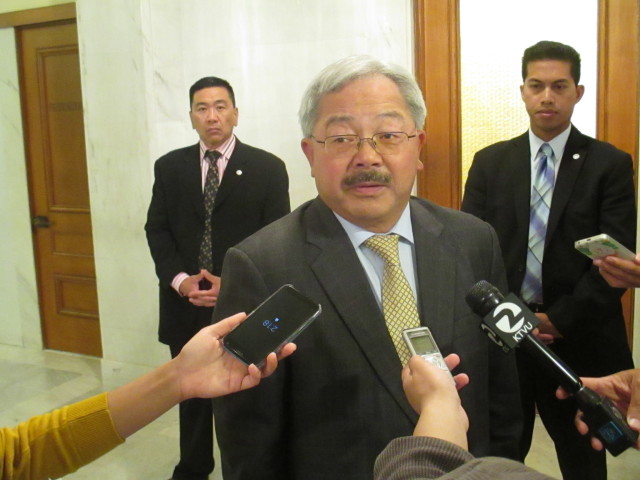 By Tim Redmond
JULY 28, 2017 — The politics of the Airbnb measure became a lot more clear yesterday as Mayor Ed Lee and Assemblymember and former Sup. David Chiu joined the short-term rental company, whose supporters have bankrolled their campaigns, in opposing any real regulations.
So now there's no doubt that this measure will be part of the fall referendum on the Lee Administration's policies and will put into sharp focus the role of big tech money in setting the city's policies.
Julie Carrie Wong does a good job laying out the connections:
Both Airbnb and the politicians who support it are quick to point out that the "Airbnb law" sponsored by David Chiu and passed by the Board of Supervisors last year isn't just about Airbnb, but all short-term rental platforms. However, the campaign committee set up to fight the short-term rental ballot initiative is organized and financed by Airbnb.

That committee — San Francisco for Everyone — has raised $300,000 from Airbnb and $100 from 50+1 Strategies. 50+1 Strategies is the political consulting firm that ran David Chiu's successful Assembly campaign and organized the "Fair to Share" astroturf campaign in favor of Chiu's Airbnb law. Chiu's Assembly campaign was supported by a $685,000 independent expenditure from Airbnb investors Ron Conway and Reid Hoffman.

Scott Wiener's campaign for state senate has been endorsed by Chip Conley, Airbnb's head of global hospitality.

According to the Chronicle, Airbnb has also hired two political consultants with national profiles to craft the campaign against ShareBetter SF: Chris Lehane and Joe Slade White.
And of course, Conway is the  mayor's best bud, and is in the room at most of his key policy discussions, and has given tons of money to the mayor's campaigns and causes.
This will play out in the critical D3 race, another referendum on Lee: Sup. Julie Christensen has put herself clearly in the Airbnb camp, and her challenger, Aaron Peskin, is a supporter of the fall initiative to regulate short-term rentals.
So forget all the campaign mailers and ads that you see featuring people who just want to rent out a spare room to make ends meet in a brutally expensive city. That's the astroturf strategy these folks are developing.
It's really about whether a $25 billion company can set the rules for housing in San Francisco. And whether the politicians that company is supporting can be held accountable.