If you're a public institution, and you are telling your workforce that you don't have enough money to sign a decent union contract, this kind of stuff looks really, really bad. It's worse when you are asking taxpayers to cough up money to keep things afloat, and you can't seem to keep track of what you have. It's hard to explain why the president of City College would need to spend more than $3,000 at Best Buy.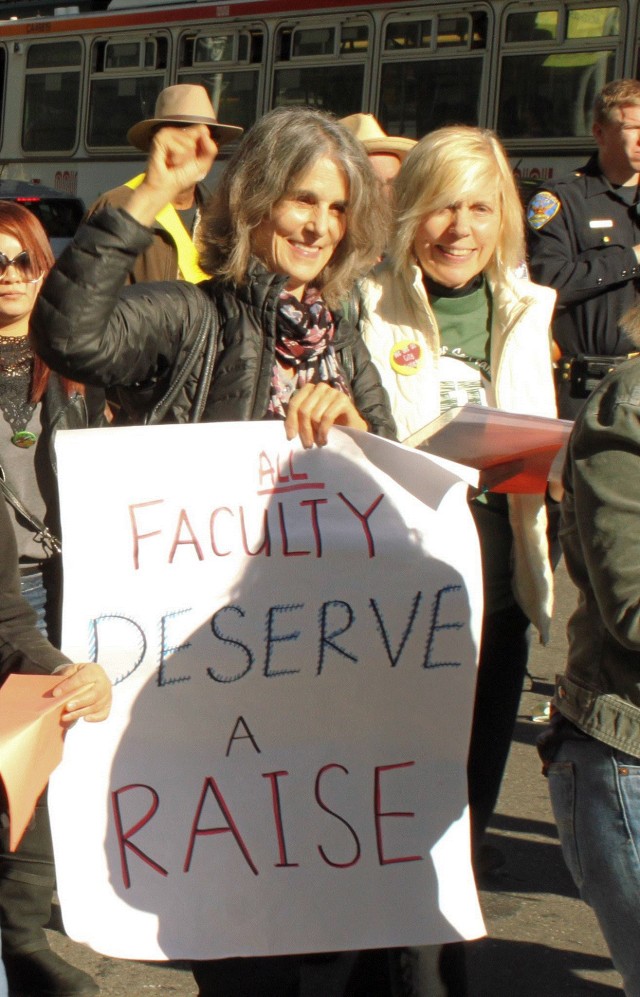 But let's also put this in context: The state of California forced these free-spending folks on City College, and now they're out of office, and actual amount of money involved, while embarrassing, is a relatively modest. The taxpayers wasted way more on a special trustee who comes in from Tahoe in a City College-funded car and stays in an apartment we all pay for when he's here.
And that was mandated by the state, too.
Of course, it makes you wonder: Where else are there stashes of money that aren't properly accounted for – and why can't the school come to terms with its faculty union?
Local 2121 of the American Federation of Teachers just declared an impasse after months of what union president Tim Killikelly called fruitless negotiations. There is, he told me, no reasonable offer on the table, nothing that would even get the teachers back to where they were before the recession forced them to take pay cuts.
The impasse sets off a long process that begins with a state mediator, then a fact-finding team, and could lead, sometime this spring, to a strike. That's the last thing City College needs right now, and the administration and the board need to figure out a way to stop it from happening.
A noisy contingent of faculty showed up to boycott Chancellor Susan Lamb's back-to-school address Friday, sending an even stronger message that the union has lost faith in management.
The point, Killikelly says, is this:
"Years of illegal and unfair sanctions at the hands of the Accrediting Commission for Community and Junior Colleges (ACCJC) have resulted in, among other problems, a revolving door of top administrators and faculty pay levels 3.5% below what they were in 2007. The District has already started on its plan to cut classes by 26% over six years. The union's analysis of the district budget has determined the administration has continued its pattern of spending larger amounts on administration and less in the classroom."
The City College teachers and staff are facing the brutal reality of a housing market where costs have increased radically in the past five years – while pay has actually gone down. So most teachers – at least, the majority who don't own their homes – are financially worse off than they were ten years ago (unless they are long-term renters under rent-control, in which case they are one Ellis Act notice away from losing any ability to remain in the Bay Area).
The overall cost of living, union figures show, is up 21 percent since 2007. If anything, that's low. Since the union took a 4 percent pay cut in 2011, the standard of living for faculty is down 25 percent.
This, of course, is one of the prices that we pay to be Mayor Ed Lee's tech hub of the universe. The "pro-jobs" agenda that has helped fuel massive housing cost increases and evictions has also made it nearly impossible for teachers to live here – and that means it's harder to get (and retain) quality faculty both for SFUSD and for City College.
The school's management argues that enrollment has dropped sharply since the discredited accreditors tried to shut City College down. Which is, of course, true. And lower enrollment means less state money. School officials are looking at significant cuts in classes (and thus in staff) over the next few years.
The union has asked that the school's future – that is, a plan for expansion, not contraction – be part of the contract talks. That's typically management stuff, and the school has declined to make it a bargaining item.
"It's really a difference in vision," Killikelly told me. "The vision they have put out is one of austerity, a downward spiral."
It's a critical question, not just for this contract but for the future of City College. Is it in everyone's interest for management and labor to figure out ways to stop the decline and rebuild the school to the size it was before the ACCJC declared war? Or should we all have to settle for a much-reduced institution?
And if City College has to be smaller and run for less money, how will it ever manage to attract qualified faculty in San Francisco, 2016?