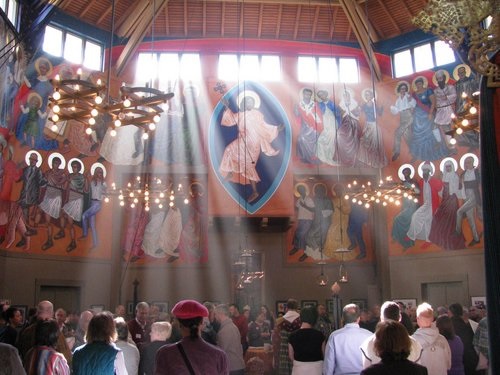 By Tim Redmond
JANUARY 8, 2016 – The San Francisco Planning Commission delayed for two months a Potrero Hill project that would have displaced a motorcycle repair shop, eliminated a blue-collar work space, and cast a shadow over the cupola windows of a world-renowned church.
The developer wants to put 17 luxury condos on the site on the 500 block of DeHaro St. The item was originally on the consent calendar, meaning it would have been lumped in with several other noncontroversial items and approved without discussion.
But neighbors and church members showed up to oppose the deal, which they said was moving forward without adequate community outreach. "Nobody know about this until Tim Redmond wrote about it on 48hills," Alison Heath, a Potrero resident, told the commission.
"We are facing a death of 1,000 cuts. With every displaced business we lose a little more of San Francisco."
Peter Papadopoulos, who works for the Cultural Action Network, said that these luxury condo projects are "displacement machines." He noted that the mayor has set out a five-point plan to save so-called Production, Distribution, and Repair businesses, and one of those points calls for preserving PDR space.
"And here you have a neighborhood-serving business moving to Berkeley."
The developer's representative said that it was his understanding that Moto, the repair shop, was moving to Soma. That's not what I was told when I visited the place a few days ago.  Maybe things have changed. But Commissioner Kathrin Moore said that she wanted clear information on that before the proposal came back to the panel.
But what really seemed to resonate with the commissioners was an issue that the Planning Department never really addressed in its hasty recommendation that this be approved with little discussion: The project would block the sunlight that streams in through windows that have attracted visitors and architects from all over the world in the modest Church of St. Gregory.
The Episcopal church, which is right next to the proposed project, hosts worship services, a food bank, and other community functions. I have never been inside, but members of the congregations showed up with some amazing photos of what it looks like when the sun streams in through the upper windows.
The sun in the morning, when services are held, comes mostly from the South side, and that's where the new building would be. It would come within five feet of the cupola, and during a lot of the year, would block those sunbeams.
The church has developed an international following, parishioners testified; the architecture, designed to take advantage of that light, has been the inspiration for other church designers all over.
The developer, congregation members said, hadn't done much outreach: "We heard from them right before Christmas, which is not a good time" for a church to be dealing with planning issues, one parishioner said.
The commission seemed very reluctant to mess with the church. "Light is a spiritual element in religious architecture," Moore said. In essence, the panel, by a 6-1 vote, told the developer to go back and solve that problem.
But nobody said specifically that the problem of the loss of PDR had to be solved – although Commissioner Dennis Richards made a strong statement on the issue. The zoning in the area, which is called Urban Mixed Use, isn't mixed-use at all any more, he said: "It's just residential. … we have to reconcile the maximum development potential with the protection of PDR."
The commission also rejected, pretty clearly and resoundingly, a plan to turn a three-unit building on Nob Hill into a hotel. The landlord, Jennifer Solomon, has been operating her place as short-term rentals for more than a decade, and now wants permission to make that use permanent and legal.
She asked for a continuance to get some support lined up, but this one was so blatant that it wasn't even close. As Richards said, this is a building that is under rent control. Yes, the current market price of the units, if she rented them out (as she legally must) to long-term tenants, would not be affordable to most local households. But wait 20 years, he said; at that point, under rent control, they might actually be a bargain.
The commission rejected the project unanimously.