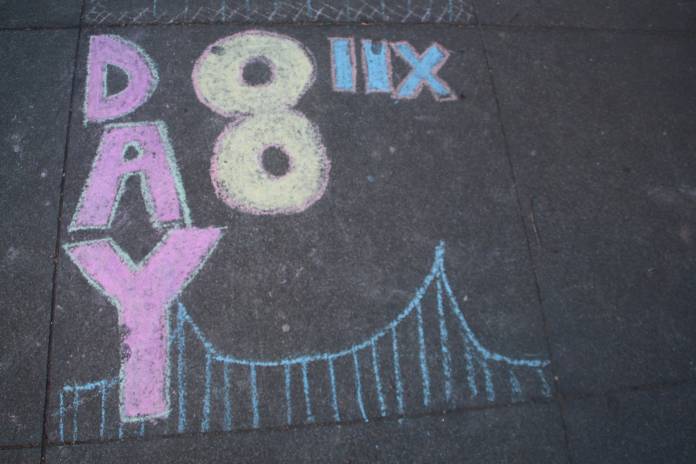 This post is part of our special coverage on the #hungerforjusticesf. Five San Francisco residents are on hunger strike outside Mission Police Station, demanding that Mayor Ed Lee fire San Francisco Police Chief Gregory P. Suhr. Over the past three years the SFPD has shot and killed four men of color; the protestors feel that the hunger strike is the only remaining option to demand an end to police impunity. Read our full coverage here.
It's been over 192 hours since they last ate, but the hunger strikers, also referred to as the #Frisco5, are exhausted but still determined. Cristina Maria Gutierrez, 66, is heartbroken that she might miss the birth of her great grand-daughter. "It makes me sad, I won't be able to see my first great grandchild, but then I see people coming with infants to greet me and it makes a lot of difference," she said. Gutierrez has been sitting inside the public space of the police station for the past two days as the wind chill has become unbearable for her.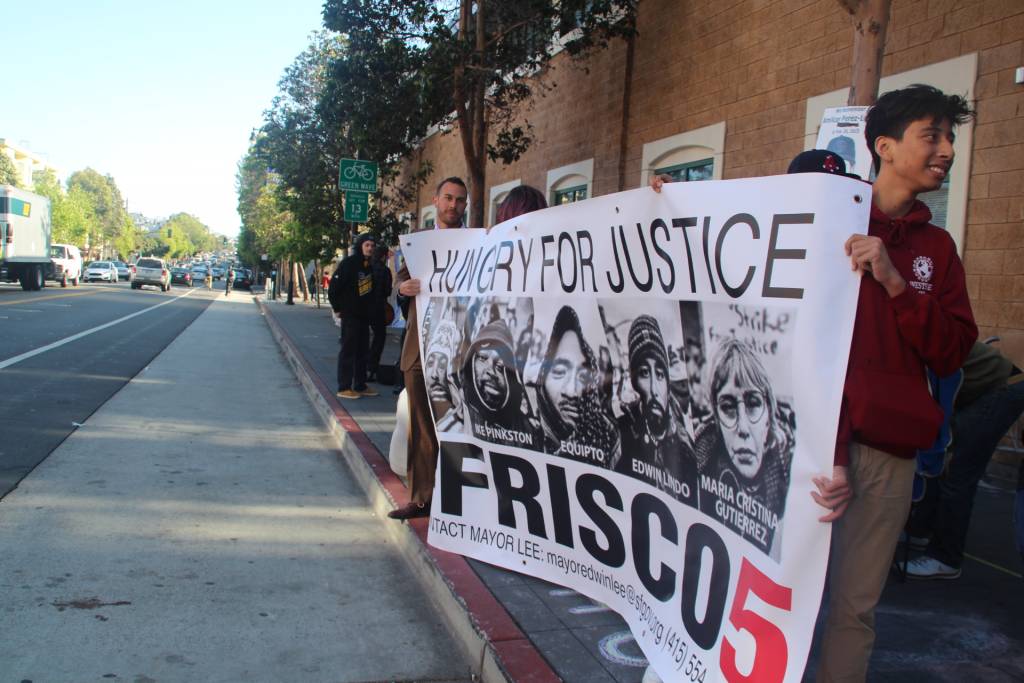 A group of supporters have gathered to play chess, and every now and then people bring books, board games, and even music to help the strikers pass their time. "Revolution strike, is it?" one of them remarks.
The three tents lined up with a pathway along with posters, placards and a memoriam to Louis Gongora, a homeless man shot and killed by two SFPD officers, has become quite a community attraction. This afternoon, a father brought his two sons on a tour to teach them about police violence and passive protests. "This is really beautiful, young revolutionaries," says IIke Pinkston, one of the #Frisco5.  Pinkston excitedly tells me about an "interesting" incident earlier in the day "There was a police car that passed by and a cop waved at us, he waved at us. I was so shocked I didn't know how to react" he said.
Captain Daniel Perea comes out routinely to ask whether any of the hunger strikers need medical attention. The interaction between Perea and strikers has been strained the past few days, but today things seem to have changed for the better.
"My concern about the activity outside is that people need to be able to use the sidewalk. We have people outside that come here and have disabilities, they should be able to come in and access the station without having an issue," Perea told us. He's concerned about the fact that people may not come to the Police Station if the pathway is blocked outside.
"I am just here to help and be respectful to everyone. It's my job to help the community, this is what I am here for. We have people here that come to make a report about domestic violence issues, they usually are accompanied by a support staff and I am concerned if they would feel more reluctant to walk through a crowd to make a report which is already challenging," Perea said. The women's building is nearby, where a lot of domestic violence survivors seek help.
The hunger strikers, however, have worked through the week to make sure that the pathway is kept clean, "Please keep telling people not to obstruct the door we need to make sure people can cross," said Blackwell.
The hunger strikers are concerned about the power sockets being turned off, causing the strikers and their supporters to not be able to charge their electronic devices "The outlets are used for custodians to maintain the lobby out here. It's a liability issue, they know and understand what the voltage issues are and what to devices to plug in. This was safety issue," he said.
The strikers feel that this is a bit overblown. Lindo told told Perea "You've my assurance that we will not use extension cords or high voltage stuff, it's just cellphones so that people can stay in touch."

On the issue of  demands for Chief Suhr's Perea maintained what others, including the strikers themselves have said "I think that the chief is a good man and he's trying to bring about the changes that are needed." he said.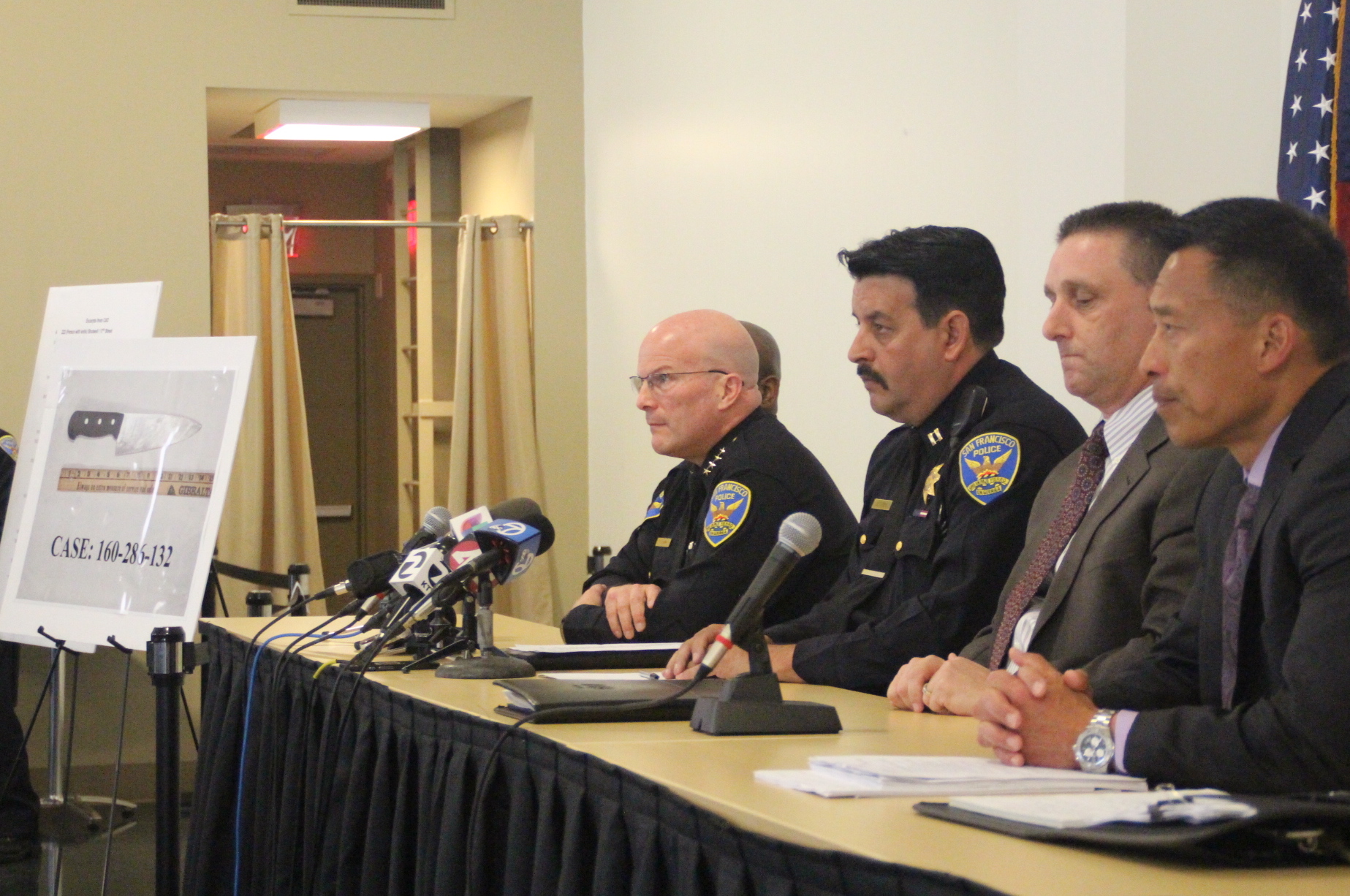 As an officer of color, Perea is often targeted more harshly than others. The townhall meeting held after the shooting of Luis Gongora saw a number of people direct harsh criticism at Perea. "For me working here in the Mission as captain is an honor," he said. "I am hear to listen and I may not have the answers for everything but I want to do what I can to make mission a safer place. Call me naive, but growing up I never saw race as an issue. Somebody did call me a sellout at a town hall meeting recently and to that I thought well I am not a sell out but at least you recognized that I am a Latino. For me I don't look at things like that, I don't look at things that way for me how people treat me isn't important, what's more important is how I treat them because I wear this uniform," Parea said.
The movement on police reform has focused heavily on ensuring that racist police officers are taken to task, Perea recalled the first time he was confronted by a racist man at the age of 14. "I went to this club, and yea it was a private members club, and the reception told my friend while pointing at me 'he can't come here.'" Perea then described the altercation between the friend, who he realized was from a elite family and a club employee who was open racist. "I had two realizations that day, about my friends privilege background and about this man treating me differently. But I will add one thing, I may have been childish and naive then, but walking around I felt it like they didn't want me there, I felt it. That's a feeling that never leaves you and once you know how it feels you never do it to anyone else" he said.
As Perea began to walk back to his office, Lindo approached to inquire about the power sockets, after a discussion over safety and ensuring limited electric load would be used, Perea left with an assurance. "Okay, let me ask and get back to you. Now that we are having a conversation, let's try and make some headway in this unusual situation we are both in," Power sockets may be back after all.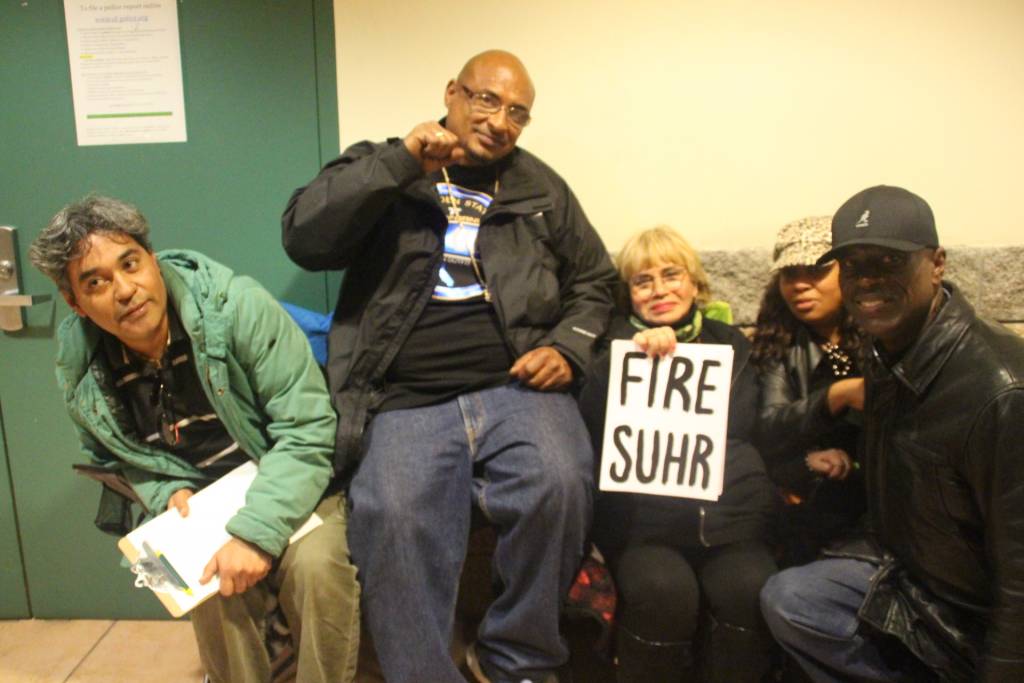 Mary Mendoza, activist, has been spending the past eight weeks by Gutierrez side. "My original involvement was with Edwin Lindo (one of the hunger strikers) I was helping with his campaign as supervisor. When I heard what he was planning to do I came out here to see and support. It is a dire situation," she said. Mendoza recently returned to San Francisco because she felt she needed to help with ongoing issues faced by the community, "So many of my friends have had to leave the city, people of color and artists, so really I choose to stand in solidarity with them and decided to go hungry as well." Mendoza has not been eating since last Thursday, she sleeps out on the street, sometimes literally on the sidewalk. "My main concern was taking care of Cristina, as an elderly person she needs all our love and support. So from making sure there's toilet paper to ensuring they're hydrated that's what I do all day."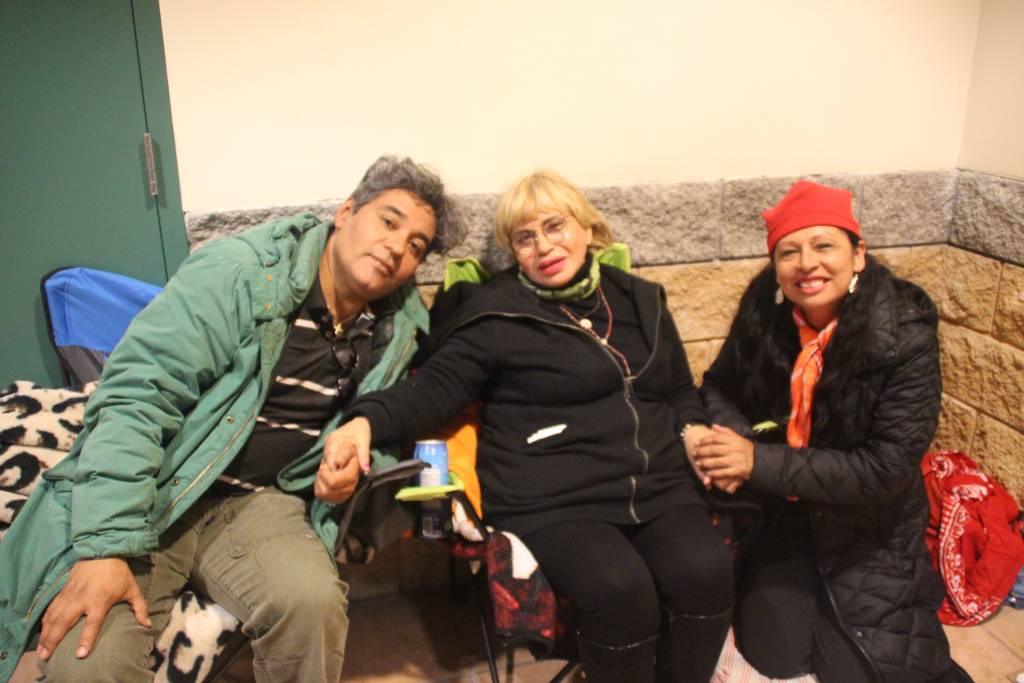 Around 9 pm, more than 60 supporters joined in right after the Justice For Mario Woods Coalition meeting. Oscar Grant's Uncle Bobby sat with Gutierrez and assured his support "I am here to support the hunger strikers for the demand to have Chief Suhr fired. I believe this is a historical time for a mother to take the lead on bringing together this idea and have supporters with her. The concern and support of the community and the pain they feel is what this movement is all about," he said.
Brianda Rodriguez lives nearby the station and decided to stop by to show her support with some water and electrolytes. "Now that I am here, I feel like I should have brought more, they need more support," she said.
Oustide a group of 20 have brought in everything they need to stay the night with the strikers. "We take turns and stay the night with them so they can sleep in peace and we keep a watch," one of them said.
An earlier version of the piece misspelled the Captain's surname, it's spelled Perea not Parea.