Editor's note:This post contains graphic images
On Friday, attorneys from John L. Burris Law presented evidence  regarding  the fatal shooting of Luis Góngora by San Francisco Police Department Officer Sgt. Nate Steger and Officer Michael Mellone on April 7, 2016. Burris law, representing the family of Gongora, have filed a claim in the federal court against the city and county of San Francisco, alleging excessive force, violation of civil rights and intentional wrongful death.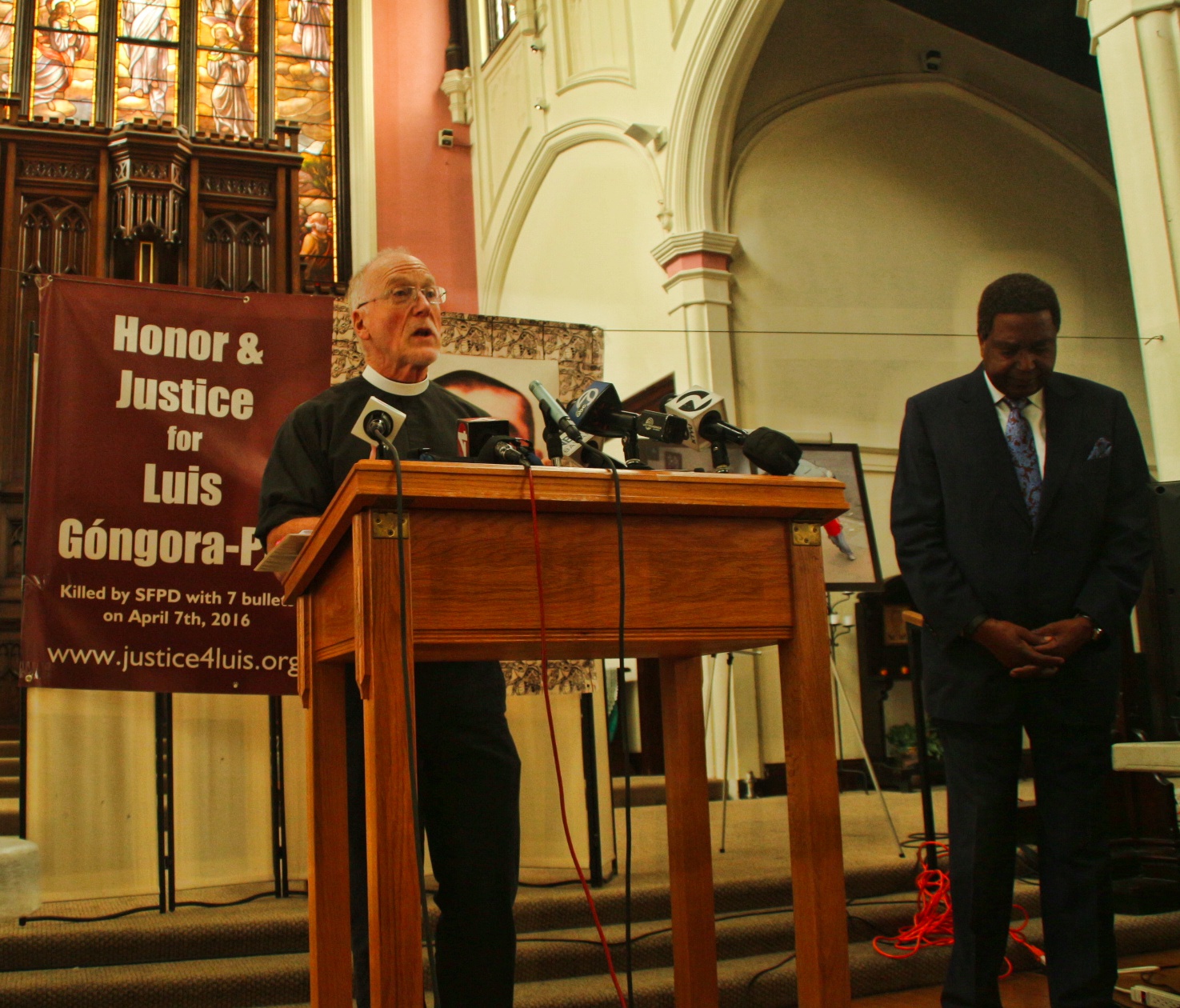 Emotions ran high as it was the first time today that the family of Luis Gongora learned about his fatal injuries.
The meeting took place at St John's Episcopal Church, as the wife and children of Gongora joined over a video call from Yucatan island located in Southeastern Mexico, Father Richard Smith began the press conference "Less than an hour ago, all of the chairs were moved aside and we had bright orange mats on the floor and many people who are unhoused about fifty of them were sleeping here," Smith said, Gongora, 45, was unhoused at the time of the shooting and was living at the encampment on Shotwell street to be near his family who lived in the area.
"Just a little over a year ago right here in front," Smith said while pointing at the center of the hall "We had the casket of Amilcar Perez Lopez," Lopez, 20-year old Guatemalan immigrant shot to death by SFPD officers in February 2015.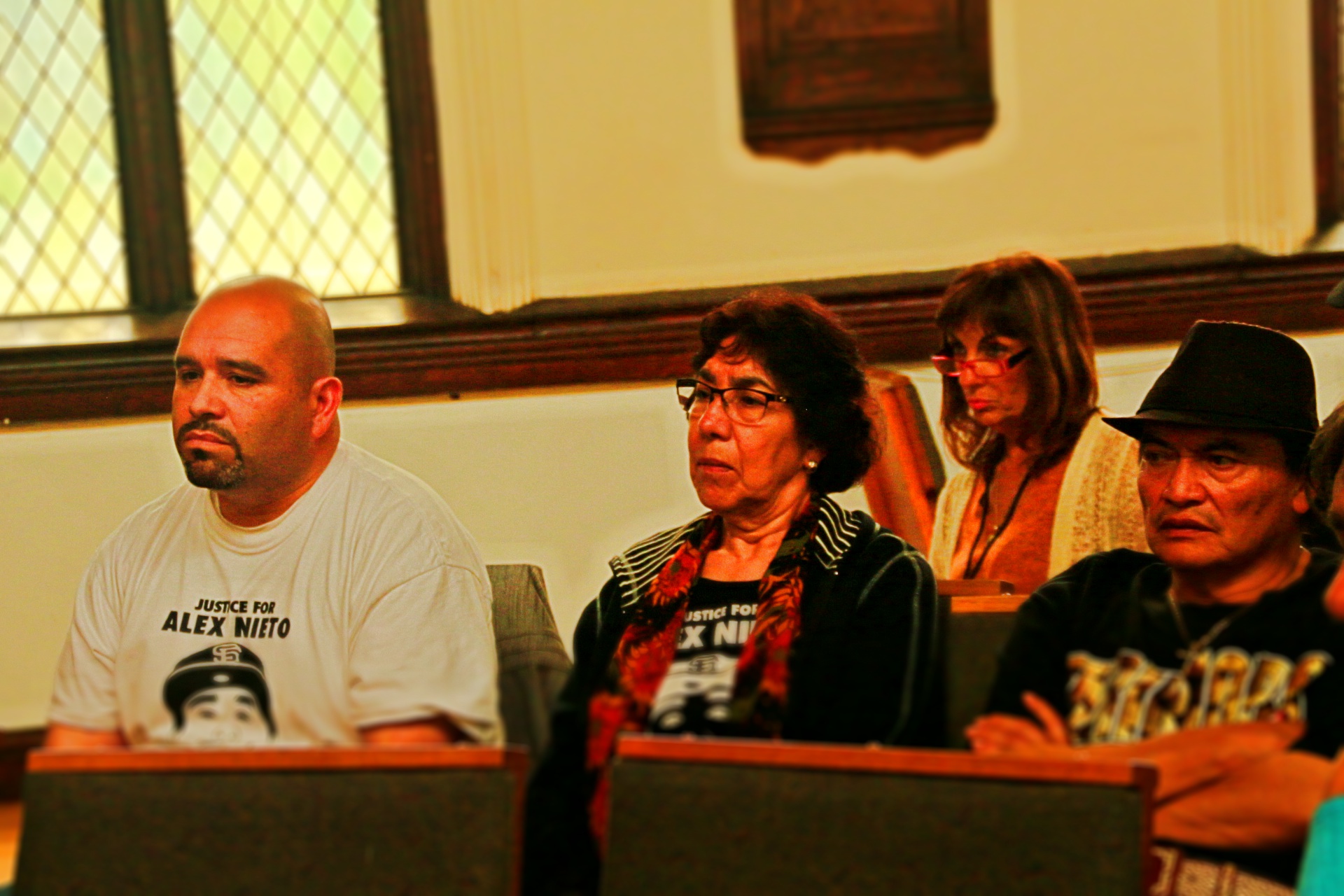 The hall was filled with familiar faces from the community, seen at nearly every protest, town hall meeting, community vigil and press conference that follow a police shooting. Refugio and Elvira Nieto, parents of Alex Nieto, another young latino man who was shot dead by SFPD officers in March 2014, sat in the audience alongside other supporters.
"How long must we go through these type of events?," asked civil rights lawyer John Burris, as he addressed community members, Burris shared that he was disturbed by the way Gongora was treated and approached by the police "It's the same kind of senselessness and lack of regard that we saw in the Mario Woods shooting, because again this is another so-called edged weapon that was used. As if, a person that has a knife is like a death warrant that has been signed on them," Burris said.
Adante Pointer, attorney with John Burris, presented some of the evidence collected by the law firm including photographs from independent autopsy and video footage of the Gongora playing with a basketball sometime before the shooting "When the officers arrived on the Shotwell street, they found Luis sitting, he was sitting on the ground with his back against the wall in kind of like a crouched position. In a non-threatening and non-menacing way just minding his own business," Pointer said.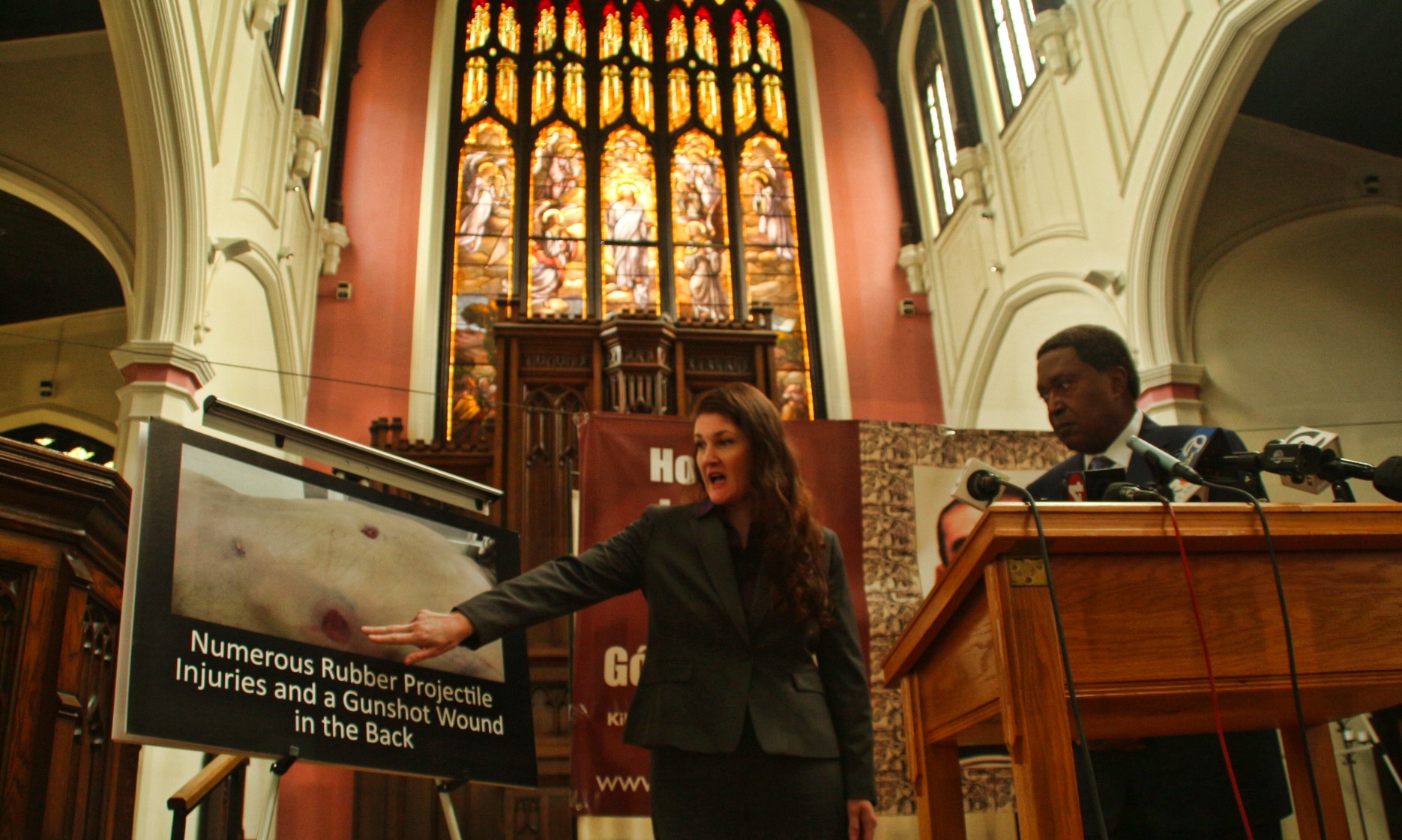 Photographs of the right side of Gongora's body show four bruises caused by being hit by bean bags and in total five bullet wounds. Of the bullet wounds, there is only one lethal wound, gunshot to the left temple in a steep downward trajectory. The other wounds are to arms and shoulder and a graze wound to the abdomen.
SFPD officers' statement alleges that Gongora lunged at them with a knife and refused to put the knife down when asked. Pointer and his colleagues seek to counter these claims "If you slow down the clip (CCTV footage of the shooting) as we did and you focus on when the officers come back in the frame you would notice that the officer who initially had the shotgun transitioned to his 40 caliber gun is pointing downward and there are actually three shots that this video shows of him aiming and pointing his gun downwards which indicates and proves to us that Mr. Gongora was actually down on the ground when this officer decided to pump three more bullets into his body," Pointer explained as community leader and activist Lisa "Tiny" Gray-Garcia gasped and broke down. "This is outrageous and a proof of excessive use of force," Pointer continued, the attorneys used the video along with multiple witness statements and cross referenced it with independent autopsy findings to make their argument.
"You can see the third officer doesn't even pull his weapon out," Pointer said reinforcing that if the police version of Gongora lunging was correct, the third officer would have pulled out his weapon instead he can be seen casually strolling along as his colleagues shout commands and begin shooting.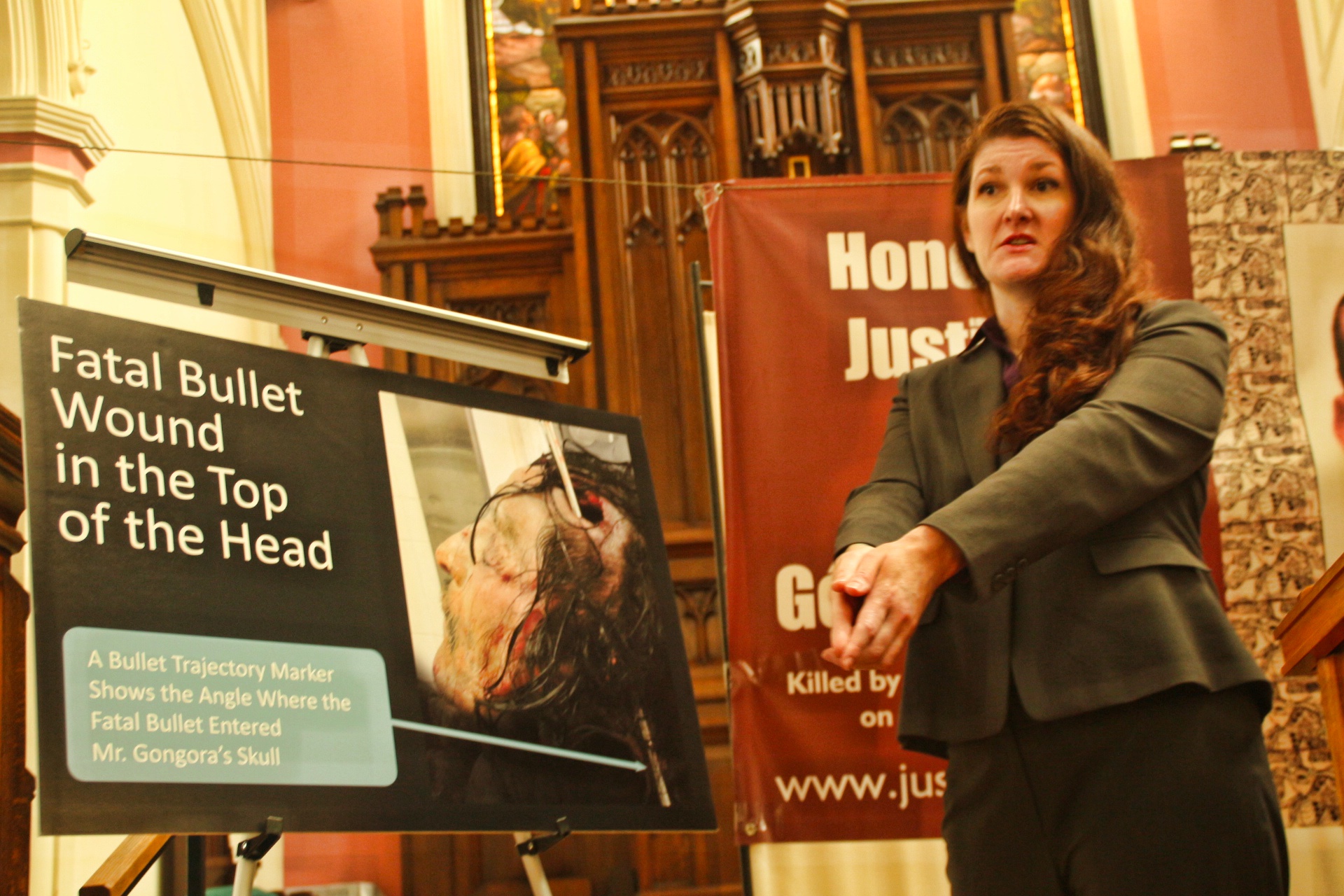 The attorneys showed photographs of bullet wounds on Gongora's body that suggest that the shots were fired aimed downwards, including the shot on his shoulder and on top of his head. Bullet wound on top of Gongora's head moved downwards as it exited from the back of his head, indicating that the officer was above him and aiming down on the top of his head when the injuries were received. As the graphic photos were displayed, Gongora's family members broke down.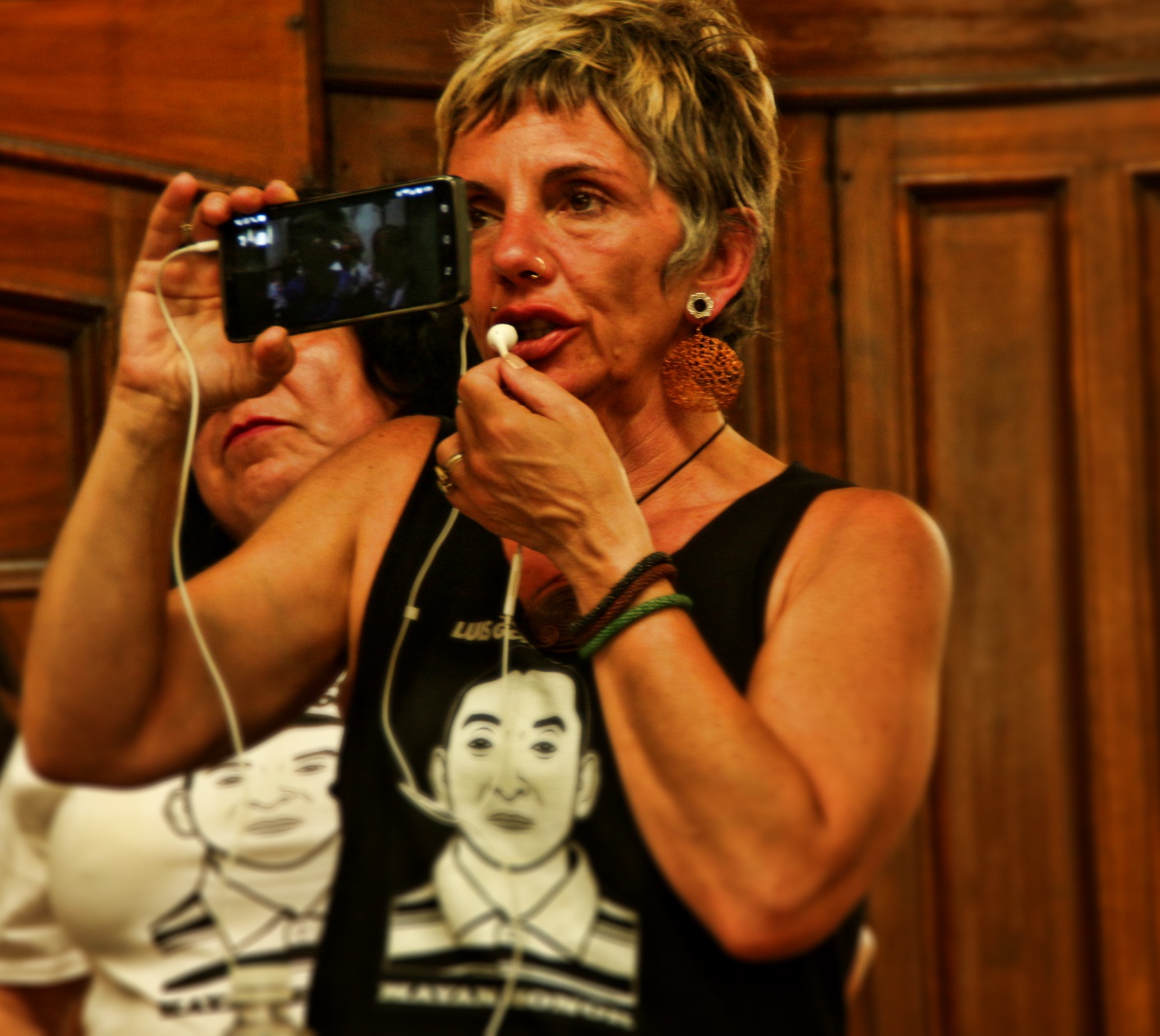 Gongora's daughter, Rossana Poot May, broke down several times as she read out a letter from the family over video call which was interpreted by author and community activist Adriana Camarena, who has been on the forefront helping families of police brutality and killings find justice. "Today begins our struggle for justice against the unjustified homicide of our son, our father and our husband. We are very hurt because of this terrible tragedy," Rossana said as she sat beside her family, Luis's mother and wife, "His death has caused us a great pain, we will fight as a family to raise his name and expose the shameful conduct of the police. Luis, son, father, husband we will never forget you," she said.
Burris emphasized the fact that the officers "rushed up" on someone they thought had a sharp edged object "The idea is to access and then create containment, there were other people on the street and no attempt was made to involve them into communicating with him or ask them as to what he had done. So this points to the tactical questions that need to be raised," Burris believes that the SFPD officers didn't do enough to contain, access and better handle the situation.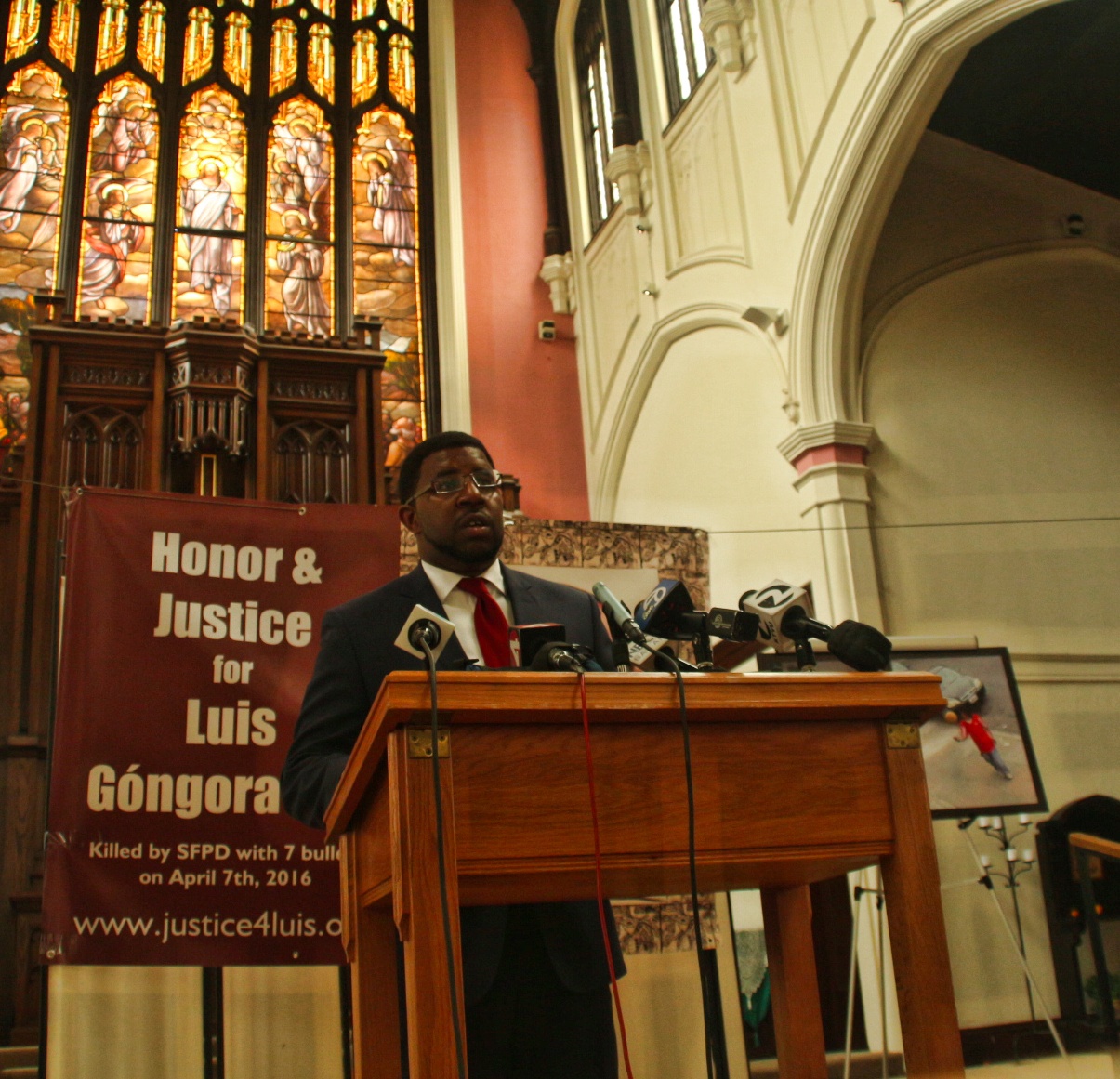 SFPD has been under immense scrutiny for the past couple of months, despite the departure of Chief Suhr community leaders feel that the calls for reforms have not been met. Last week, Supervisor John Avalos announced his intentions to mandate reforms to the use of force policy by withholding a portion of SFPD's budget.
Camarena, who has been a tireless advocate for families that have lost loved ones to police killings spoke about their struggle "When families have a beloved member killed by police, they meet unsurmountable barriers and when the family is also Mayan-speaking, Spanish speaking and have different cultural barriers it takes a whole community to come around them to face up to police," Camarena said, as she argued that families should not have to hire private law firms to investigate police homicide, "Downward trajectory bullet don't lie, police lie."
The report was updated with the correct date of shooting. An earlier version reported Mr. Gongora was shot on April 8th, the incident took place on April 7th. We regret the error.