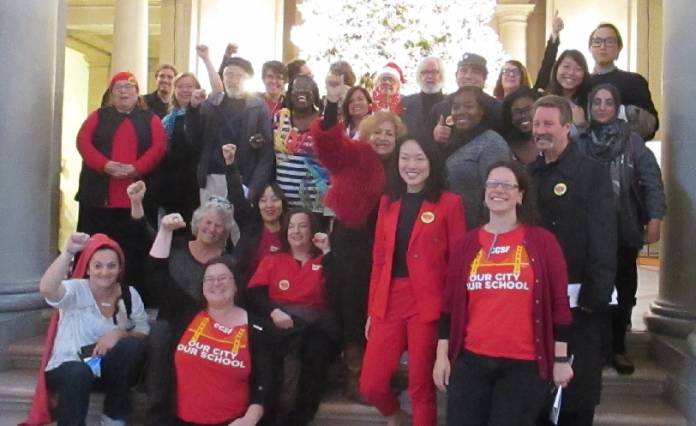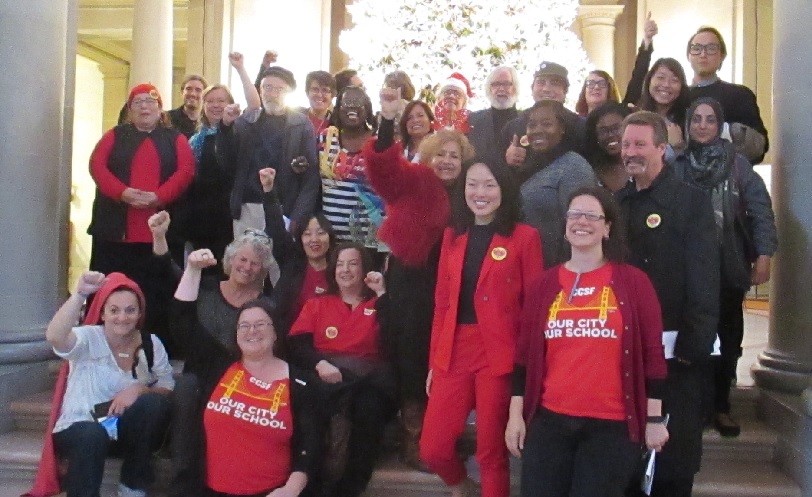 The Board of Supes, by a 9-1 majority, directly challenged Mayor Ed Lee today and appropriated funding to make City College free for all residents.
That means the mayor, who has said he won't spend the money, is now defying both the voters and nearly every member of the board – along with most of the labor movement and thousands of education and community activists.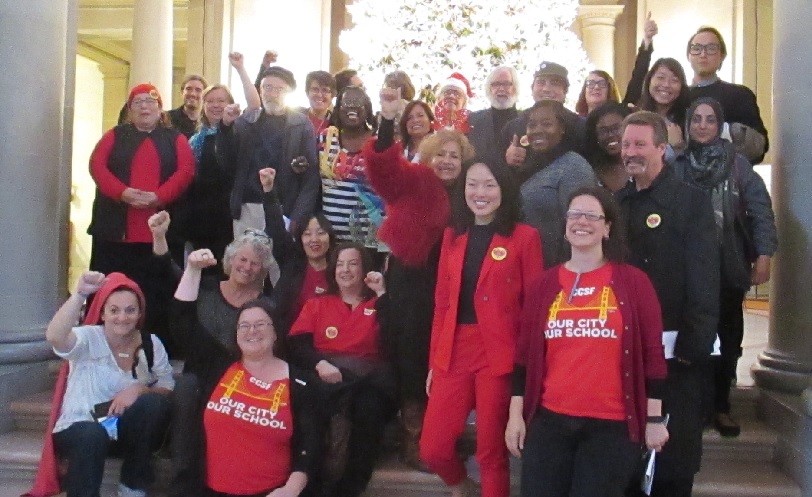 "A deal is a deal, a promise is a promise," said Sup. Aaron Peskin, who noted that the board made it very clear when Prop W was put on the ballot that the money that measure raised would go for free City College.
Sup. Jane Kim, who sponsored the measure, made an inspired speech explaining that free City College – for all – is just a continuation of the commitment the nation made more than a century ago to provide free K-12 education.
VIDEO OF KIM SPEECH IF WE HAVE IT
"If I put forward an ordinance to means test K-12 public education, I'd be run out of town," she said.
The mayor says he wants to take some of the money from Prop. W and use it for other city needs; his sales tax failed, and that leaves the budget in the hole.
Kim noted that the income and wealth gap in San Francisco is the worst of any city in the nation. Prop. W adds a modest tax increase on the sale of property worth more than $5 million – and the soaring value of that property is not something any individual earned or created.
"The reason that property is so valuable is that we made this city great," she said. We all created that value."
The only board member – Mark Farrell – voted no, saying that there are other more important city priorities. "I don't hear every day about free City College," he said. "I do hear daily about getting people off the streets and making residents feel safe in their homes."
But Kim said that the voters didn't approve Prop.W "to solve the financial problems of the city. We did it to make City College free."
Before the vote, about 100 supporters of City College strolled the halls, stopping in front of supervisors' offices and the Mayor's Office and singing carols urging support for making school tuition free.
Several college board members, including John Rizzo and newly elected member Tom Temprano, were on hand, as were union leaders and the executive director of the Labor Council, Tim Paulson.
VIDEOS
Tim Killikelly, president of Local 2121
Alissa Messer, representative at large, Local 2121
Tim Paulson, director, SF Labor Council
This was only the first chapter of what apparently will be a long fight: The mayor still has to change his mind and agree to spend the money. That will take continued organizing and lobbying.
But seriously: Can Lee actually defy not only 61 percent of the voters but almost all of the supervisors?
I was going to ask him today, but he didn't show up at the board for Question Time.
Kim noted that "we have to think about how we solve big problems" as cities these days. Yeah, it costs money – but more and more over the next four years, San Francisco is going to have to find new revenue sources and take bold steps to challenge the Trump Era. Free City College is one of those steps.