Local immigration lawyers and activists are bracing for possible raids across the city after President Trump signed executive order aiming to block federal funding to sanctuary cities. 
Sanctuary city is a term used for cities that do not permit police or municipal employees to inquire about one's immigration status, follow certain procedures that shelter undocumented immigrants and don't allow municipal resources to further enforcement of federal immigration laws. 
As fears loom over possible  US Immigration and Customs Enforcement (ICE) raids the city is gearing up by training its residents on how to respond during an ICE raid: "We saw that people power works, we saw what happened at San Francisco airport. So what we need to think about is how do we build a public campaign around deportation?,"  said Lorena Melgarejo of the Catholic Archdiocese of San Francisco. Melgarejo was addressing around a hundred people who had gathered for a  rapid response network training at St.Agnes Church.  
Rage Donate $10 to CARECEN to resist ICE deportations
Melgarejo emphasised the importance of having a network of supporters: "When your mother is about to be deported you are in shock you need someone who can sit down with you and work on a strategy. May be not everyone can be a first responder but everyone can provide company and help. Think of practical things like cooking meals, help the family get legal representation and so on," she said. 
People of all ages were in the audience, most of them diligently taking notes as Melgarejo narrated stories of undocumented immigrants who have faced deportations or have been approached by ICE  and explained ways in which the community could help. 
"I think it is important to know that even though you want to help it is not about you. At that moment it's about the person and what they're going through, So I have to be there for that person," said Nicole Taylor, a San Francisco resident and public school teacher.
'What to do during an ICE raid?' 
Attorneys Luis Angel Reyes Savalza and Nilou Khonsari of Pangea Legal Services conducted a legal training to help people understand their legal rights as observers. 
"For far too long ICE has become accustomed to picking up people at 5 or 6 in the morning. For far too long they've become accustomed to ripping families apart from their own homes without a warrant, taking them to courts and have them deported. For far too long it has all happened in the dark," Savalza said. 
Savalza spoke about his personal story of coming to the United States as an undocumented child: "When Trump got elected my mother was terrified until she saw the outpouring of protestors at San Francisco airport. It was then she turned to me and said 'they like us, they want us to stay here we will be fine'," he said. 
So what should one look out for?:
Here's what the advisors told people:
Warrant: 
ICE officers can not enter a property without a warrant. 

The warrant needs to clearly state the individual's name. 

It should have the individuals address. 

It should be signed by a Judge. 
Observe:
Write down the badge number of the officer (if you can).

Film the interaction and make sure to keep the focus on the ICE officers. 

Take notes of any sign of officers being forceful, for example if they push open a door, pull out identification cards from the individual being questioned, make possible false statements to get individual to share information about their status, take an individuals personal belongings without a warrant or make homophobic or racial slurs. 
Caution:
Do not engage with an ICE officer. 

Do not interfere during the raid. 

Do not start speaking to the individual being questioned because you might risk them sharing more information that they shouldn't be without a warrant. 

Document in detail rather than summarising. 

Minimal compliance in case officer addresses you.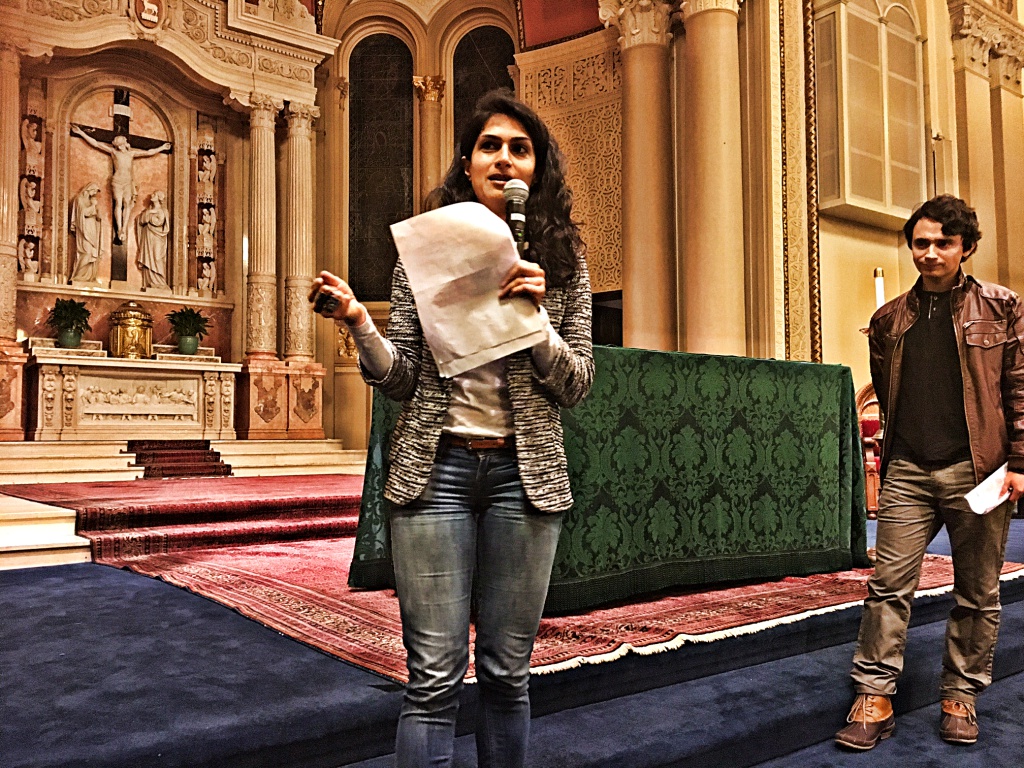 Khonsari emphasized the importance of documentation to help with legal proceedings: "We've had cases where judges have dismissed the case because there was enough documentation to prove that ICE acted outside of the law.  I do want to emphasize that people should not publish notes, video or photos online. Please always provide the information to legal teams and let them decide if information can be partially used for advocacy," she said. 
Erika (last name withheld) attended the training and took notes: "After the elections a lot of people have come out on the streets, people are asking others to join the protests to help protect marginalized communities. I too feel that I can put my body on the line for people who are being discriminated," she said. 
Throughout the trainings speaker emphasized the history of deportations: "These families are no longer nameless as they've been for the past eight years," Melgarejo said. 
Maria (last name withheld) said that she attended the training to better understand how to respond to ICE raids: "I am here because I am daughter of immigrants who were once undocumented," she said Trump's executive order brought focus to an issue that the immigrant community has faced for a long time: "People don't realize that this is a situation that has been ongoing way before Trump, so it is time to organize and act," she said.