Sup. London Breed's plan for affordable housing in the Western Addition got continued until May today, but not before some community activists made a few critical points.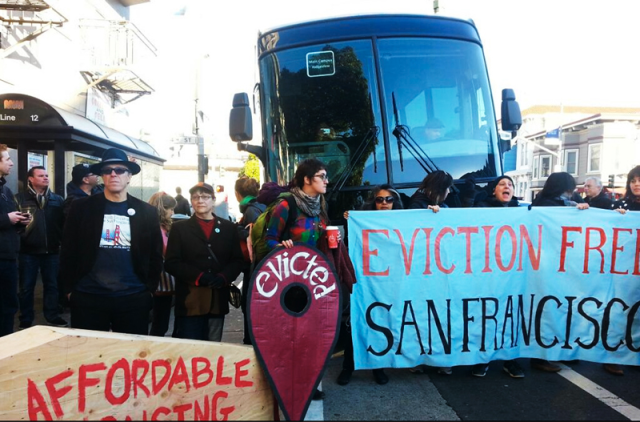 A series of speakers complained that Breed had not met with them and that they hoped that she would sit down over the next few weeks and listen to their concerns. Sup. Aaron Peskin, who was chairing the Land Use Committee hearing today, said he hoped that everyone could come together and find a solution – but that's going to be a bit tricky, since any solution the community groups will support is going to cost developers a lot more money.
The other critical point came from Jennifer Fieber, political campaign director for the SF Tenants Union. Fieber noted that 69 percent of all tenants who reported facing no-fault evictions in the city earned less than $50,000 a year, and 25 percent had income of less than $30,000.
That's a staggering figure when you look at the competing plans for affordable housing, including Breed's Divisadero Street proposal.
The way that Breed and Sup. Ahsha Safai want to spin it, there's a need for "middle-class" housing so severe that it's okay to take affordable units away from lower-income people to make sure that those earning as much as $150,000 a year get their share.
It's absolutely true that middle-class people are being driven from the city, and that San Francisco is vastly behind in its efforts to build housing for its own workforce. We have a severe teacher shortage in the public schools because teachers (especially entry-level teachers) can't afford to live here. Unionized hotel workers, public employees, and health-care workers who earn middle-class wages are driven to live in far-flung suburbs.
The plan for Divis would allow the majority of the new "affordable" housing to go to people with household incomes of between $129,000 a year and $150,000 a year. That, of course, means the developers have to pay less in subsidies, since those apartments or condos would go for much closer to market rate.
But let's look for a moment, as Fieber did, at the people who have lived in this city for years and are now getting forced out by evictions. It's certainly worth arguing that our affordable housing policies should in part address their needs; that's what protecting vulnerable communities is all about.
And she points out that preserving existing rent-controlled housing – that is, stopping the epidemic of evictions driven by current city policies – saves the cost of building new affordable housing.
"The population living under rent control mirrors the demographics of those qualifying for the city's Affordable Housing Program," a report she did for the Tenants Union, based on surveys and data from the Anti-Eviction Mapping Project notes. "Rent control has allowed residents with diverse incomes to remain in the city without the expense to the city of building affordable housing."
She also cites US Census figures from 2010 (admittedly out of date, but still relevant) showing that 71 percent of San Francisco households earn less than 150 percent of the region's Average Median Income.
That's consistent with what city figures showed for the area around Divis that's the subject of Breed's plan. The median income in the Western Addition is about $58,000 a year.
So the average tenant who gets evicted, and the average resident of the area in question, can't afford the majority of what Breed's plan could call "affordable housing."
The debate continues.