A majority of San Francisco voters oppose the plan by Sups. London Breed and Ahsha Safai to reduce the level of affordable housing in San Francisco, a new poll shows.
The poll was released just as the supes are deciding on two competing plans to address the radical shortage of affordable housing in the city.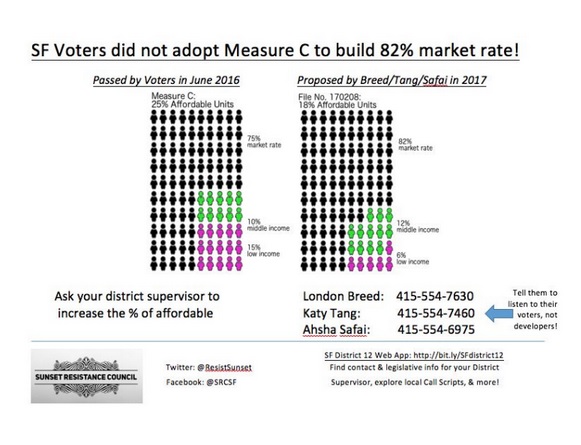 The two measures were discussed at length today at the Land Use and Transportation Committee, which decided to continue the vote for a week while the two sides try to seek a compromise.
I'm not sure there's a lot of room for compromise here, but good luck with that.
The Yerba Buena Neighborhood Consortium, the advocacy arm of the TODCO housing group, commissioned the poll, which was conducted by David Binder and Associates.
The poll asked whether voters supported reducing the level of affordable housing set by Prop. C in 2016 from 25 percent to 18 percent. Only 42 percent supported that, and 51 percent opposed the idea.
More: When the two measures were put head to head, 53 percent supported the plan by Sups. Aaron Peskin and Jane Kim, which sets affordable housing levels at 24 percent, and only 33 supported the Breed-Safai proposal.
The politics of this are interesting. Breed and Safai have, in general, a 6-5 majority on the board for the more pro-development policies that they and the mayor support. But the poll suggests that some of their constituents – and the voters in swing districts like D8, where incumbent Jeff Sheehy will face challenger Rafael Mandelman next June – may not be so happy with their plan.
It would be lovely if the various sides could come together and decide on a plan that creates more affordable housing for all. But there are real differences here on what developers should be forced to pay.
And there comes a time when it's important to put a measure up for a vote and force all of the supervisors to take a stand and tell us which side they are on.