We've all heard the reports that ICE is planning a series of raids in Northern California. The Trump Administration is now talking about sending subpoenas to public officials in sanctuary cities to find out if they are cooperating with federal immigration officials.
We got an alert today that there was ICE activity in the Mission, which turned out to be a false alarm.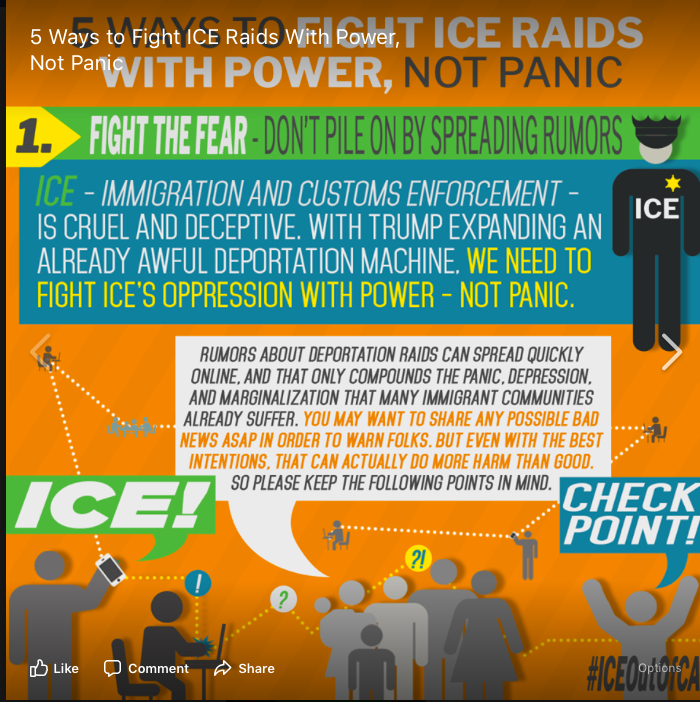 But the threat is very, very real, and the San Francisco School District is holding meetings with parents and talking about how to respond if raids happen. It's scary.
One of the first things that made me nervous about the vote to make Mark Farrell the interim mayor was his very lukewarm position on the sanctuary city policy. My advice to the mayor: Come out immediately, and strongly, in support of the existing policy. Make it clear that even if you didn't entirely agree with it, this is the law of the city and you are going to enforce it.
He gave us a pretty good sign with a couple of tweets today:


But he still needs to go further. He needs to hold a public event with advocates and make it very clear that nobody in his administration – including the SFPD – will an any way cooperate with ICE, and that he will personally stand up to any subpoena or other efforts from Trump to undermine the city's policies.
Politics aside, everyone needs to be alert for signs of ICE activity. The campaign to protect local immigrants is called "Power, not Panic," and activists have a set of hotline numbers to call if you see what appears to be an ICE raid or ICE agents on surveillance.
Here are the numbers for the Bay Area:
CE activity hotline
San Francisco: (415) 200-1548
Alameda County: (510) 241-4011 (also taking Contra Costa calls for now)
San Mateo (+ SF, Oakland, Berkeley): (203) 666-4472
Santa Clara County: (408) 290-1144
Marin County: (415) 991-4545
North Bay (Sonoma, Solano): (707) 800-4544
Sacramento: (916) 245-6773
Santa Cruz County: (831) 239-4289
Monterey County: (831) 643-5255
Fresno: (559) 206-0151
The California Immigrant Youth Justice Alliance has an excellent guide to preparing for the Trump attack.
The San Francisco Public Defender's Office has vowed to defend any resident detained in an ICE raid. "ICE's threats are outrageous and designed to terrorize immigrant community members. But we will not be afraid. Our highly trained staff stands ready to defend the rights of all San Franciscans regardless of immigration status," said Public Defender Jeff Adachi.
If someone you know is arrested in an ICE raid in San Francisco, call the PD's immigration hotline at 415-553-1428.
If you need help with immigration services, call the SF Office of Community Engagement and Immigration Services at 415-581-2360.
I hope Gov. Jerry Brown tells the Trump Administration that he will defend the rights of all Californians – and use the resources of the state to help fight any subpoenas or other legal attacks on sanctuary cities.
In the meantime: Power, not Panic.