As I was walking into the Rafael Mandelman for Supervisor party, at Cafe Du Nord, I ran into Sup. Hillary Ronen, who was heading out. We both knew Mandelman had won, handily. We knew that Prop. F, the right to counsel measure, had won – and the cops Taser measure was going down.
But the mayor's race? London Breed was ahead by ten points.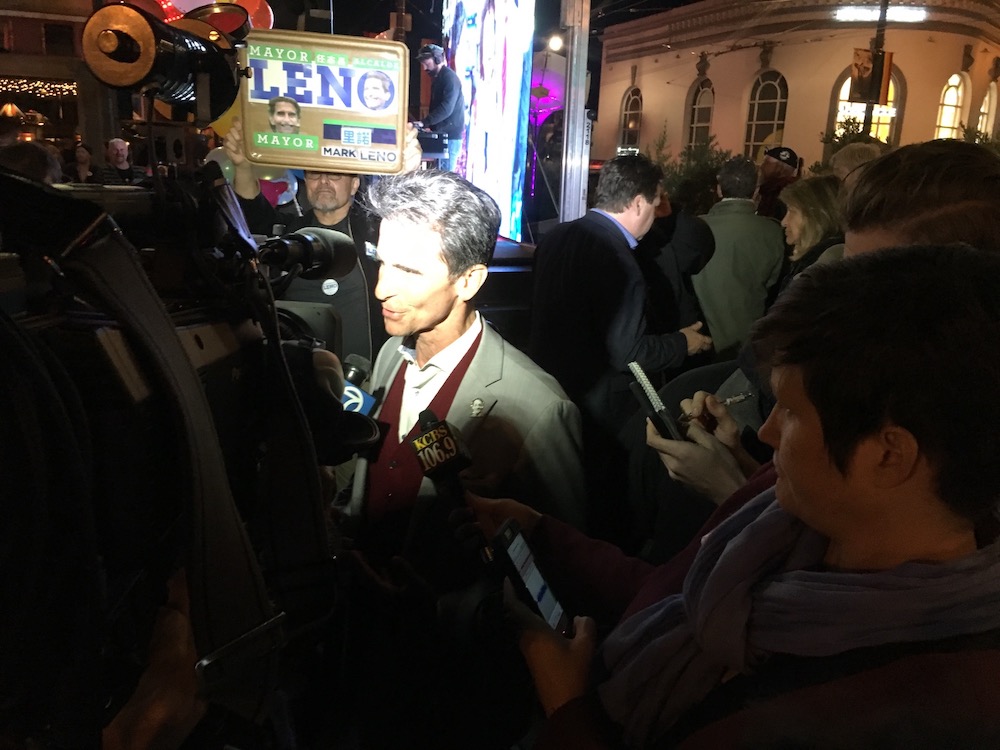 "It's not over," Ronen said to me. "It's not over yet."
And indeed, as of right now, the ranked-choice voting strategy of Mark Leno and Jane Kim is showing results. With Breed in first and Leno in second, Kim's second-place votes will be key – and at this point, they are going heavily for Leno, 9409 to 3,709 for Breed.
Breed, under the current RCV run, with about 60 percent of the vote in, is 3,000 votes ahead.
So this one is close. With half the votes in — and a whole lot to be counted after Election Day — there's a long way to go.
In the Castro's chilly Jane Warner Plaza, DJs pumped remixes of Madonna and other 80s hits from a flatbed truck as Leno prepared to take the stage. Leno was introduced by gay civil rights figure Cleve Jones, who called him "a person of truth."
"We don't always agree," Jones said, "but Mark always talks to me about issues with the conviction and passion to convince me he knows more than anyone else about how this city can be run." 
Passion was the byword again in Leno's speech, as well. "I'm proud to stand on the shoulders of gay civil rights heroes like Harvey Milk and Cleve Jones," Leno said. "Like Harvey, I want to help keep our neighborhoods wonderful places where all are welcome to live and thrive." He went on to thank the other mayoral candidates for spurring him to run a "passionate" race. 
"London Breed gave her life to this race," Leno said. "Jane Kim has been a wonderful partner. We cast our ballots in a show of solidarity and a passion for change in this city." Leno also thanked Amy Farah Weiss for introducing the 1-2-3 voting strategy. "It's still a long way to go until we have the final results," Leno said, "but the spirit and energy we've shown together in this race shows that anything is possible."   
At the party for Yes on F and No on H, the mood was buoyant. Prop. F, which will probably do more to fight homelessness than anything else the city has done in years, is cruising to victory. And Prop. H, which would have been a direct attack on civilian oversight of law enforcement, is tanking.
And that speaks to the complete lack of credibility on the part of the Police Officers Association.
"Everywhere we went, every neighborhood group, every club, when we explained that the POA was behind this, they sided with us," John Crew, a longtime police-accountability activist, told me. "The POA has zero respect at this point."