An auto burglary case that, thanks in part to an SF Chron column, has spurred anger among mostly white anti-crime crusaders comes before a Superior Court judge Friday/31 – and the outcome is far more important than one young man's future in the criminal justice system.
The Stop Crime SF group plans to pack the courtroom to put pressure on Judge Christopher Hite not to allow DeShawn Patton to accept a suspended sentence for a series of car break-ins.

The politics are potentially ugly: If Hite, who is African American and a former public defender, doesn't send Patton, who is African American and 21 years old, to prison for his crimes, some fear the outcome could be an attack on the judge and the independence of the local judiciary.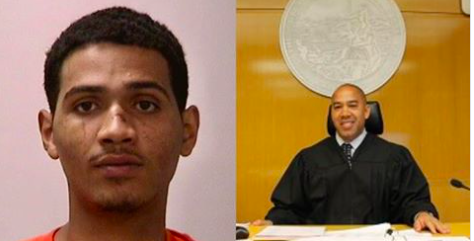 The furor started with a column by Heather Knight that portrayed Patton as a violent serial criminal who has somehow managed to escape accountability for his long record of car thefts:
Anyway, the grand jury indicted Patton on 11 felonies, including eight counts of auto burglary, one count of receiving stolen property, one count of resisting an executive officer and one count of hit-and-run causing injury.

The grand jury also indicted him on nine misdemeanors, including two counts of receiving stolen property, one count of possession of a burglary tool, one count of unauthorized use of a radio communication, three counts of resisting police officers, one count of theft and one count of hit-and-run causing property damage.

Shortly after the indictment, Gascón said, "Individuals like this are behind the city's property crime challenge, and by tying them to multiple incidents, we can ensure they face consequences that are commensurate with the impact they've had on our community."

Well, not really. For that, you need a judge to impose those consequences.

The very forgiving judge I mentioned is Superior Court Judge Christopher Hite, who previously worked as an attorney in Public Defender Jeff Adachi's office.

Hite is perhaps best known for flushing all 64,713 outstanding warrants issued in quality-of-life cases from January 2011 through October 2015, giving police no authority to detain people who skipped court appearances and rendering the citations meaningless. He did so as part of a court-wide consensus that fining poor people who can't afford to pay is pointless.

Then-Mayor Ed Lee was irate at the decision, saying the point of citations isn't to collect money from poor people, but as leverage to compel them to accept treatment, shelter and other services.

At the time, Lee said through a spokeswoman that the judges were not "meeting the responsibilities voters elected them to. When one branch of government fails — be it executive, legislative or judicial — we all fail.

It could be argued San Francisco is about to fail again. Patton faces a maximum sentence of seven years and eight months in state prison. On July 27, prosecutors offered Patton five years and eight months, meaning he'd probably serve less than three years with good behavior. He has been held in county jail since November. Hite said he'll be on probation for three years.

But Patton's attorney and Hite reached their own tentative deal. Patton agreed to plead guilty to most of the grand jury charges, and Hite indicated he will put him on probation and release him, according to several people present in the courtroom that day."
Let's unpack this for a second.
First of all, Hite may be "best known" for "flushing" those warrants – but the entire Superior Court was on board with that decision, and it was in his courtroom just because he happened to be handling that duty. Everyone in the courts agreed that it's silly to put out warrants to arrest people who are so poor that they can't ever pay their (ridiculous) tickets for the crimes of being poor.
Any judge on the bench would have made the same decision. They all agreed to it.
So there's that.
Help us save local journalism!
Every tax-deductible donation helps us grow to cover the issues that mean the most to our community. Become a 48 Hills Hero and support the only daily progressive news source in the Bay Area.
Then there's Patton. The guy has been in trouble with the law since he was 17. On KQED Forum, Knight said that she had no idea if he had any previous trauma or mental-health issues because his lawyer wouldn't talk to her. But Public Defender Jeff Adachi pointed out that if you look at a 21-year-old who has this kind of record, "something is wrong."
Adachi told me that there's a very successful program called Young Adult Court that takes offenders like Patton and helps them find jobs.
"When I ask people involved in car burglaries what would get them out of that life of crime, they overwhelmingly say jobs," Adachi said.
He also said that almost every single person who he has worked with at YAC had some sort of serious trauma in their young lives. The program has trained therapists to help them through that. It works.
In the wake of Knight' story, StopCrimeSF has made a big deal of this case. We talked to Frank Noto, a leader in the group, and he told us:
"We think [Patton] needs serious time to think about what he's done and then utilize programs after. We don't think parole is working for him. We would like to see him sent to prison to turn his life around."
Adachi, however, noted "all the studies show that when you send a young person to prison, they graduate with a much higher chance of re-offending."
There's endless data on this: Send Patton to state prison, and when he gets out, the odds are overwhelming that he will go back to breaking into cars – or worse.
Prison is not going to turn his life around.
So now let's look at the "lenient" sentence Judge Hite is talking about.
Alex Bastian, a spokesperson for DA George Gascon, told me that the prosecution had offered a plea bargain of five years, eight months in state prison. Patton has been held in jail since last November for the crimes he's accused of. Since nonviolent prisoners who behave well typically get half of their sentences reduced, and given the time he's already served, Patton under that deal would have probably served another 27 months. A little more than two years.
Under Hite's proposal, Patton would plead guilty to and accept a sentence of more than six years – and he would be on "felony probation." The sentence would be suspended – meaning that if Patton did anything at all (even a minor crime), Hite could immediately and without a hearing send him to state prison for the full term.
The Adult Probation Department has made it clear they can work with this.
Adachi told me that his staff sees these kinds of deals "as a devil's bargain." In many cases, he said, the shorter sentence is better for the defendant. In no way, he said, is this a "lenient" deal.
And if there's any chance of Patton getting his life together, it most likely won't be in prison. According to the National Institute of Justice, the likelihood of an applicant with a record getting a job is reduced by 50 percent in comparison to an applicant without a record. Unsurprisingly the punishment for African Americans and Latinos are disproportionately higher than white applicants with records. As reported by the New York Times, men with criminal records account for about 34 percent of all unemployed men between the age of 25-54.
Without the proper tools to succeed, many ex-cons are cycled in and out of the system. According to the Bureau of Justice Statistics, 76 percent of all inmates end up back in prison within five years.
Ellen Chaitin, a retired Superior Court judge who still handles some cases, told me that she can't comment on this case. But, she said, our society is increasingly coming to understand that sending someone to prison who has not been charged with any violent crimes doesn't always make sense.
"Sooner or later, most people who go to prison are going to get out," she said. "And if there are services that can prevent a return to crime, and close supervision, that's something to consider."
Chaitin's right: After years of failed "lock-'em-up" policies created an expensive disaster of a prison-industrial complex (and did little to stop violent crime) we are starting to see that alternatives to incarceration — keeping people out of jail — ought to be a goal of the criminal justice system.
Politics has played a role in this case from the start. Gascon has been pushing to get more money for an auto-burglary task force (which then-Mayor Mark Farrell rejected), and in an April 23 news release on the Patton case, he noted that he was asking for more money "in order to enhance the role that prosecutors can play in reducing the city's auto burglary challenge."
Gascon, in an unusual move, took the Patton case to a grand jury to get multiple indictments so that he could seek a longer sentence.
We'd like to think that in San Francisco in 2018, a judge wouldn't get attacked in a highly politicized case for being too "soft on crime."
That's what's at stake in the Friday sentencing hearing.