ARTS FORECAST In the years that have passed since the 2006 death of Detroit producer, J. Dilla's import has only come into sharper focus. Hailing from a family rife with jazz musicians, James DeWitt Yancey was able to extrapolate tessellated hip hop rhythms that proved the perfect canvas for Q-Tip, Common, Erykah Badu and other '90s vocalists' verbosity. But the compositions stand on their own; show me the hip hop head — I don't care the generation — that never throws on a J. Dilla instrumental for psyche ordering?
Among those eager to extend Jay Dee's legacy is longtime friend Waajeed, a producer and filmmaker that enjoyed a 17 year friendship with the artist. In photo exhibition A Day in the Life of JOHN DOE (the title a nod to Dilla's early pseudonym), Waajeed dissects the other producer's practice, a tempting experience on Thu/7 for anyone still boggling over how Dilla was able to create the revolutionary sounds that came from his brain.
The show is far from the only underlineable music event in San Francisco this week. The San Francisco Son Jarocho Festival (Wed/6-Sat/10) returns for its seventh year at Mission District venues, an annual convening moment for fans of the music genre forged in the multicultural Mexican state of Veracruz.
Perhaps son jarocho's high water mark when it comes to commercialism was "La Bamba", a classic folklore song that went through a boggling number of incarnations when it hit international pop culture, from Richie Valens to Selena. (Popular legend holds that its lyrics originally described a 1500 attack on the coastal city of Veracruz.)
This year's San Francisco festival pays homage to Andrés Flores, founder of son jarocho group Chuchumbé and a major embodiment of the genre. Flores was forced to move away from his hometown Coatzacoalcos in 2017, fleeing the violence from organized crime that has often overwhelmed Veracruz residents over the past decade.
Flores will be the topic of a roundtable KPOO discussion that will be open to the public on Fri/8. His group Chuchumbé desde México is among the artists and bands who will play Flores' music at a celebration of the artist's life planned for Brava on Sat/9.
Those who want to learn more deeply about son jarocho will have a host of opportunities, apart from a traditional fandango, a jarocho communal dance, on Fri/8. Sunday's day of master's workshop will include sessions on jarana playing and zapateado, the rhythmic, stomping dance for which special wooden platforms appear at Veracruz gatherings.
A DAY IN THE LIFE OF JOHN DOE
Thu/7 7-10pm, free
Family Affair, SF
More info here.
SAN FRANCISCO SON JAROCHO FESTIVAL
Wed/6-Sat/10, $10-45
La Peña Cultural Center and Brava Theater, SF
More info here.
UPCOMING EVENTS
IMAGINE ART Chinese brush painting, ikebana, and ink on rice paper are utilized by six Bay Area artists in this group exhibition welcoming the Year of the Pig. Through Feb. 28. Open Fridays-Mondays 11am-4pm. HVAW Gallery, SF. More info here.
A PEOPLE'S FUTURE OF THE UNITED STATES: SPECULATIVE FICTION FROM 25 EXTRAORDINARY WRITERS LIT Charlie Jane Anders and Gabby Rivera read their selections from this compendium of 25 writers' visions of dystopic utopia. Thu/7 7pm, free. City Lights Bookstore, SF. More info here.
LOST IN Z SPACE STAGE Kat Robichaud and the Darling Misfits conduct a wild, musical ride through beloved sci-fi TV shows and movies. Say hi to your dear friend Barbarella and salute Major Tom. Thu/7-Sat/9 & Feb. 14-16 8pm, $25-250. Z Space, SF. More info here.
CASTRO ART WALK ART Some 13 businesses open their doors to all comers at this neighborhood celebration. Plus, Castro CBD is sponsoring some soothing classical music in Jane Warner Plaza 6-7pm. Thu/7 6-9pm, free. Castro District, SF. More info here.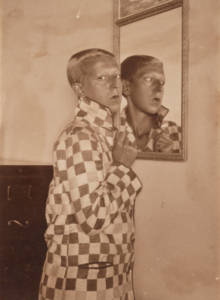 SHOW ME AS I WANT TO BE SEEN ART The Contemporary Jewish Museum takes on the fluidity of gender identity in this exhibition of the work of French surrealist Claude Cahun and her partner-collaborator Marcel Moore. Through the pair's portraits of Cahun, they pushed the envelope on conversation of gender identity. Thu/7-July 7. Contemporary Jewish Museum, SF. More info here.
PRISSY NIGHTLIFE A new kind of catwalk arrives at The Stud in the form of this fun new queer party. Performance by Fauxnique, Boy Young, and Meredeath, with DJ sets courtesy Matthew Paul and Corry Vreckan. Fri/8 10pm-3am, $10. The Stud, SF. More info here.
QUEER GAMING DAY FUN The call has gone out to the socially maladjusted or the simply sober; pull up today to jump into some tabletop rags, card games, and board games with potential new friends. Sat/9 2-7pm, free. Most Holy Redeemer Church, SF. More info here.
VALENTINE'S WEEKEND POP-UP MARKET SHOP Fancy crepes, artisanal cotton candy — even a cheese and chocolate pairing class is going down at this pop-up, where you'll find only the sweetest snacks for your locavore babe. Sat/9 noon-5pm, free. Market Square, SF. More info here.
WANDER WOMAN CLOSING EVENT ART An evening of performance to mark the final moments of "Wander Woman", a group exhibition of works by first generation immigrant women of color in the Bay Area. Sat/9 7-10pm, free. Root Division, SF. More info here.
CORKSCREWED COMEDY A lineup of six stand-ups will ply your palate at this Sunset District wine bar. Pour, yuck, repeat. Sat/9 9-10:30pm, free. InnerFog Wine Bar, SF. More info here.
DJS PAREJA NIGHTLIFE Irl partners Mariano Caloso and Diego Irasusta coming to you from Buenos Aires to fill your Saturday with pulsating techno tricks. DJs Pareja will be backed by DJ Jackie House at this opportunity to dig deep into South American club futurespeak. 9pm-4am, $16.90. The Stud, SF. More info here.
OAKLAND MUSEUM LUNAR NEW YEAR CELEBRATION One of the best spots in the East Bay to usher in the Year of the Pig. OMCA will host lion and dragon dances, martial arts, taiko, Philippine folk dance, Korean drumming — even a K-pop dance performance. Sun/10 noon-4:30pm, $15.95 museum admission, $6.95 for ages 9-17, free for members and children under 8. Oakland Museum of California, Oakl. More info here.
HOW TO PRUNE, TRAIN AND TIE ROSE PLANTS The San Francisco Rose Society hosts this talk by horticulturist Tom Liggett. He'll teach you how to handle the prickly beauties, just in time for V-Day present season. Sun/10 1-2pm, free. Hall of Flowers, SF. More info here.
FREIGHT & SALVAGE BLACK HISTORY MONTH MUSIC The the Oakland Interfaith Gospel Choir and its conductor Terrance Kelly put together this showcase of traditional gospel. 55 singers lifting their voice to celebrate history, spiritually. Sun/10 7-9pm, $18 presale, $22 at door. Freight & Salvage Coffeehouse, Berk. More info here.