ONSTAGE Coming in at number eight on "New York Magazine"'s "The Most Powerful Drag Queens in America" list meant next to nothing to Bob the Drag Queen.
"It didn't mean a whole lot, to be honest," said the RuPaul's Drag Race season 8 winner and current host of MTV's web series "Drag My Dad." "I wasn't like 'Wow, I'm so honored that this random group of people value me. You really can't base your worth as an artist off how much people like you. You can base the worth of your tickets on that, but not your worth as an artist."
This life lesson was one that Torrance Shipman, the insecure, validation-hungry cheerleading captain character, in the 2000 film classic Bring It On, had to learn the hard way.
In the campy comedy, the newly promoted "cheer leader" (played by Kirsten Dunst) must learn to believe in herself as she grapples with a squad and a boyfriend who doubt her every move as well as the knowledge that her predecessor has been lifting their winning routines from a competing inner city school team, led by Isis (Gabrielle Union).
A longtime fan of the movie, Bob the Drag Queen, who was most recently seen in the 2018 Berkeley Repertory performance of Angels In America and on Netflix's Tales Of The City, will next be seen opposite "RuPaul's Drag Race All Stars" season 4 winner Monét X Change and San Francisco scream queen Peaches Christ in the premiere of "Bring It On, Queen" (Sat/13 at Castro Theatre, 4pm and 8pm).
In Christ's live, dance-heavy musical film parody, Bob and Monét play captains of two rival drag queen cheer squads competing for a national championship trophy.
I spoke to Bob the Drag Queen and Peaches Christ about the enduring appeal of "Bring It On," the story's socio-political relevance in 2019, and why it's perfectly ripe for the Peaches Christ treatment.
48 HILLS What do you love about "Bring It On"?
BOB THE DRAG QUEEN Bring It On is my Mean Girls. You know how people love Mean Girls? For me, that's Bring It On. I love the campiness of it. It's very much of that era, with the long opening credits, kinda like Legally Blonde, and it was really great to see all the talent in the movie, like the singing group Blaque. They were so big at the time, especially in Atlanta where I was from.
It also cracked me up, the real-life age difference between Gabrielle Union and Kirsten Dunst. Kirsten looks 18 and Gabrielle looks 28.
PEACHES CHRIST Bring It On is one of those teen movies that came out long after I was a teenager that I enjoyed from the first time I saw it. I think the film is really well-written, very funny, and it was a fresh look at the teen genre film when it was released, which is why I think kids embraced it so much.
One of the most refreshing parts of the film is that it's one of the first teen movies to feature a lead that's not white, as well as an openly gay character who's not presented as a joke.
48 HILLS What makes it an LGBTQ classic?
PEACHES CHRIST I think for a certain generation of people it is indeed an LGBTQ classic because of the unapologetic queerness that's presented in the film as well as the message of "doing better." And besides that, it's a film about cheerleading! That alone makes it of special interest to loads of queer folks.
BOB THE DRAG QUEEN Yes, it's cheering and it's got boy cheerleaders, great music, campiness, bitchiness—a lot of really fun elements to it.
48 HILLS It seems so perfect for the Peaches Christ treatment.
PEACHES CHRIST I think that if there's a cult audience out there that loves a movie and really knows all the lines and can sing along to the opening cheer, it's ripe for the Peaches Christ treatment. I rely on fans of the movie and fans of drag to come and celebrate this film they love so much. And people have been asking me to do Bring It On for years.
48 HILLS Outside of making the characters drag queens, how did you make the story your own?
PEACHES CHRIST I'd say the biggest change I made was that I added a bit of storyline about the East Compton Purses (not Clovers) that's not in the original film. I wanted to showcase their team equally with the rival team, The Sponges. I think the audience will appreciate some of the additions we've made to flesh out their journey to get to Nationals.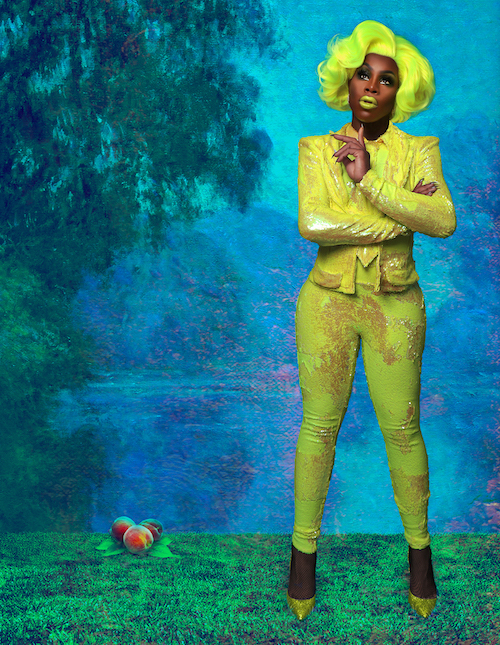 48 HILLS Bring It On is chock-full of memorable catchphrases. Which are your favorites?
BOB THE DRAG QUEEN I have so many. I really like the cheer: "Awesome! Oh wow! Like totally freak me out. I mean right on!" I also like when she says, "I transferred from Los Angeles. Your school has no gymnastics team. This is a last resort." That always pops out in my mind. That whole scene has great lines, like "You're a cheer-tator, Torrance, and a pain in my ass!"
PEACHES CHRIST I love the line "This is not a democracy, it's a cheerocracy." And, of course, the "Oh, I'll bring it. Don't worry," with the reply "I never do."
48 HILLS Silliness aside, the fact that a white team is stealing routines from a Black team in the story adds a socio-political relevance to the story.
BOB THE DRAG QUEEN The idea of people coming into more maligned cultures and lifting what they want and then kinda leaving and going back to the comforts of their culture is certainly a story that's still relevant today. It's something that I've experienced not only as a black person but also as a queer person.
PEACHES CHRIST We've talked a lot about that as far as the casting of this show goes, which is why I think it might be addressed a bit more overtly in our show. Monét is playing the newly nominated Black cheer captain of an upper-middle-class mostly white high school who doesn't know that the former cheer captain was stealing routines. Of course, when she finds out, she's able to articulate how fucked up it is, but she's also seen as a traitor by the other school.
48 HILLS What keeps "Bring It On" relevant in 2019?
PEACHES CHRIST I think the biggest thing is that it's still a very funny and entertaining movie and the fact that the underlying message about appropriation continues to make it relevant.
BRING IT ON, QUEEN
Sat/13, 4pm & 8pm, $20-$140
Castro Theatre, SF
More info here.