FALL ARTS PREVIEW Gallery season leaps into fall affect this week: Check out arts writer Matt Sussman's picks for enlightening, expanding experiences.  
Africa State of Mind + Rashaad Newsome at MOAD (Both Sept 4 – Nov 15)
The Museum of the African Diaspora has been delivering some of the best local institutional programming over the past few years—and these two exhibitions continue the trend. This is the only US stop for Africa State of Mind, a rich and enriching survey of contemporary art from across the African continent. Category is: galactic glamour! Creative polymath Rashaad Newsome's new video work, inspired by the opulence and life-giving performances of the gay ballroom scene, is simply out of this world. See it all come to fruition in 3-D on October 19, as the museum hosts an Afropolitan Ball, with specially created projection mapping by Newsome. More info here.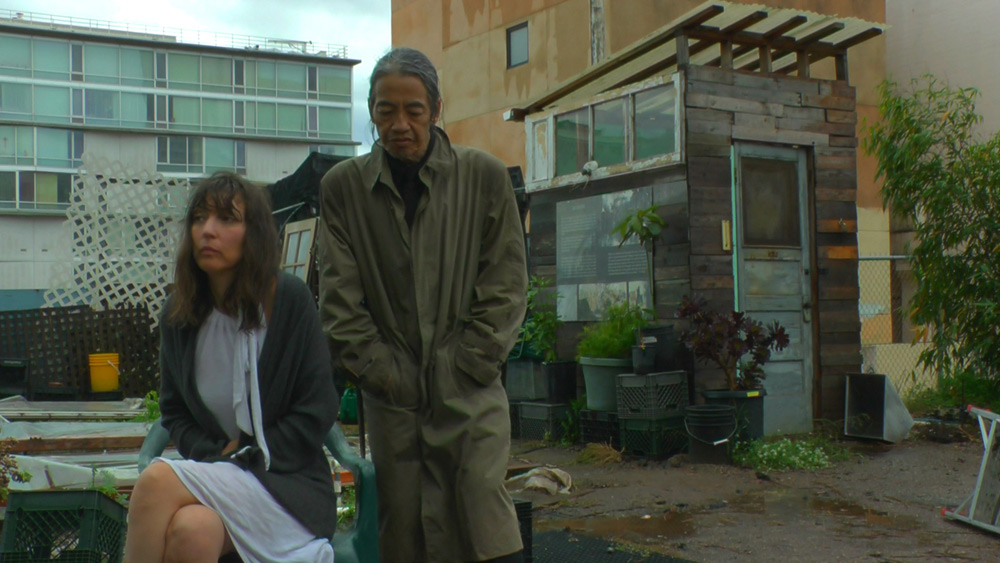 Dale Hoyt: Farm and Friends—in 3D! at Telematic (Sept 7 – October 12)
From pastoral poetry to The Simple Life, farming has often been held up as a paradisiac alternative to urban malaise. Shot on an actual farm in SF, Dale Hoyt's experimental narrative exposes the rot at the heart of its central father-daughter dyad (the pair are as interested in true crime trivia as they are in agriculture), a toxicity that seems to seep from the soil as it does fall from the rapidly gentrifying air. The accompanying exhibition features art by supporting cast members, which picks up on the film's themes of alienation and environmental collapse. More info here.
Katherine Vetne: Whatever I See I Swallow at Catharine Clark Gallery (Sept 7 – October 26)
Jumping off from Barbara Kruger's ironic, iconic maxim "I Shop Therefore I Am," Katherine Vetne solo debut at Catharine Clark investigates the deeper drives that subtend gendered forms of consumption and luxury retail. In drawings, hands swarm the folds of Hermes scarves like hungry locusts or lovers. Elsewhere, assemblages of melted candelabras coated in silver nitrate look like relics from the Blitz. That the pieces themselves are so covetable, so polished, adds another turn of the screw. More info here.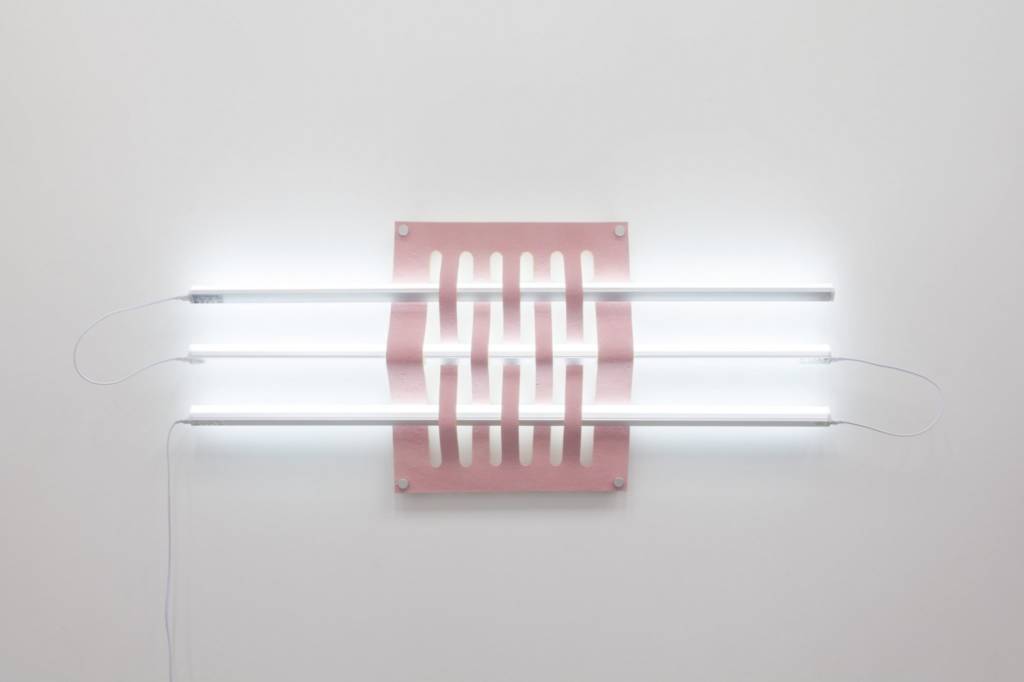 Dana Hemenway: Differently Structured Possibilities at Eleanor Harwood (Sept 7 – October 26)
Approaching materials commonly found at the hardware store (extension cords, ropes, light bulbs) with a fiber artist's hand, Dana Hemenway creates woven sculptures that are both a part of and hang apart from their built surroundings. At once abstract and oddly tender, Hemenway's work creates visual poetry out of the frequently hidden circuitry that surrounds us. More info here.
4Waves: 40 Performances for the Hole @ SOMARTS (Sept 11)
It's back! A who's who of Bay Area creative royalty will each have only five minutes total to do their thing – set-up to clean up— in a 100 year-old pit in the floor of SOMArts. Guest curator Justin Hoover's reprise of his now legendary marathon night of performance is time-based art at its most democratic, gonzo, and gloriously San Franciscan. "There are no rehearsals." More info here.
Assume Vivid Astro Focus @ Fort Mason Center for Arts and Culture (Sep 13 – Oct 6)
Queer psychedelic art collective Assume Vivid Astro Focus has landed their space ship at Fort Mason and created a mural you can skate on. That's right: the main gallery floor has been transformed into a multi-colored and clashing-patterned circular roller rink, complete with a fully kitted-out DJ booth at its center. BYO wheels (or rent a pair) and roll-bounce along with your fellow machine elves to jams by some of the Bay's funkiest selectors. More info here.
Nicki Green: Splitting/Unifying at Et Al Etc (Sep 13 – Oct 26)
Nicki Green creates ceramics that are not merely beautiful in their own right but which are meant to function as queer ritual objects. Vessels, in all senses of the word, Green's pieces are both reverential and playful, at times honoring queer elders via a kind of adapted Jewish mysticism that also allows for moments of cheeky eroticism. More info here. 
Terry Fox: Resonance @ Various locations (October 1 – December 14)
Berkeley Aart Museum alumnae Dena Beard and Constance Lewallan have curated an ambitious two-month long tribute to formative Bay Area conceptual artist Terry Fox. Something of a weathervane for the currents of his time, Fox brought back both his firsthand account of the May '68 protests in Paris and the experience of working with Joseph Beuys in 1971 to the Bay, influencing a generation of fellow artists in turn. Spread out over venues across the Bay, Resonance will highlight various components of Fox's practice, including his hermetic performance pieces, giving this mercurial, exacting artist an overdue homecoming. More info here.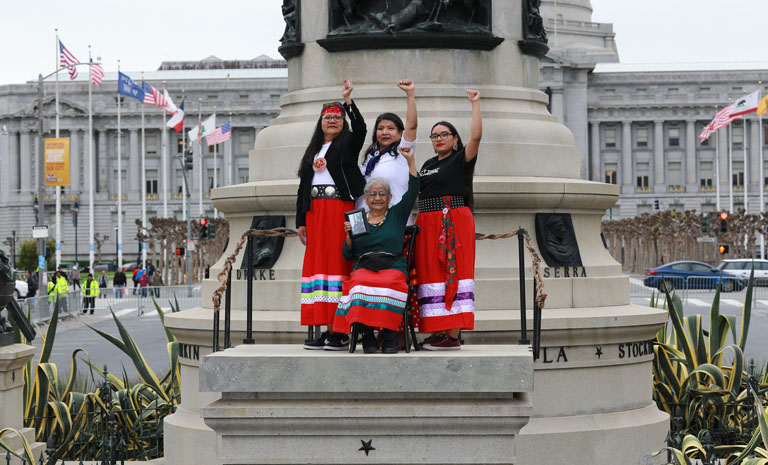 The Continuous Thread at SFAC (Oct 4 – December 14)
After the removal of Early Days, the settler colonialism-glorifying component of SF's Pioneer Monument in Civic Center plaza, over 150 members of Bay Area's indigenous communities stood upon the now-bare neoclassical plinth on April 5 and 6 and had their pictures taken by three different photographers. Those photographs comprise The Continuous Thread, a commemoration of a wrong righted, a corrective to popular representation, and a collective portrait of American Indians now. More info here.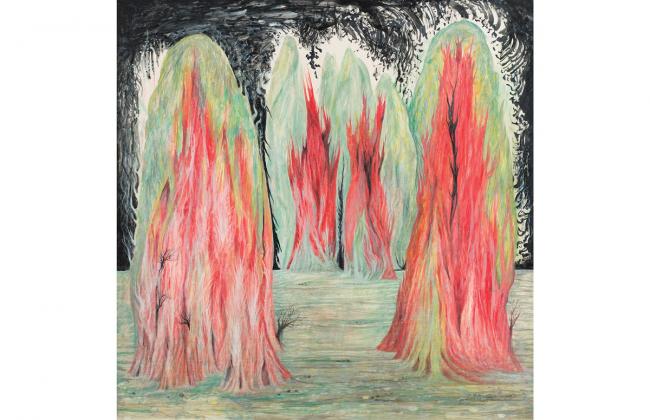 Sylvia Fein: Matrix 275 at BAM (November 13 – March 1)
Sylvia Fein's delicate, highly detailed paintings of landscapes and subjects, both mundane and fantastic, are remarkable contributions within the generation of American artists who took up Surrealism's mantle in the 1940s. (Her skilled use of egg tempera, a notoriously temperamental medium, makes them positively glow). But add in the fact that the longtime East Bay artist is celebrating her centenary this year makes Fein a cause for even more celebration. Don't miss her artist's talk on November 13, and be sure to check out the concurrent survey show Strange which should provide additional context for Fein's work along with that of her contemporaries. More info here.