When Olympia Dukakis won the Academy Award for Best Supporting Actress for her role in Moonstruck, in 1988, she became the first Greek American to win the much-coveted trophy.
Those with Greek ancestry were still decades away from being honored by Hollywood when the actress was first starting out. In fact, Dukakis — the subject of director-producer Harry Mavromichalis' new documentary Olympia (Sun/20 at The Castro Theatre), which opens this year's San Francisco Greek Film Festival— was previously shut out of the industry because of her ethnic roots.
But instead of giving up, she formed her own theatre company, the Whole Theatre in Montclair, NJ, to take on the parts that had been repeatedly denied to her by prejudiced producers.
"It was for the simple reason that I wanted to work," Dukakis told 48 Hills.
Her stage success off and on Broadway would lead to such iconic film and TV roles as Sicilian matriarch Rose Castorini in Moonstruck, merry widow Clairee Belcher in Steel Magnolias, and "eccentric, marijuana-growing landlady" Anna Madrigal on Tales of the City.
Now, the trailblazing and multiple-award-winning actress will be recognized once again for her lifelong contribution to the arts with the San Francisco Greek Film Festival's Honorary Astron Award.
I spoke to Dukakis about her latest honor, how Moonstruck changed the course of her career, and why she chose to expose her heaviest struggles in Olympia.
48 HILLS Olympia was filmed over a period of three years, starting in 2011. Why was that the right time to do a documentary and what were you hoping to achieve with it?
OLYMPIA DUKAKIS It was Harry [Mavromichalis]'s idea. He was a graduate at NYU's Film School. He was Greek. I wanted to help.
I was teaching at NYU Theater School at the time. We met after he invited me to teach a workshop in Cyprus. He shared with me his work, which I really liked, so when he asked to do this I hesitantly said, "Yes."
48 HILLS You say in the film that the accolades, like a star on the Hollywood Walk of Fame, don't mean a lot to you if they're not about a specific piece of work. What does it mean to you, as a Greek American, to be honored by the SF Greek Film Festival?
OLYMPIA DUKAKIS I am thrilled to be honored by the SF Greek Film Festival. I'm also very touched that they have chosen Olympia as the Opening Night film. San Francisco is close to my heart, so it means a lot to me to share this film with you.
48 HILLS How has the "Fight ye devils, I hate peace" mantra served you in your life and career? Are there ways that it hasn't served you?
OLYMPIA DUKAKIS I think I was born with that mantra. It alerted me to when feeling used or abused. I am not a confrontational person. I grew up in Lowell, Massachusetts, and by the time I was 13, I was carrying a knife. I had to protect myself and my safety was an issue.
It always served me. It has given me the clarity about whether or not I want to confront something.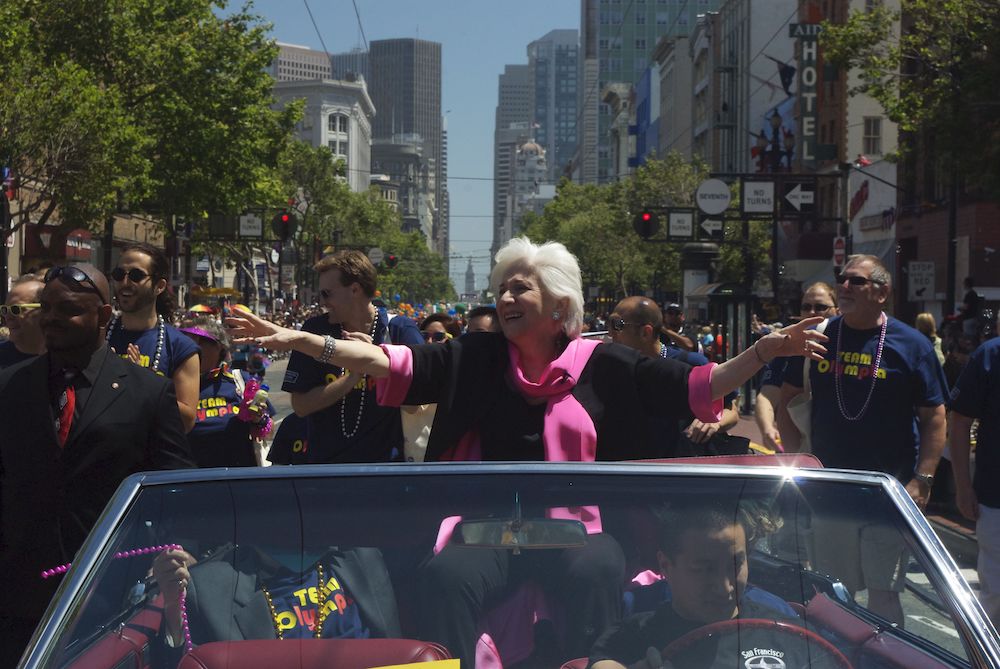 48 HILLS You speak about not belonging in show business as a Greek American woman and how feeling outside the norm never goes away. How did you learn to live with who you are, and is that part of why you've celebrated the LGBTQ community as much as you have?
OLYMPIA DUKAKIS I have friends in the LGBTQ community and knew what they were confronting and wanted to support them.
48 HILLS In playing transgender character Anna Madrigal on Tales of the City from 1993 to 2019, you committed a revolutionary act. What appealed to you about this character? What did that experience teach you?
OLYMPIA DUKAKIS I did not consider it revolutionary. I liked the complexity of her character and that as an "outsider" she had made her way. It taught me to trust my instincts.
48 HILLS It's so beautiful the way your late husband, actor Louis Zorich, supported and admired you. How are you handling this immense loss?
OLYMPIA DUKAKIS It's difficult. One day at a time. Keeping busy. Surrounding myself with friends and family. Meeting and marrying Louis and having my children are the best things that have ever happened to me.
48 HILLS How did starring in Moonstruck and Steel Magnolias impact the rest of your career?
OLYMPIA DUKAKIS Moonstruck allowed me to enter the world of character actors and to be cast based on my talent — not my ethnicity. The reason I started my own theatre company was because I couldn't get auditions to the plays I wanted. I was seen as too ethnic. Moonstruck changed that for me. Steel Magnolias then followed. People appreciated my craft.
48 HILLS In the film, you smoke cigarettes, talk about one-night stands, marital infidelity, maternal regrets, psychiatric issues, and attempted suicide. Was it hard to be so revealing?
OLYMPIA DUKAKIS Not at all. Harry has a way of making you feel comfortable. You know you can trust him. He is not there to sensationalize your life. He is asking the questions because he cares. And seeing the film, I saw that. It was important for him to show the audiences the struggles that artists go through before they "succeed." This love he has for the nitty-gritty is what I think bonded us. Neither of us likes bullshit.
48 HILLS You're asked in the film, "What's your philosophy on death?" But I'm curious about your philosophy on life. What is it?
OLYMPIA DUKAKIS Do what you want. Treat people decently. Learn from your mistakes. Pursue what matters to you.
SAN FRANCISCO GREEK FILM FESTIVAL: OLYMPIA
Sun/20, 5:30 pm, $15-$40
THE CASTRO THEATRE, SF.
More info here.