Based solely on appearances, Simon Liu resembles any other tech worker in San Francisco: Clad in a puffy jacket and sneakers, Simon carries his slender laptop so he can work on coding problems as soon as the solutions occur to him. His peers know him as the affable and proficient engineer who brings lunch to homeless people near his work.
What most of them don't know is that Simon served 20 years in San Quentin for an armed robbery and acquired his skills for coding through a program in prison.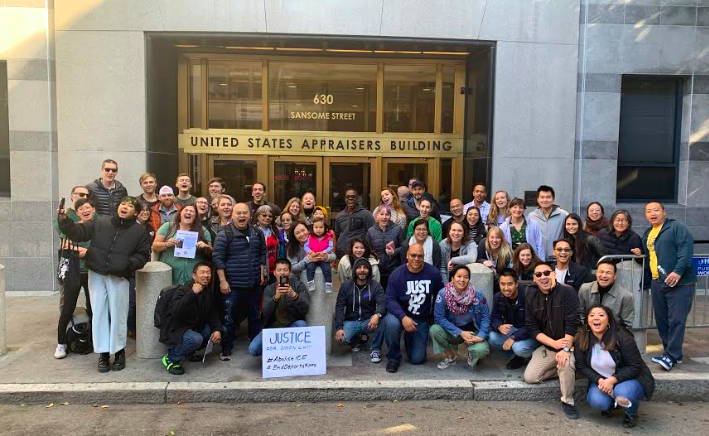 And now, unless Gov. Gavin Newsom intervenes, he could be deported – for a mistake he made at 16.
At the age of 15, Simon Liu and his family immigrated to Oakland, California from Guangzhou, China. Less than a year later, Simon and his friends from Oakland were involved a home robbery in San Jose.
Charged as an adult at age 16, Simon was sentenced to 26 years at San Quentin State Prison. In addition, Simon's court-appointed lawyer convinced him to take a plea deal that implicated him in a sexual assault that occurred during the home robbery — and of which he had no knowledge.
The plea deal resulted in Simon's placement of the California Sex Offender Registry, for a crime he had not committed, and the loss of his status for legal residency in the US.
When Simon arrived in Oakland, he spoke no English and received no real support in transitioning to life as a teenager in the United States. Unable to keep up with classes, Simon dropped out of school. Barred by his father from living at home without working, and unable to find a job that would hire him, Simon stayed with the few friends he had made.
Eventually, he moved in with a group of older peers from his community who one day enlisted him and his younger friends to participate in an armed robbery. Indebted to them for his housing, Simon agreed.
"I didn't have a lot of options at that point in my life, said Simon. "And at 16 years old, I really could not have anticipated the consequences."
During the course of the planned home invasion, and unbeknownst to the rest of the co-defendants, one of the participants sexually assaulted a woman in an upstairs bedroom. Another member of the group then entered the room and intervened. None of the other participants in the robbery were aware of an occurring assault, nor did they have an involvement in it. None of the participants had any kind of prior criminal records.
Nonetheless, when Simon appeared in court, he was encouraged by his court-appointed attorney to take a plea deal that implicated him not only in the robbery, but also in the assault that had occurred without his knowledge. This deal resulted in the loss of Simon's permanent residency, thus jeopardizing his prospects of legally remaining in the United States following his release from prison. Since then, the U.S. Supreme Court has held that defense attorneys are obligated to advise their clients of the possible repercussions that a plea deal may have on their immigration status. But that rule was not yet in place at the time of Simon's plea deal, and the Supreme Court has held that it cannot be applied retroactively.
Six years earlier than his initial release date due to good behavior, Simon was ultimately released from San Quentin in 2017. Inside prison, he spent his time reading and studying coding and computer engineering. He also decided to become involved in the lives of other prisoners, mentoring them and helping prepare them for release.
When he himself released, he was immediately picked up by ICE (Immigration and Customs Enforcement) and spent one year in ICE custody.
Simon is now asking Gov. Newsom to pardon his convictions. Doing so would allow him to avoid deportation to China, where he has no immediate family members.
Simon Liu, Justice From "Life" from SunKissed Productions on Vimeo.
Simon Liu is not the first immigrant in these circumstances who has pursued this legal strategy. Last month, the governor granted pardons to three men – all of whom immigrated to the U.S. as children and were convicted of crimes committed as minors. Even after serving long prison sentences as a result, each of the men still faced the risk of deportation upon release. Pardoning the men for their state crimes effectively removed the ability of ICE to deport them. Meanwhile, the Trump Administration is actively contesting the power of state governors to block deportations through the pardon power.
Simon Liu hopes that the governor will continue his effort of pardons of immigrants in situations similar to Simon's. Even the judge who sentenced Simon in 1997 is aware of the unique ways in which justice was miscarried in his case, calling Simon's situation "unfair" and "wrong." Reflecting on the case in a letter to Gov. Newsom in support of a pardon for Simon, retired judge Ladoris Cordell wrote, "I know that it is highly unusual for a judge who imposed a long prison sentence on a 16-year old juvenile to ask that this now, 39-year old man, be given another chance. Indeed, I have never before made such a request."
In many ways, Simon is a model former prisoner: one who gives to his community, serves others and has rehabilitated himself to the best of the demands of the criminal justice system. On weekends he volunteers serving food to the homeless and helps other formerly incarcerated individuals find jobs. He is employed in his field and has built a strong community of family, friends, and colleagues. Yet Simon is still at risk of deportation and remains on the list of registered sexual offenders even though he never committed such an offense.
"When I tell people about being incarcerated, people will always ask me what it's like to be 'free'," says Simon. "But I'm not free. I'm just in a bigger, more colorful prison with the rest of you."
"Real freedom is being able to live your life without the fear of being deported. Or locked up for a mistake you made as a child. Or carrying a stigma for something you never did. So, no, I'm not free yet."
Simon Liu's case is a striking local example of the brutally unjust ways that mass incarceration, juvenile justice, and immigration enforcement intersect. Cases like his point to why these systems demand our increasing scrutiny—and why we must look for ways to dismantle the power that those systems have over people like Simon Liu.
To support Simon Liu's campaign, you can sign the pardon petition here.
To get involved in Simon's campaign, you can email pardonsimonliu@gmail.com