On the day that State Sen. Scott Wiener is announcing a new bill to mandate more private-market housing – which means, given the economics of San Francisco, high-end luxury housing – it's worth taking a moment to look at the numbers.
J.K. Dineen does a decent job reporting on the situation, but let's take it a step further.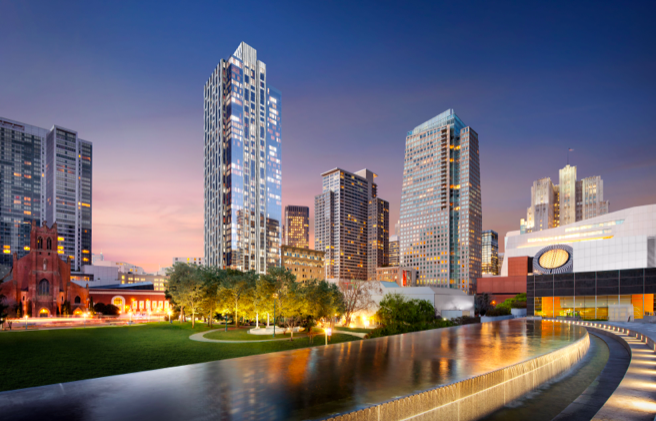 As John Elberling, director of TODCO, points out, there were 4,360 new housing units completed in San Francisco in 2019. Only 680 of them were affordable to most local residents – that's 16 percent.
Now let's go to the state Regional Housing Needs Assessment, which looks at how much housing of which type every community in California needs. The goal for below-market-rate housing in San Francisco is 2,042 units a year. The annual goal for market-rate (luxury) units is 1,565.
So San Francisco has approved and allowed the construction of 235 percent of its market-rate goal, and just 33 percent of the affordable housing goal.
In other words: There is not a housing crisis in San Francisco. If you have money, there are plenty of places available.
If you aren't rich, there's very little. That's what we call an affordable housing crisis. And the city is lagging way, way behind.
It's particularly bad when you consider that every new luxury housing complex creates and additional demand for affordable housing. So by approving 235 percent of the need for high-end units, the city is creating an additional demand for around 1,472 affordable units. That means the net RHNA goal for affordable housing is barely 5 percent. It's a disaster.
Of course, the high-end developers are happy:
The year will bring the first condos in decades to the Marina, the 41-unit Union House at 2465 Van Ness Ave. The developer, Mark MacDonald of DM Development, said that 1,200 people are on the interest list "and we have not started our sales process." One-bedroom units will be priced around $1.3 million and three-bedrooms around $2.5 million.

"The demand has been overwhelming," he said. "There is a huge pent-up demand from buyers who have a preference for the northern neighborhoods where there are so few opportunities, as opposed to buyers who might want to be downtown."

At the Four Seasons Residences, opening in June, about 20% of the units have been sold. In addition to the $49 million condo, there are 11 other penthouses ranging from $15 million to $25 million, said Rich Baumert, a partner with the developer.

The units average about $2,800 a square foot.

"We have had surprisingly strong interest in the top part of the building," he said. "People have been back for multiple visits."
But all of this market-rate housing isn't bringing prices down.
But the respite from hyper-appreciation will probably be brief, Fairweather added, because low interest rates and continued job growth will drive up prices.

"It's going to get competitive again," she said.

Developer Nick Podell, who is finishing a 203-unit apartment complex on Bryant Street in the Mission, said the rents in his new building — $5,000 for a two-bedroom, two-bathroom unit — would be the highest he's ever charged. But it was so expensive to develop the property that the deal will have lower-than-usual returns.
I still don't understand what the supporters of SB 50 are thinking. If you can barely make a return on building housing that costs $5,000 a month, how are developers going to bring prices down by building more luxury housing?
Also: Mayor Breed's claims about housing needs are a bit off:
While the 2019 production beat 2018 by 60%, "it's nowhere near enough," said Mayor London Breed, who has made streamlining housing production a key priority of her first 18 months in office. Just to keep up with 1% population growth, San Francisco would need to build more than 8,000 units a year, a number that remains a distant goal.

"We can't be a city where our Muni drivers, our social workers, our nurses and our teachers can't afford to live where they work every day." she said. "We need to fundamentally change how we approve and permit new housing to ensure that everyone in this city can afford to live here."
The city's current population is about 840,000. A one-percent increase would be 8,400 people. The average household in San Francisco is about 1.8 people, according to city planning figures. That would mean a need for 4,666 units, which is about the number constructed in 2019.
But none of that accounts for affordability. Muni drivers, social workers, nurses, and teacher will never be able to afford the market-rate housing the Breed and Wiener are promoting.
I have asked Wiener if he supports Prop. E, which would limit office growth and thus demand. He hasn't responded.