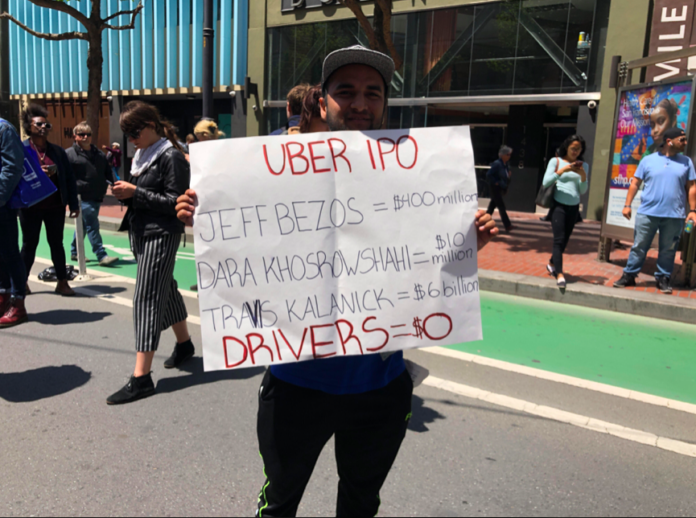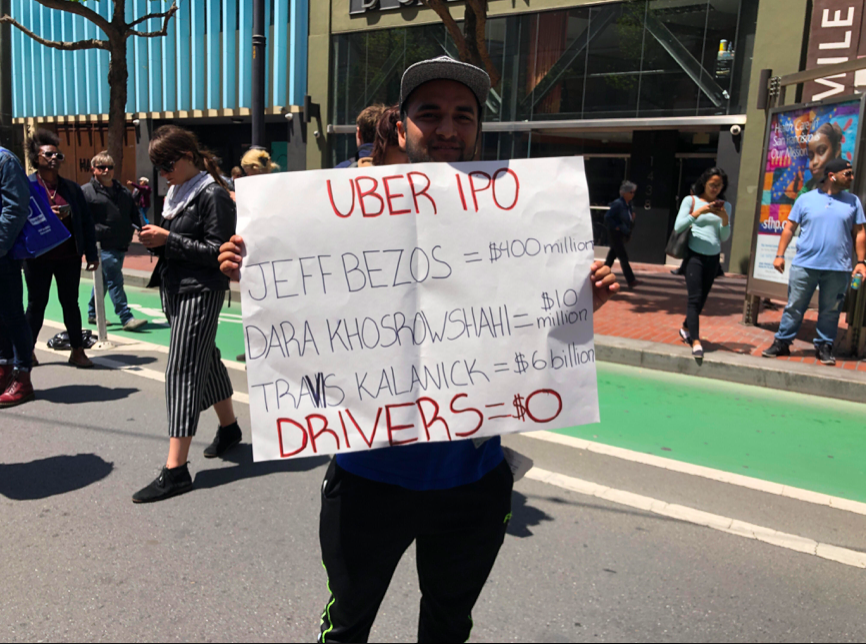 Uber's newly revealed goal of damaging public transit is already working in San Francisco, a new study shows. It comes in the wake of a series of protests by Uber drivers and cab drivers just days before an expected IPO.
The study, by the SF County Transportation Authority and civil engineers at the University of Kentucky, directly contradicts the claims by ride-sharing companies that they are getting people out of their cars.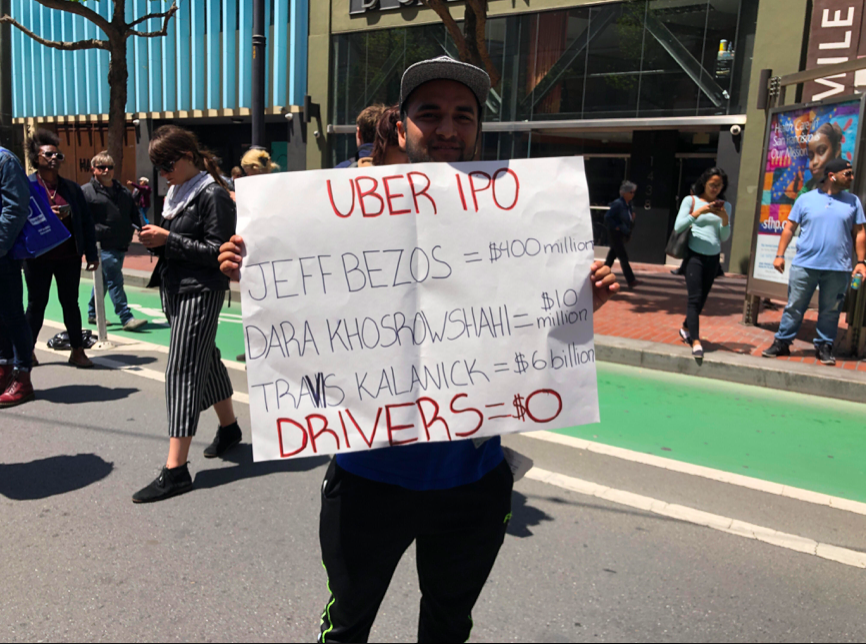 In fact, it states, car ownership in San Francisco has not decreased since Uber and Lyft arrived. Instead, Muni ridership has decreased. So have bike trips and walking.
"Between 43 and 61% of TNC trips substitute for transit, walk, or bike travel or would not have been made at all" the study notes.
Most of the news media coverage on the study has looked at congestion:
Uber and Lyft accounted for two-thirds of a 62% rise in congestion in San Francisco over six years, according to a report published on the day of a coordinated protest by drivers.

The figures "are eye-popping," said Joe Castiglione, deputy director for technology, data and analysis at the San Francisco County Transportation Authority. He co-authored the study with researchers from the University of Kentucky.
But the study goes further. It uses a data regression model to correct for other factors that might impact congestion. It accounts for population growth, road repairs, and other impacts that could cause congestion. It looks at what Uber and Lyft are claiming – that they reduce car ownership and provide a positive environmental impact – and show that this is absolutely untrue:
We do not observe a meaningful change in car ownership, with an average of 1.08 cars per household in 2010 and 1.10 cars per household in 2016.

In addition to the 20% of TNC [Vehicle Miles Traveled] that is out-of-service, 70% of San Francisco TNC drivers live outside the city. While we do not explicitly track it in this study, the drivers' commutes into the city may add more VMT to the network.
In other words: Uber and Lyft are causing more cars to drive more miles, undermining efforts to combat climate change. This is the strongest evidence to date that the so-called Transportation Network Companies need tighter regulation.
The drivers of both Uber and Lyft vehicles and traditional cabs are angry – the TNCs pay crappy wages, and they undermine the ability of cab drivers to make a decent living. A bill in the state Legislature, AB 5, would make it clear that Uber and Lyft drivers are employees (which could undermine both companies' business plans, at least in this state).
But the fact remains that when San Francisco, where both companies started, had the chance to enforce the law the limits the number of cabs on the streets, the city, under then-Mayor Ed Lee, refused to do so. The city allowed this illegal operation to continue, building momentum for what has now become a serious problem for both quality of life and the environment.
And the moment cities started to try to enforce the rules, Uber went to the state Public Utilities Commission and got a ruling that banned cities from enforcing limits on illegal cabs.
The state Legislature could fix that, too, just as it's fixing the problem of drivers being classified as contractors with no rights. But I have seen no indication of anyone in Sacramento moving to overturn the CPUC decision that says TNCs aren't taxis and can't be controlled by local government.
The new study talks about congestion pricing and other mechanisms to fight congestion, but in the end, this is a regulatory problem. If there are too many Uber and Lyft vehicles on the streets of San Francisco, and they are creating clear and obvious problems, it seems logical that the city should have the ability to simply limit their numbers, treat them as taxis, and impose regulations on fares, signage, and driver qualifications.
Otherwise we face further problems with Muni and more crowded streets, so a few investors and tech executives can make hundreds of millions of dollars off what started as an illegal scam.
Senator Scott Wiener? Assemblymembers David Chiu and Phil Ting? I can't wait to hear from you.