One of the first cultural casualties of the pandemic was, of course, live theater, with many local productions stopped mid-run, others' openings canceled, and numerous companies' entire remaining seasons postponed or dropped. Among the Bay Area victims was American Conservatory Theater, whose Toni Stone got its entire run terminated the day after opening night, while imminent presentations including a Rocky Horror Show (whose casting auditions had, unusually for ACT, been opened up to all local comers) were 86'd entirely.
Coincidentally, however, two of ACT's most celebrated acting alumni have new movies coming out on streaming platforms this week, so you can have your own quasi-theatrical experience at home. (Note that many Bay Area theaters are having virtual performances and other events during the shutdown—check your preferred company's website for details.)
Rene Auberjonois was a founding member who made a particular splash when ACT moved from Pittsburgh to take San Francisco by storm in 1967. (Other prominent figures onstage in those early years included Michael Learned, Peter Donat, Marsha Mason and Kitty Winn.) His national career soon took off, with a Broadway debut the next year—he'd eventually earn one Tony Award and several nominations—and continued extensive stage as well as TV work for decades to come: He was in the core casts for "Star Trek: Deep Space Nine," "Benson," and "Boston Legal."
On film, he was particularly prominent in the 1970s, including several roles for Robert Altman (starting with MASH), and more recently finding another loyal director in Kelly Reichardt. Her period western First Cow, in which he had a conspicuous supporting role, opened just before the world went COVID. But Auberjonois had already passed away from lung cancer late last year, at age 79.
It was not, however, his final feature: That would be the newly-arriving Raising Buchanan, Arizona-based writer/director Bruce Dellis' comedy. In it, Amanda Melby plays a none-too-stable woman who's on probation, working a donut counter, and facing the fact that her irascible father (M. Emmet Walsh, another character-actor great still going strong at 85) is about to be released from hospice. Which will be particularly awkward because she hasn't told him that their longtime home has been foreclosed on.
Ruth's solution to this quandary is that she'll steal the corpse of James Buchanan (don't ask how this becomes possible) and hold it for ransom, thus saving herself and dad from financial disaster. Buchanan, you may recall, was the 15th POTUS (just preceding Lincoln, and often blamed for saddling the latter with a Civil War), perhaps better known by many as the Worst President Ever—until lately, that is. Ruth and flatmate/co-conspirator Meg (Cathy Shim) do manage to abduct the historical, er, artifact, only to discover that nobody wants it. Or him, if you prefer.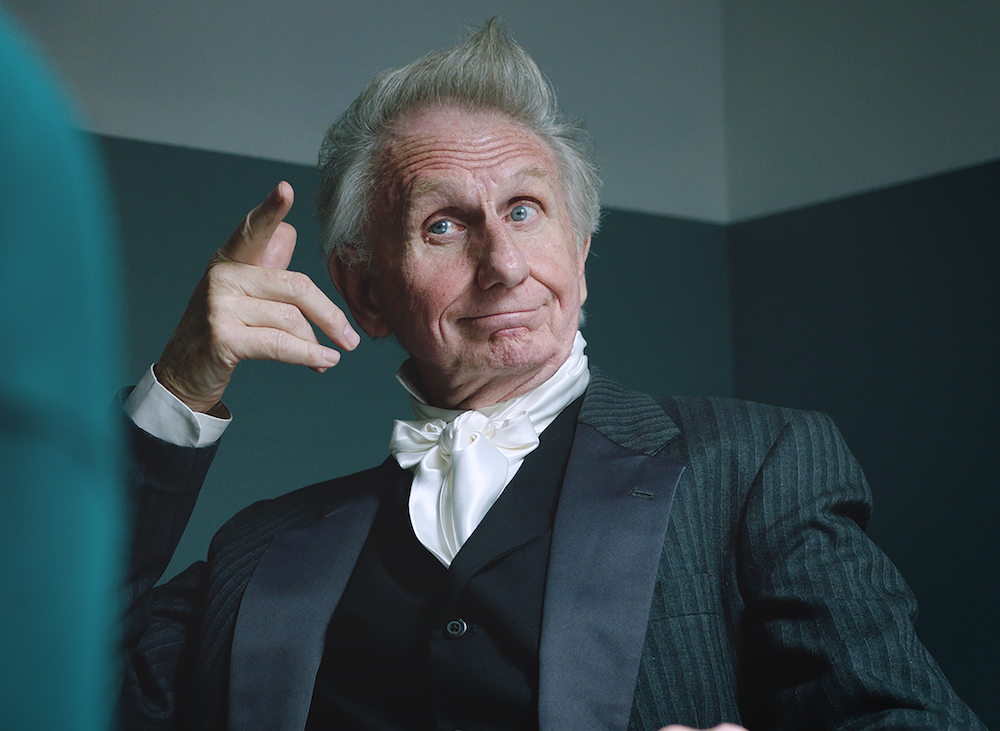 Raising Buchanan is a somewhat strained stab at wackiness that might've worked better as a stage farce. It has its points, though, the main plus being Auberjonois in his final role as the ghost of a very dead 19th-century leader. Scatterbrained Ruth is most definitely delusional enough to imagine conversations with him, in which he alternately offers advice and defends his own dire historical reputation. His idiosyncrasies of look and manner well-suited to period roles, in particular Ichabod Crane-like fussbudgets, the actor here doesn't go for overt laughs, instead playing the part with a harassed aristocratic dignity that makes this out-there fantasy conceit work to the extent that it does. Not a great movie, Raising Buchanan is nonetheless a custom-fit farewell vehicle for a fine actor.
It's unlikely anyone needs an introduction to Annette Bening, who studied in ACT's Advanced Training Program while making mainstage appearances (including as Lady Macbeth) in the mid-1980s. By the end of that decade she'd made a major entry into films, her first Oscar nomination (for The Grifters) coming in 1990. Bening was already thirty when she entered that medium, but in any case her evident intelligence and versatility marked her for something other than the usual early-career ingenue roles. In the new Hope Gap, an infrequent directorial effort for veteran English novelist/playwright/scenarist William Nicholson (whose screenplays have included Gladiator), she's the narrative's demanding, mercurial driving force, as is often the case.
Grace (Bening) is living with Edward (Bill Nighy), her husband of 29 years, in a Sussex coastal town. They seem to coexist well enough, though to say he's a bit henpecked is putting it mildly. Grace is one of those people who thinks she's being reasonable by asking provoking questions (like "Are you happy?"), then haranguing the respondent when she doesn't get the answer she wants. No wonder Edward says "I always feel I'm somehow in the wrong," which honest confession she of course castigates him for.
Nonetheless, it comes as a surprise to everyone (but him of course) when Edward uses the occasion of wary only child Jamie's (Josh O'Connor from God's Own Country) rare visit to announce he's leaving his wife. Not only that, but he's leaving her for someone else—someone with whom he feels an uncomplicated love and acceptance he hasn't felt from Grace for years, if ever.
Horrified at being caught in the middle of his already problematic parents' divorce standoff, Jamie has to act as go-between while Grace rages, even after Edward simply stops communicating with her. We don't quite understand why she falls apart so completely with her husband's departure. As written and acted, Grace seems so assertive it doesn't compute that her identity would be wrapped up in being anyone's spouse.
Despite some wheezy elements (notably the literary pretensions signaled by unnecessary voiceover narration and poetry quotes), Hope Gap is incisively crafted enough to be compelling. But it's quite unpleasant in ways that I'm not quite sure Nicholson intends. Grace is painted as a harridan and Edward as a passive coward such that we can't quite root for them individually, let alone for a marriage that probably should've been put out of its misery long ago. Yet you don't get the sense that the writer-director grasps how unsympathetic they are. When he aims at a resilient, heartwarming wrapup, it's not just unconvincing, it's downright disconcerting.
This would be a better movie if the characters' flaws were the point, as in such more insightfully discordant recent screen marital portraits as Le Week-End, Revolutionary Road, The Wife, or Bening's past hit American Beauty. But it's unclear just what Nicholson means for us to take away here, or why he presents Jamie's general emotional withdrawal as a consequence of his parents' dynamic, yet does almost nothing with it in dramatic terms.
Bening gives a very strong performance as usual. She may be a bit miscast: The innate strength she brings to each role makes us doubt Grace would crumble after being abandoned. We can believe her anger, but not her helplessness. It's a testament to Bening's authority that when we meet her character, we assume she's a famous poet. It takes a while to realize that in fact Grace is up to nothing more than collecting poetic aphorisms for a theoretical anthology. That seems a hobbyist's project, not something that would hold the attention of the imposing force-of-nature figure this actress sketches. Grace would be more credible as a literary lion, an intimidating professor (Edward is a history teacher), or a high-powered authors' agent than as an apparent just-plain-housewife.
With Nighy all too convincingly detailing the personality type that concedes a fight at its outset rather than endure conflict, Hope Gap's portrait of a painful marital demise is undermined by our puzzlement that Grace herself didn't walk out long ago—she clearly needs a better sparring partner. Just as Auberjonois was too idiosyncratic an actor to play some Average Joe, maybe Annette Bening is too much a powerhouse to portray a woman who'd fall apart over the loss of a weak man.