A two-part conversation called See Black Women, part of Art+Action's Come to Your Census campaign, is calling attention to Black women's often overlooked contributions to the arts, and who "counts" in society. (One discussion happened on May 19, and the other comes Tue/26). Yerba Buena Center for the Arts is the lead partner in the campaign, which aims to inspire Census participation by all communities—particularly historically marginalized ones.
The talks are presented with YBCA and coalition partner Museum of the African Diaspora (MoAD), in collaboration with arts organizer and discussion curator Ashara Ekundayo, who created the Artist As First Responder platform.
Arts are always essential—even more during a crisis, Ekundayo says. "Where would all be right now if we weren't able to dance for hours, where would we be without poetry, or books like Octavia Butler's Parable of the Sower, which I'm rereading and admiring now?" she said. "Creative workers save lives and heal communities."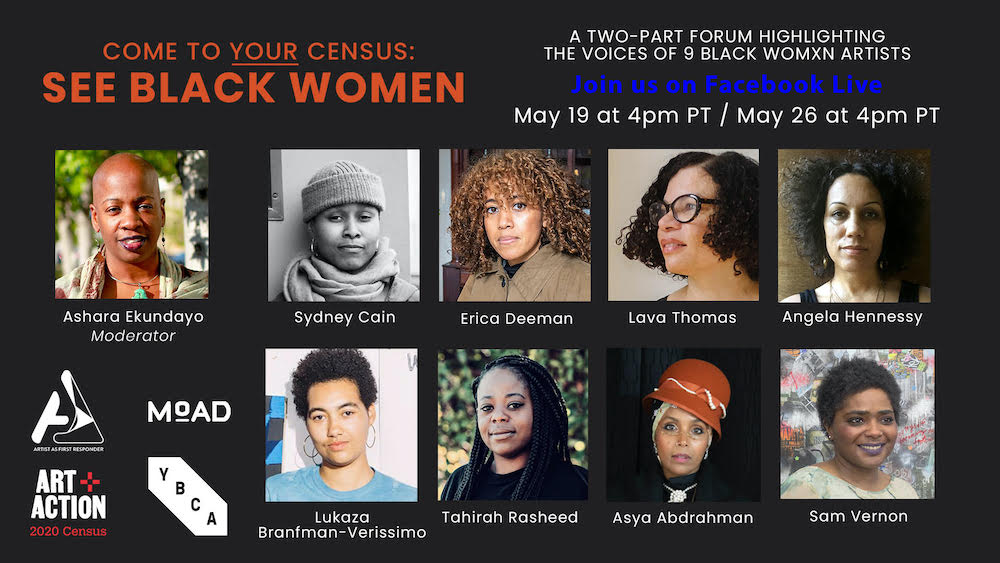 And Ekundayo thinks the Census is critical.
"Whose bodies get counted? We are still reeling from two public deaths—Ahmaud Arbery and Breonna Taylor," she said. "Black women's stories are still not centered and deemed critical and important to society."
In Ekundayo's words, See Black Women "is a newly formed artist and curatorial collective centering the cultural impact and artistic labor of Black women" that was inspired by the final artist talk at Ekundayo's now shuttered gallery in Oakland last fall. Artist Lava Thomas took part in a panel talking about a debacle with the San Francisco Arts Commission, where Thomas' design, "Portrait of a Phenomenal Women" was chosen for a statue honoring Maya Angelou . . . and two weeks later she was told the sponsor, San Francisco Supervisor Catherine Stefani, wanted to go a different direction with a more traditional "figurative" statue.
Along with Thomas and Ekundayo, Tahirah Rasheed, Angela Hennessy, Leigh Raiford, PhD, and others felt compelled to continue the creative inquiry after that night.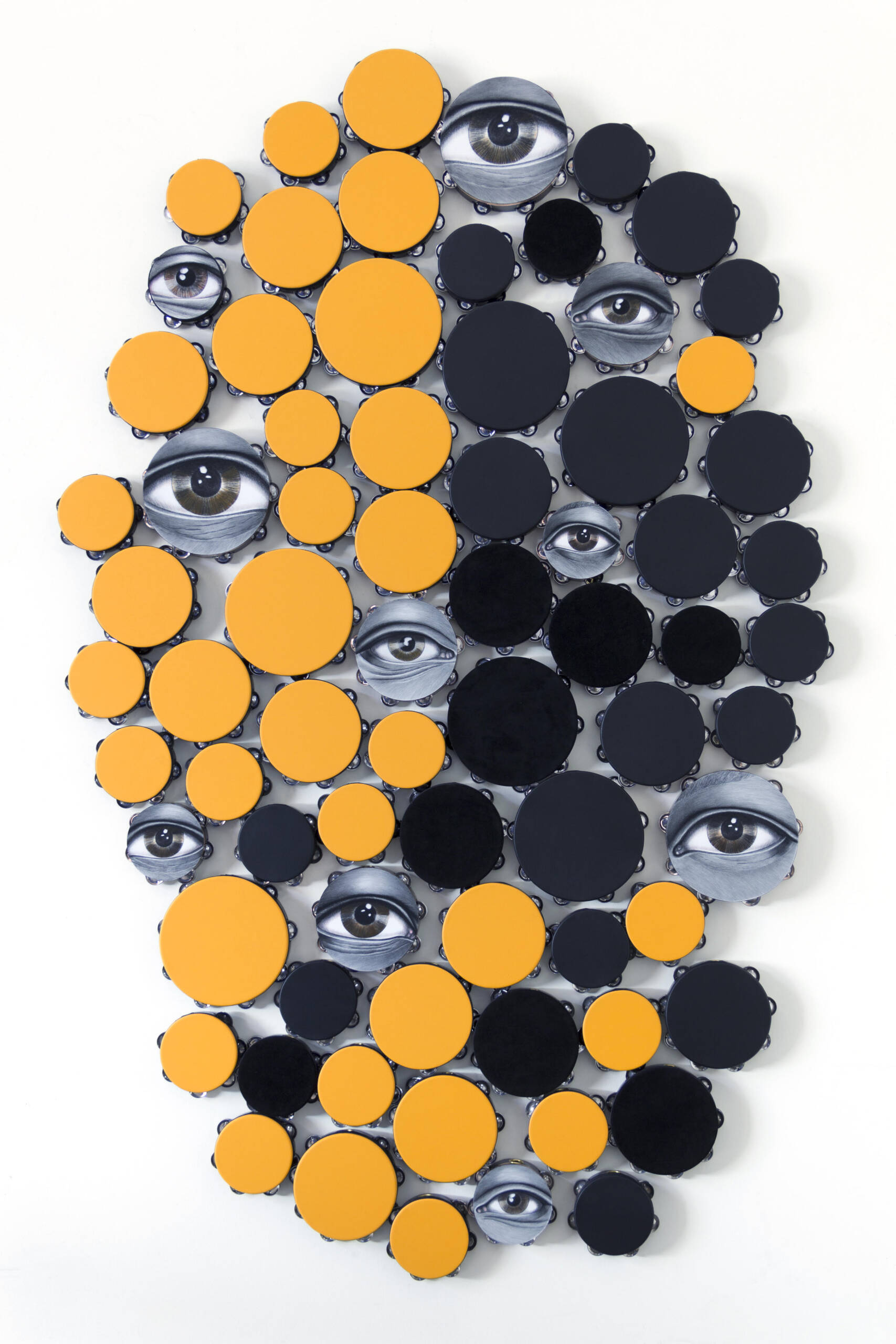 Thomas says that when Art+ Action founder Amy Kisch contacted her, she wasn't aware how critical the census is to get federal dollars to communities.
"There are all the ways the Census provides resources for communities, for infrastructure, schools, and hospitals," Thomas said.
Thomas also saw how important the Census was in genealogy, having used old Census records in a search to locate her ancestors and trace her matrilineal line back to someone who was enslaved. She took part in the first See Black Women conversation, and she has a piece hanging in the Come to Your Census exhibit at YBCA, shuttered for now, Freedom Song No. 5 (We Shall Not Be Moved).
"It's a tambourine installation with some eyes of my ancestors that I got from my grandmother's photos," Thomas said. "That song, We Shall Not Be Moved, was a freedom song, and I wanted to honor the labor of civil rights activists who during the march from Selma to Montgomery were met with lethal violence."
And Kisch realized the importance of Census numbers in distributing money and power—the number of representatives in the House, for example–when she was approached by the San Francisco's Office of Civic Engagement and Immigrant Affairs to do a campaign, so she was eager to work on it.
Officials there had something like a mural in mind, but Kisch wanted to go bigger with art exhibits, community programming, partnerships with different coalitions, and a media campaign that includes billboards and transit kiosks all over the city with the message "Come to Your Census" in Spanish, Tagalog, Chinese, and English.
Each billboard has the tagline, "9 questions. 10 minutes. $20,000. It's time to get your fair share."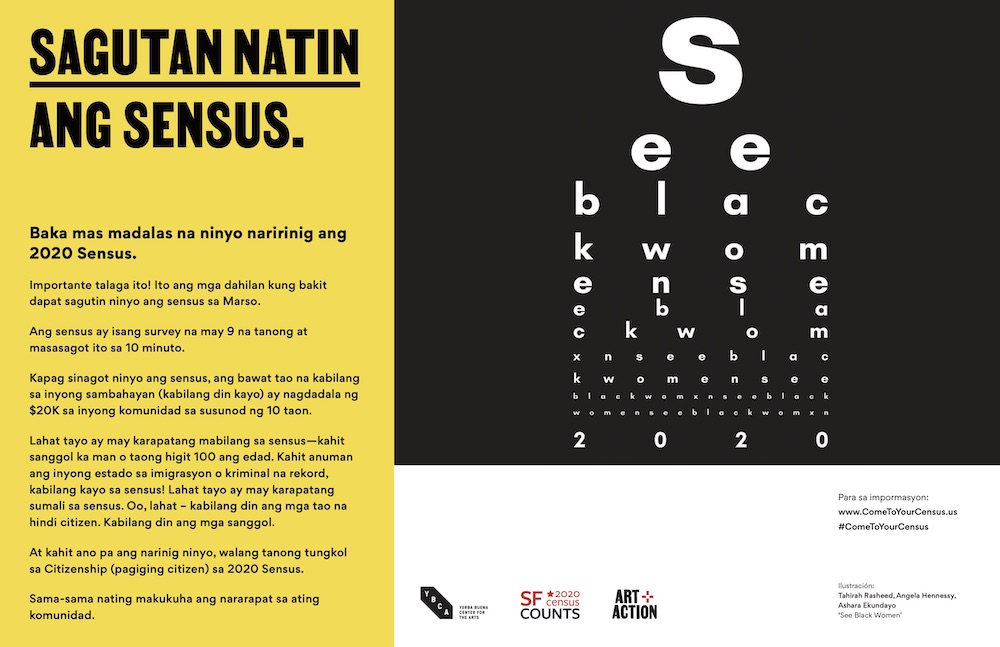 Hennessy and Rasheed created the artwork for the billboard in the Bayview, an eye chart, spelling out "See Black Women," a way of referring to visibility as well as counting people as a kind of test.
People have until October 31 to fill out their Census. Thomas, for one, wants to be counted.
"The Census makes it so my progeny can find me in a legal document. That's an important proof of my existence for future generations," she said. "The Census also provides baseline data for demographics in this country, and that's the way we know this pandemic is affecting black folks and people of color more than other folks in this country, and that data is really important."
The See Black Women discussion is on "visibility, grief, and our present paradigm shift in culture and practice."
"The grief goes back to how the pandemic has affected various communities and communities of color and essential workers primarily," Thomas said. "There's been an incredible loss of life."
But Thomas said she found joy in participating in the event.
"It was wonderful to be in community with my sisters because we can't see each other in person now," she said. "Each of us introduced each other, and it wasn't the regular format of a list of accomplishments and education. We talked about what we meant to each other and how much we appreciated each other."
SEE BLACK WOMEN
Tue/26, 4pm, online.
More information here