Reynaldo Dulaney, who teaches Ethnic Studies, Leadership, and Advanced Placement US History at Thurgood Marshall Academic High School, says the quick switch from teaching in the classroom to online this March because of the COVID-19 crisis was an experience of "stress, resilience, resourcefulness, and community building."
With some students without Internet at home and a big newcomer population, he had a hard time reaching everyone, Dulaney says.
"It's like, 'Surprise—there are a lot of inequities. COVID kind of lifted the rock on things we can no longer ignore."
It wasn't a time for business as usual, Dulaney says.
"We were making sure our students were OK and humanizing them before we work on delivering content."
During the semester Dulaney held office hours and met with his class every week. He made sure to check in on the students and their emotional state and asked them what they needed from him to get their work done.
One class included watching Sue Me by Wale, a video imaging what "Black privilege" might look like, and discussing its relevance. Another assignment was creating short video documentaries on what living through this historic time has been like. Delaney made sure to give the students feedback on all their work, due on Fridays—but deadlines were flexible, with some students watching younger siblings while their parents are at jobs or working themselves to support their families.
"Most of our students are Black and Brown, and we know COVID's affecting them disproportionately," Dulaney said. "Some people are trying to maintain the status quo virtually, and we cannot recreate that—it wasn't servicing all of our students."
Dulaney put in many extra hours, preparing for classes and reaching out to students as well as spending his weekend attending webinars.
It's not just teachers who put in extra time over the semester with the shift to distance learning. Carolyn Samoa, a para educator at Paul Revere Elementary School and vice president of para educators for United Educators of San Francisco, learned to work online to be able to support the special education students she works with.
They're in general education classes, and Samoa did breakout groups with them during their time. The school district distributed Chromebooks to students, and Samoa, who has been there 16 years and has grandchildren in the district, says she and other paras called parents to check in on students who hadn't showed up.
"It is different doing everything online, but I love seeing the kids," Samoa said. "The best is connecting with the kids."
Through her role at the union, Samoa was also involved in getting devices to paras who didn't have them, and she participates in bargaining meetings online. She saw her colleagues make shifts to do what's needed for students.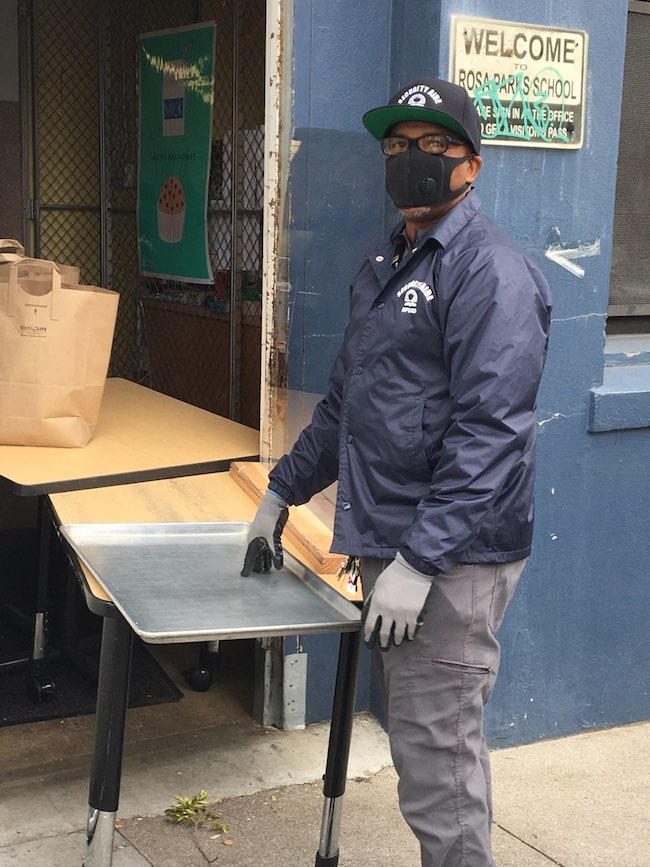 "Security aides are helping with food distribution," she said in May. "They're the only members physically at a site. It was every day, but now it's three days a week and they give more food to last longer."
Like Dulaney, Leslie Hu, a social worker at Martin Luther King Jr. Middle School, thinks that during a global pandemic, when many students are seeing their communities directly affected, it's time to think creatively.
Right before schools were closed, Hu says she and her colleagues wanted to get in touch with students and their families to see what they needed. So the Thursday before it was announced that the campus would close, staff and teachers stayed at school until about 9pm trying to get families signed up to receive notices from the school.
The following Tuesday, Hu and some teachers reached out to all the families. They recruited everyone they could—including the PE teacher, school secretaries, and the principal—to call all 460 families who have students at the school, and got through about 95 percent of them.
"We called for two reasons, one of which was connection, so, 'How are you, we're here for you, we are so sad we don't get to see your kids every day,'" Hu said. "Then we also asked them, 'What do you need?'"
Through talking with the families, Hu says they found out about specific situations —an uncle who was the main breadwinner and lost his job, for example, and a family threatened with eviction—and offered help through the local, UESF.
"Our public schools may be the only system reaching out, and we wanted to represent The Man," Hu said. "They're not going to get a call from PG&E or Cal Fresh."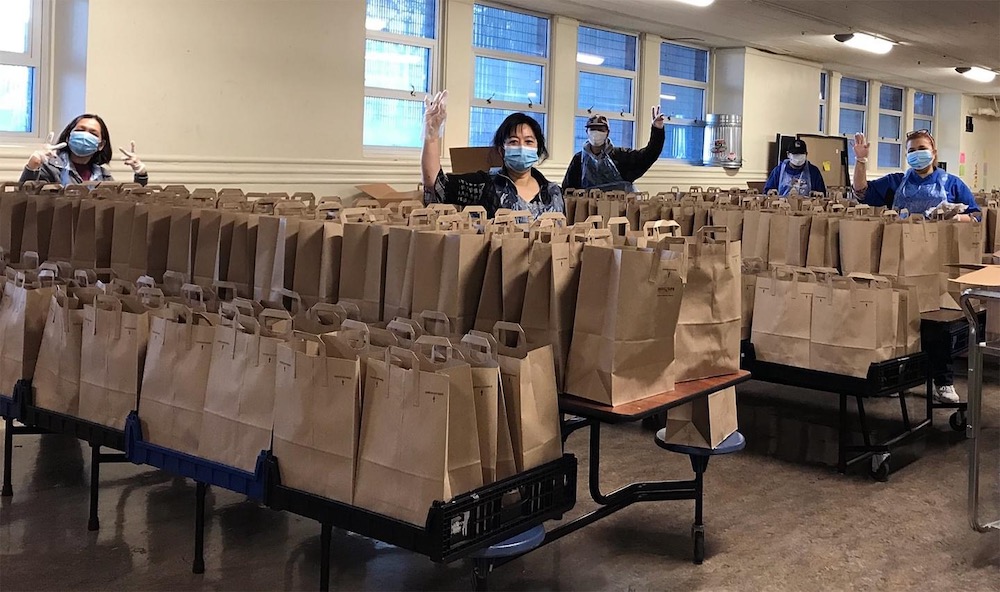 With a GoFundMe, they raised money to send out 200 grocery store cards. They also walked families through how to sign up for WiFi, explained that there was a moratorium on evictions, and gave them information about pop up food banks.
Hu has been working with the school's community partners: The Bayview Hunters Point YMCA, a green consulting firm, Woodard and Curran, and the San Francisco Public Utilities Commission, who have donated tens of thousands of dollars. With the money they've given, the school was able to give a family staying in a shelter a card to stay at an Airbnb and start a second round of grocery store cards.
Hu says she's grateful for how quickly the partners stepped up to help. The teachers and staff also adapted to do what's needed, she says.
"There's a nimbleness in how people have been operating, including our students," she said. "We don't think how incredibly hard this has been on them. They're resilient, but they need support in being able to navigate this. Teachers who have done business as usual on a laptop have missed the boat a little. We are in a crisis and our children need us to support them through hard times."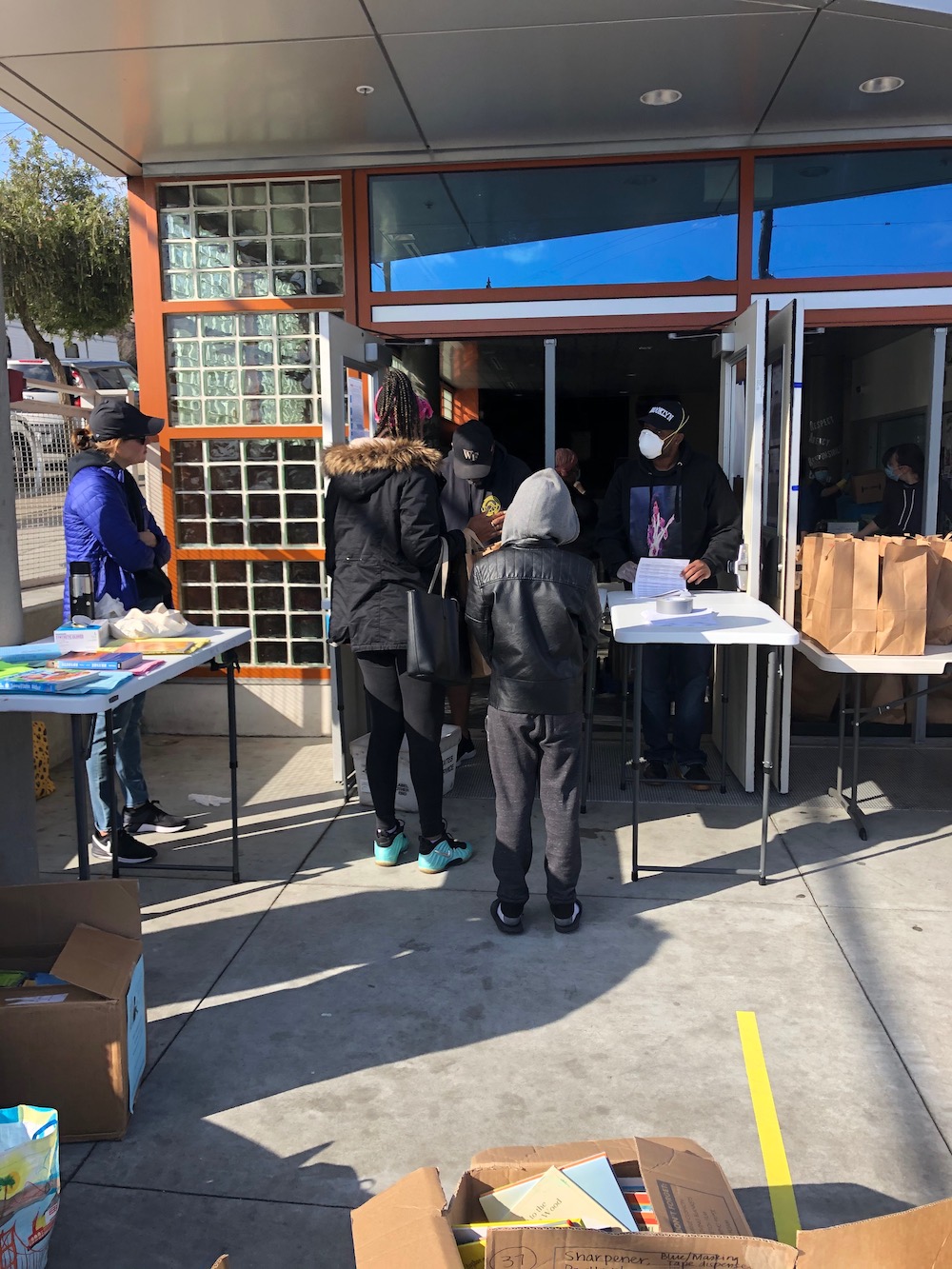 Hu took that message to the entire school district. The union heard about her work and asked her to do trainings. School Board trustees Faauuga Moliga, Gabriela Lopez, and Alison Collins attended one, and they decided they wanted a plan like this for the entire school district. They worked quickly to write a resolution, a "Coordination of Care" Plan, which "will reflect a system-wide commitment to holistic care policies and procedures for students and families." They also implemented a needs assessment for all students.
The intent behind the resolution is supporting families, students, teachers and staff during this time, Hu says.
"We're not just trying to teach. We're in the in business of love and care, starting with phone calls and asking how they're doing," she said. "Honestly, for me it's about care and connection. Neuroscience shows us relationships and connections can heal trauma.
"When we're calling our families, we're just telling them we're here and we're not going anywhere when so many systems are shut down."