Other cities have their Pride parades, rainbow flags, and disco ball balloons. Only San Francisco has the Pink Triangle.
Over the past 25 years, San Francisco's iconic Pink Triangle display, perched atop Twin Peaks for all to see, has served as both a reclaimed symbol of liberation, hope, and inclusion as well as a gathering place over Pride Weekend, where politicians, activists, and celebrities could speak out about the pink triangle's historical significance as a Nazi-era badge of shame and the ongoing persecution of the LGBTQIA community.
With shelter-in-place orders still in effect, Pink Triangle founder Patrick Carney knew full well that his annual ceremonial gathering on Pride Weekend, which has seen the likes of House Speaker Nancy Pelosi, rainbow flag designer Gilbert Baker, and Erasure's Andy Bell was out of the question. He also wondered how his downward pointing pink triangle, constructed by 250 volunteers using 175 bright pink tarps and 5,000 12-inch-long steel spikes, could even come together in this era of social distancing.
Enter Ben Davis, founder of nonprofit organization Illuminate, and best known as the organization behind The Bay Lights digital art installation. After learning that The Pink Triangle display may be in jeopardy, Davis offered his services, partnering with Carney to create an illuminated Pink Triangle out of 2,700 LED nodes of pink light spread out over 100 poles, covering a full acre, by a small team of volunteers. Carney and Davis are asking for donations to meet their $85,000 dollar fundraising goal required to complete the project via the Illuminate The Pink Triangle GoFundMe page.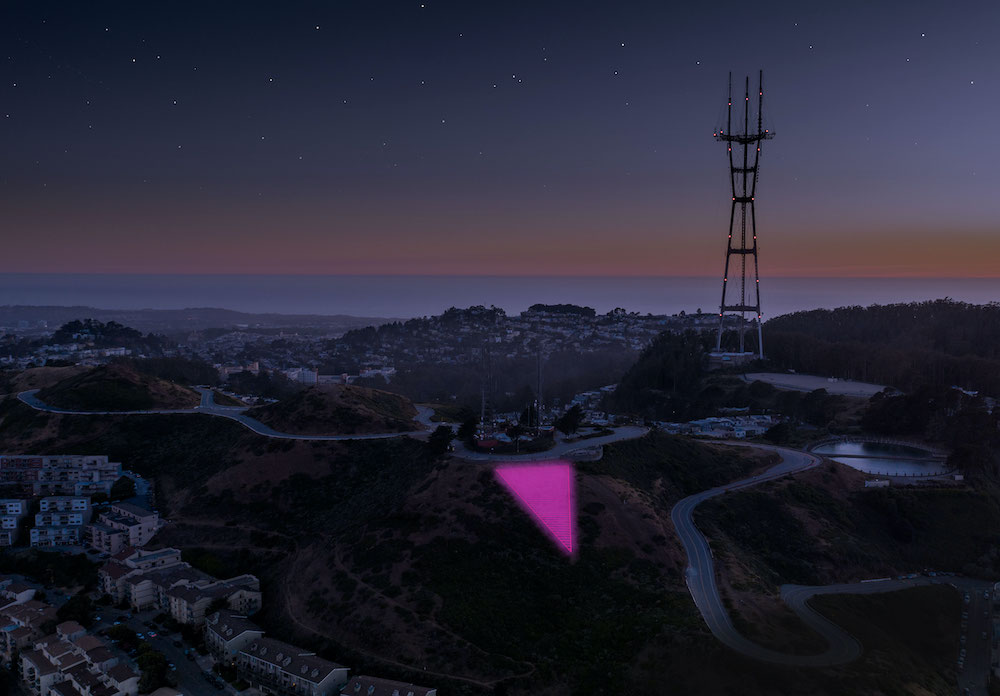 Patrick Carney and Ben Davis spoke to me about the history of The Pink Triangle, which they plan to illuminate in a live-streamed ceremony on Saturday, June 27th, at 8pm, the technological and financial challenges they face, and whether the digital art installation might return in future years.
48 HILLS Patrick, what's the story behind The Pink Triangle display?
PATRICK CARNEY I was sitting in Leticia's, a [long-closed] restaurant on Market Street, with a friend, wondering how we could spread the weekend's festivities to other parts of the City and noticed a huge blank canvas right outside the window—Twin Peaks. The Pink Triangle of Twin Peaks was born three weeks later.
It started out as a renegade crafts project, which went up in the dark of night, so we wouldn't get arrested, and is now appreciated enough for the community and the City's elected officials to help celebrate.
I have always spearheaded the display and been the yearly organizer of the event and fundraising. Once we learned so many people did not know about the story of the pink triangle used in Nazi concentration camps, I then was the sole founder of the annual commemoration ceremonies, starting in 1998. That is the main reason the project continues after a quarter of a century; we must remind people of the hatred of the past to prevent it from happening again.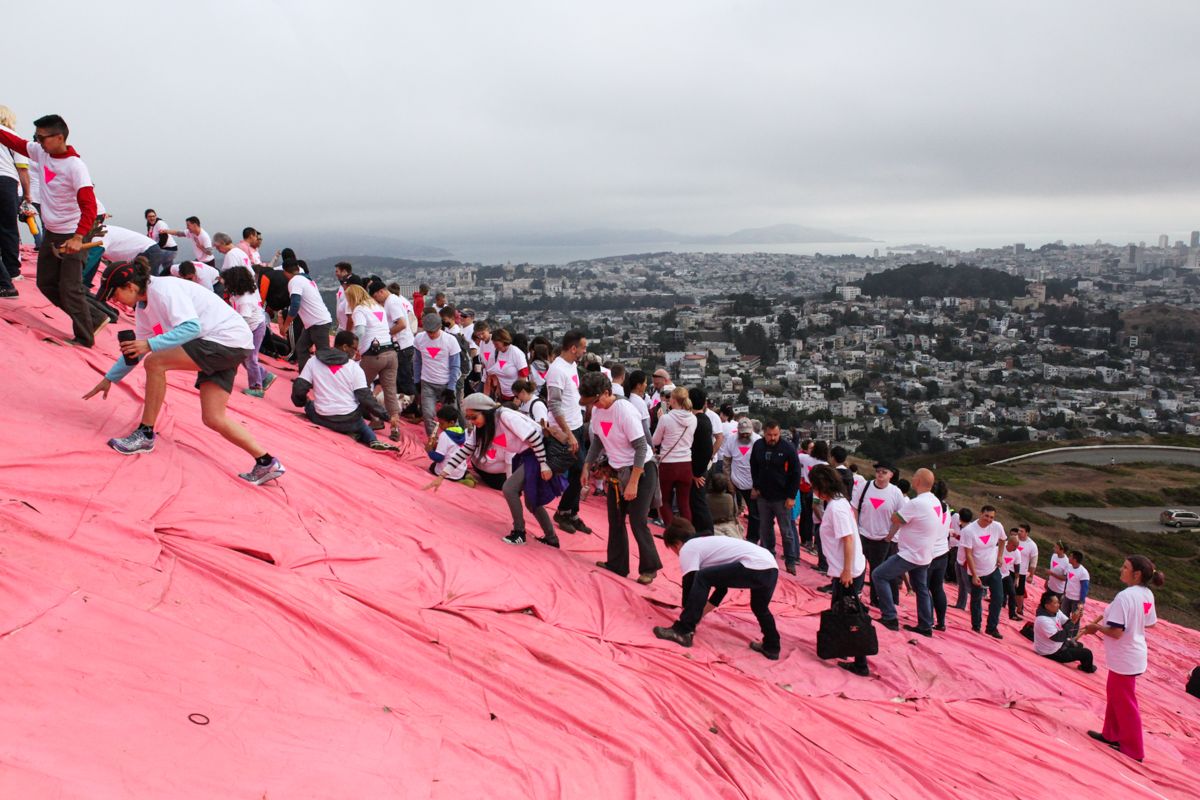 48 HILLS Why was it important to reclaim The Pink Triangle as a symbol of hope?
PATRICK CARNEY To show we control our own destiny. The meaning of the symbol was usurped by ACT UP [in the early AIDS era] and turned in the other direction as an act of defiance. We are resilient. With courage and determination, we have overcome obstacles and gained more rights over the decades. Others can try to brand us with badges and insults, but we will take their negative labels and turn them into positives. The pink triangle and the word "queer" are perfect examples.
48 HILLS Has the pink triangle's resonance changed over the years?
PATRICK CARNEY It is more resonant than ever. Just look at what has occurred in the past two weeks with the discrimination toward African Americans in the spotlight again. The Pink Triangle atop Twin Peaks recalls the horrors of homosexual men in the Nazi camps, but it is also there to remember discrimination toward all minorities.
It is through the display, which will be up for three weeks, that we hope to educate others of the lessons of the pink triangle—what can happen when hatred and bigotry become law. Unfortunately, there are currently 75 countries where homosexual activity is illegal. While it isn't illegal in Russia anymore, President Putin signed an anti-gay propaganda law. There are 38 African countries, which criminalize homosexuality. In four of those—Mauritania, northern Nigeria, southern Somalia, and Sudan—the punishment is death.
My "2020 Message of Hope" is a brighter future as illustrated by the gigantic illuminated Pink Triangle 2020, which will be in "real life" for all to see and not "virtual." This is one of the only remaining aspects of SF Pride which is still occurring in real-time.
48 HILLS Ben, how did the collaboration with Illuminate develop and what are each of your roles in the project?
BEN DAVIS I've been a fan of Patrick's monumental and ephemeral pink triangle for years. It's become part of our City's spiritual infrastructure. When I realized the installation might be in question this year due to COVID-19, I reached out to Patrick with the idea of illuminating it. To Patrick's great credit, he saw the potential and we instantly got to work on the idea. In terms of roles, The Pink Triangle is Patrick's expression. Illuminate is in service to him and to the symbol, itself.
48 HILLS Why was this of interest to Illuminate?
BEN DAVIS Light finds its highest purpose in darkness. As 2020 began to unfold, we were determined to meaningfully bring light to San Francisco when it was needed most. Despite the scale of our projects, Illuminate is a small and nimble organization with an inspiring track record of success. So we put up our antenna for ideas—and The Pink Triangle spoke to us. And we love Patrick and wanted to support his quarter-century of effort.
During our Global Grand Lighting, when we throw the switch and light The Pink Triangle just after sunset on June 27, we'll be creating an acre-of-light in the center of the City. We'll also be raising a beacon of pride, equity, and justice for the world to see.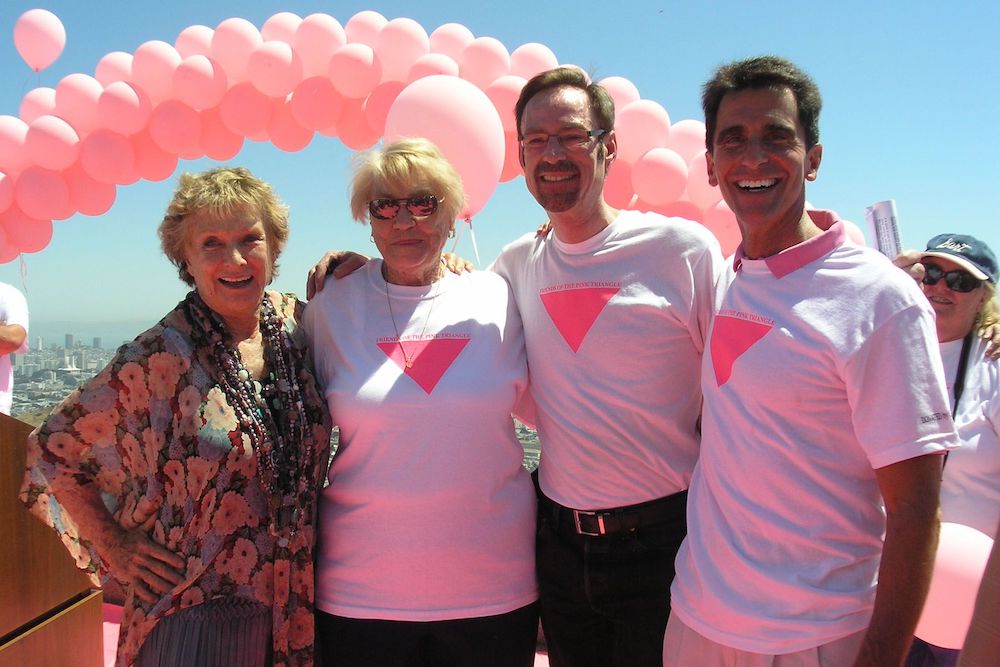 48 HILLS What are the technological and financial challenges of bringing this year's Illuminate The Pink Triangle display to fruition?
BEN DAVIS The effort to Illuminate The Pink Triangle will take place — from conception to execution — in less than three months. That's lightning-fast for a project of this magnitude and complexity, during good times. To make it happen while we're a city under lockdown, in the midst of global economic freefall, and now during a crucial moment of national awakening on racism, not only multiplies the challenges — but it also defines and magnifies the installation's importance.
Technically, as we seek to accomplish something never attempted before, we have attracted a world-class team that has quickly fallen into generous collaboration. Illuminate is overseeing everything and is in charge of the final artistic expression and aesthetics—all in direct consultation with Patrick.
On the fundraising side, we are relying 100 percent on the community to fund this installation. Our GoFundMe campaign (at the moment) shows us more than 40 percent toward our $85,000 goal. We're confident those who can support this project will.
48 HILLS If this year's Illuminate The Pink Triangle display goes off without a hitch, would you consider replicating it in future years?
BEN DAVIS Illuminate makes a habit of gifting its installations. The Bay Lights were formally gifted to the People of California and now shine on the Bay Bridge nightly. Our Summer of Love installation on the Conservatory of Flowers was gifted to that institution where it now shines nightly. Our Grace Light installation in Grace Cathedral was gifted to the Cathedral, where it will begin showing again this fall.
In that spirit of generosity, we will be gifting all the LEDs and related equipment to Patrick Carney and The Pink Triangle for use at his sole discretion—no strings attached—in future years. It's Illuminate's fantasy that future Pride months might include a lighted pink triangle on Twin Peaks.
ILLUMINATE THE PINK TRIANGLE 
Sat/27, 8pm
Twin Peaks, SF
More info here.