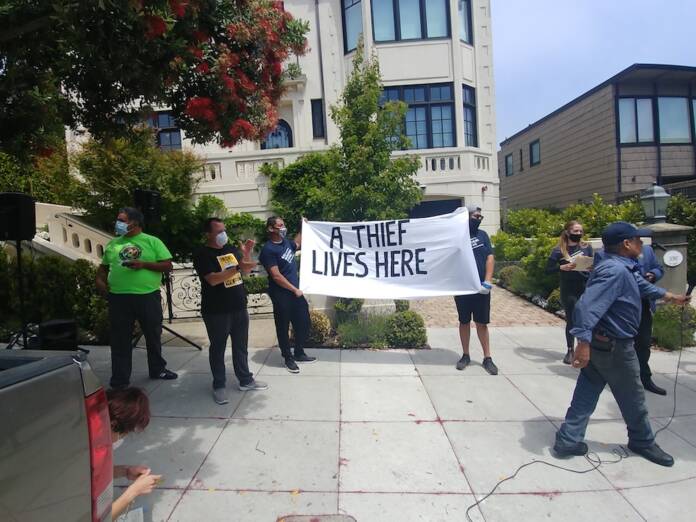 For longtime Uber and Lyft driver Hector Castellanos, the fight for classification as an employee under AB5 is personal. For eight months after an intensive surgery, Castellano but received no medical leave from Lyft, which would have been required under federal law if Castellano was classified as an employee under AB5, which went into effect January 1.
"Where was my company for that? I've been working there since six years ago!" said Castellanos.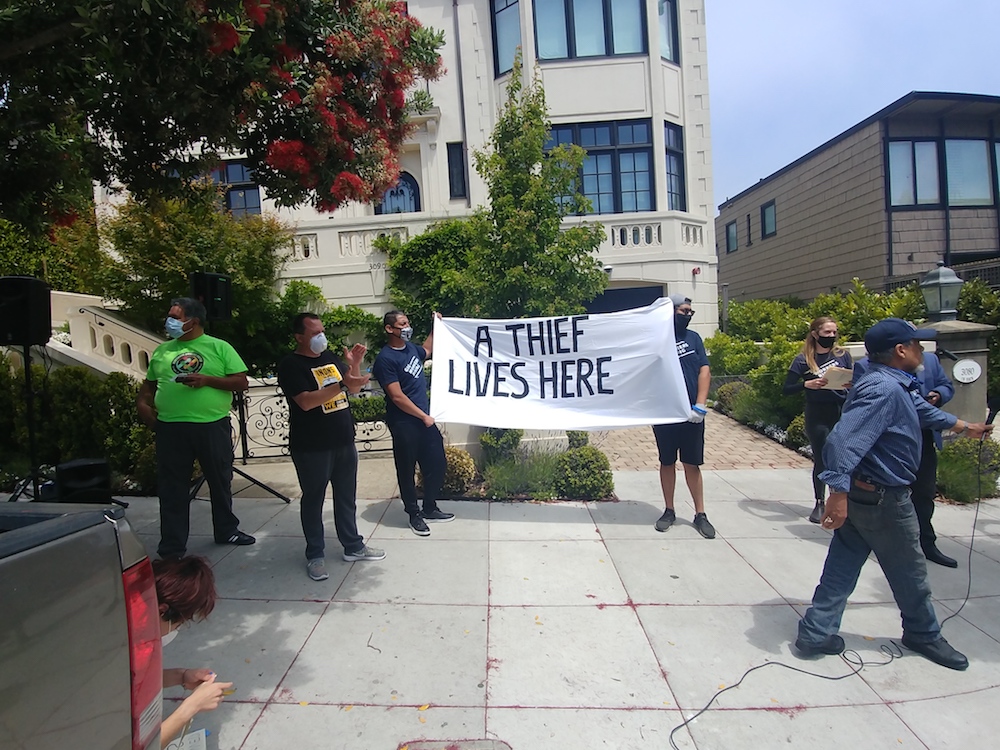 Castellanos, along with roughly 40 other drivers and their cars, formed a caravan in front of the Pacific Heights home of Uber CEO Dara Khosrowshahi Wednesday and demanded that Uber and Lyft classify their drivers as employees, rather than independent contractors, in compliance with AB5.
They also demanded that Uber and Lyft drop the ballot measure which they sponsored, called the "Protect App-Based Drivers and Services Act," which seeks to exempt all sponsoring companies from AB5. The demonstration was organized by Gig Workers Rising and We Drive Progress, groups that advocate for employee protections and unionization for rideshare drivers.
Under AB5, "gig" companies must classify their workers as employees unless A) their workers are free from the company's control, (B) their work is outside the usual course of the company's business and (C) they operate an independent business in that industry. Drivers are adamant in demanding that they be classified as employees because it would make them eligible to receive unemployment insurance and medical leave required to employees under federal law.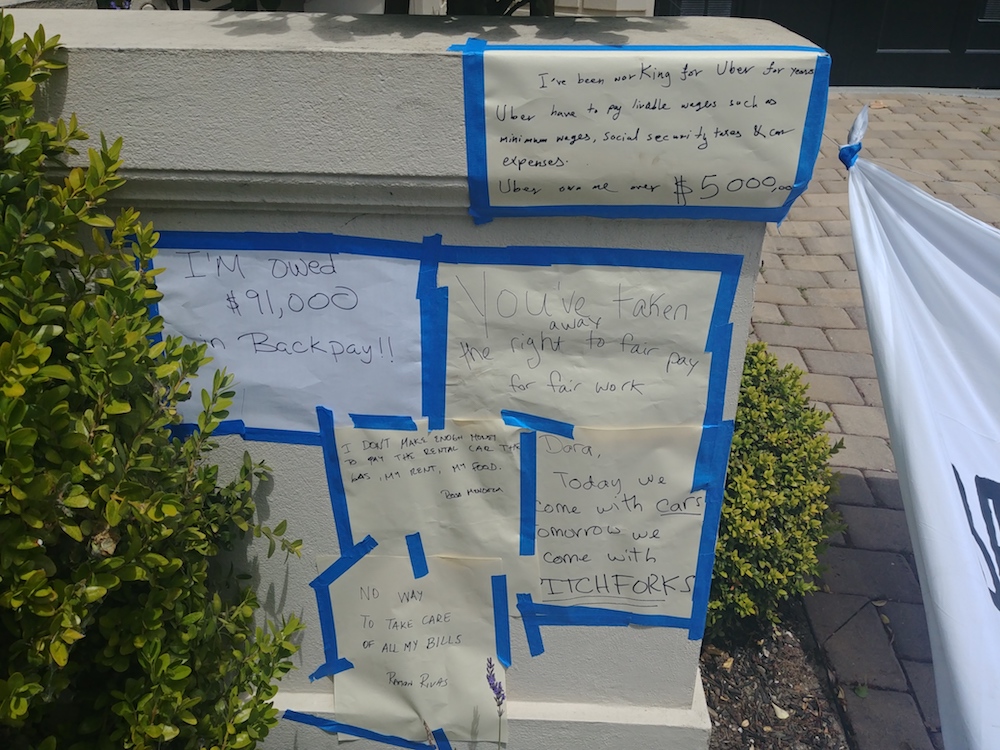 Uber alone has poured over $100 million into the ballot measure, which goes before voters in November.
"The gig companies' ballot measure is intended to excuse them from paying their workers the minimal value of [their] labor. It is an attempt to legislate labor theft," said Edan Alva, an activist and spokesperson with Gig Workers Rising.
According to Alva, Uber and Lyft engage in wage theft by shifting the costs of doing business, such as fuel costs, maintenance, and insurance payments onto the drivers, cutting into profit margins and resulting in net pay below minimum wage. Currently, Uber and Lyft justify placing these costs on drivers by classifying them as independent contractors, since employers "have an obligation to pay costs associated with the work," according to Alva.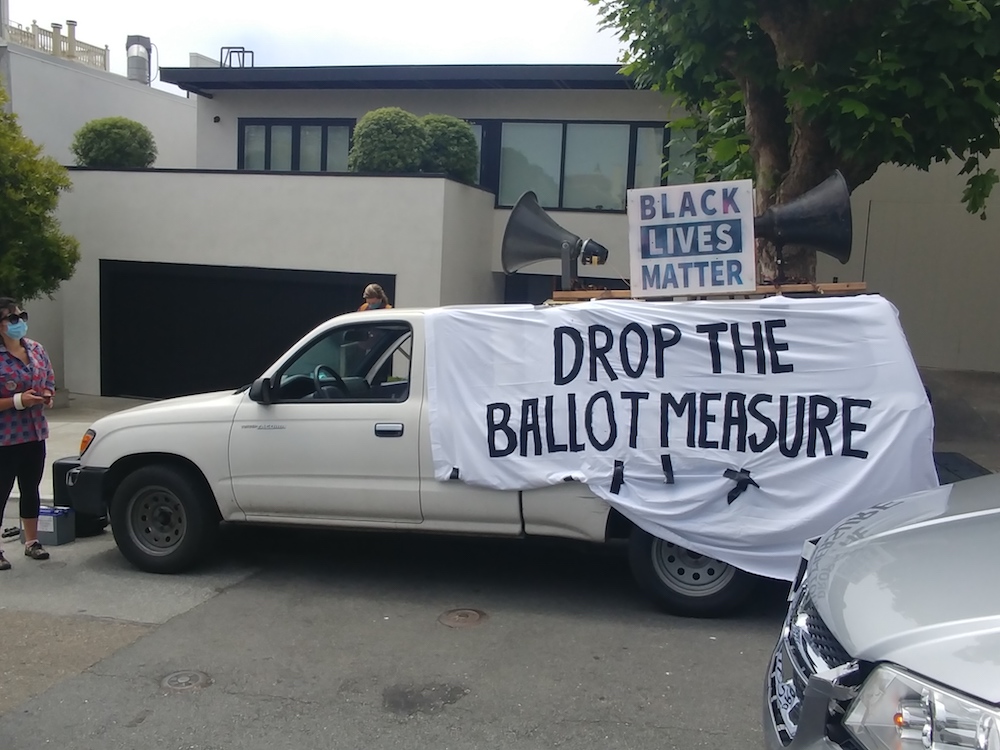 Although the "Protect App-Based Drivers and Services Act" claims that drivers would make on average $15.60 an hour if it is passed, the UC Berkeley Labor Center reported that Uber and Lyft drivers would only make an average $5.64 per hour after costs incurred from waiting to pickup passengers and the lack of paid breaks and unemployment insurance, among others. This is made even worse during the pandemic, as Uber and Lyft do not provide Personal Protective Equipment to drivers, forcing drivers to purchase their own masks and sanitation equipment.
Alison Stein, an economist at Uber, would later write a Medium article responding to the UC Berkeley report, claiming that the report used unreasonable assumptions, especially around the cost per mile of operating a vehicle used for rideshare trips, to portray the "Protect App-Based Drivers and Services Act" ballot initiative as excessively negative.
Beyond alleging wage theft, drivers also demanded that Uber and Lyft pay unemployment insurance taxes. According to a report from the UC Berkeley Labor Center, Uber and Lyft have evaded paying $410 million in unemployment insurance taxes between 2014 and 2019 by classifying their drivers as independent contractors, who are exempt from traditional unemployment insurance benefits. During the pandemic, the federal government has extended financial assistance to gig workers in the form of Pandemic Unemployment Assistance as a part of the CARE Act, but the solution is far from perfect.
Rey Fuentes, a Legal Fellow at Partnership for Working Families, an organization which does advocacy work for gig workers looking to receive unemployment benefits, says that Uber and Lyft's business practices create all sorts of headaches for drivers seeking UI or PUA to weather the pandemic.
Firstly, Fuentes said that Uber and Lyft's misclassification of employees as independent contractors forces drivers to file a claim to the EDD that they have been misclassified as an independent contractor. To determine if the driver should be classified as a employee or not, the EDD must conduct an investigation which involves contacting the driver for an interview to determine if his work is central to the company's business, whether the company had control over his work, and other questions to determine if they are an employee or independent contractor.
On top of that, the driver must provide proof of wages for the past 18 months when they file for either UI or PUA, since Uber and Lyft do not collect any wage data from their drivers to submit to the EDD, according to Fuentes. This involves drivers sifting through bank statements or compiling screenshots of their trips in the app, which can be extremely time-consuming, Fuentes explained. Filing can be even more challenging if a driver does not have access to a computer or has poor English-language skills.
Finally, Fuentes pointed out that Uber and Lyft's misclassification of drivers as independent contractors and allows them to free ride on the backs of companies which pay unemployment insurance taxes. If their drivers receive UI, those drivers are pulling money from a pot which Uber and Lyft never even paid into, as it is financed by companies' unemployment insurance taxes, which Uber and Lyft have not paid. Additionally, if drivers also receive PUA, the weekly benefit they are eligible to receive is calculated by net earnings, which in the drivers' case, would be the money they take home after car payments, fuel costs, and maintenance. This can result in a reduced benefit amount, even if drivers have earned $30-40 thousand in gross wages driving for Uber or Lyft.
When all's said and done, drivers can expect a wait of eight to ten weeks before they receive any financial assistance, either in the form of PUA or UI.
"I know guys who filed right at the start of the pandemic who are just now getting their EDD cards," said Fuentes.
Castellano told me that it took him two months before he started receiving his $600 weekly stipend. On top of that, PUA only covers the weeks between March 29 and July 25, even as public health experts expect a second wave of COVID-19 cases in the fall.
Due to difficulties getting PUA, and low net earnings due to high operating costs shifted onto drivers, drivers are faced with a brutal dilemma, according to Cherri Murphy, a Lyft driver and organizer at Gig Workers Rising.
"At the onset of COVID-19, gig workers were faced with a devil's choice: continue working despite a deadly virus, or risk losing a roof over our heads and the ability to pay our bills," said Murphy.
On top of all the economic distress that gig drivers suffer during COVID-19, these difficulties are further exacerbated for drivers of color. Murphy expressed her frustration at Uber and Lyft's embrace of the growing call reverberating around the United States to "defund the police" and to shift resources towards the African American community, given the companies' own spotty record on racial justice, according to Murphy. Murphy alleged that Uber and Lyft's practices of shifting operating costs to drivers and not providing PPE to drivers discriminates against people of color, referencing a UC Santa Cruz survey which found that most gig workers are people of color, and that rideshare prices are increased in predominately black and brown neighborhoods.
"Racial justice is economic justice. The conditions that make police killings of black and brown people possible are the same conditions that make exploitation of black and brown workers possible…The fight is not only about police killings and terror, its about any institution that exploits black and brown people in this country," said Murphy.
I asked Uber for their response to those alleging that they are being hypocritical by claiming to support the Black Lives Matter movement while not classifying their drivers, including Black drivers, as employees and possibly contributing to economic hardship, and received no response.
Drivers aren't the only ones demanding that Uber and Lyft classify their drivers as employees in compliance with AB5. California attorney general Xavier Becerra, along with the city attorneys of San Francisco, Los Angeles, and San Diego sued Uber and Lyft alleging misclassification of workers as independent contractors.
"Enough is enough," chanted the crowd in unison.