For obvious reasons, some stylistic aspects of 1960s counterculture were slower to infiltrate Soviet bloc nations than general populations in the West. Even as late as 1976, the protagonist of a movie like Hungarian obscurity The Kangaroo can get generally hassled for having long hair—though by then outside the Iron Curtain's borders, many a dude between 18 and 30 might have feared ridicule for not having hair at least to their shoulders. Three years earlier, however, the same nation issued a film that by all rights should have been an immediate hit on the midnight movie circuit than just in its infancy.
But you've almost certainly never heard of 1973's Janos Vitez, or its maker's slightly better-known 1981 Son of the White Mare, both of which are joining the Roxie Virtual Cinema program this Friday in 4K restorations. Their mastermind Marcell Jankovics was nominated for an Oscar (for 1974 short Sisyphus, which was utilized in a General Motors Super Bowl ad thirty-four years later), won a Palme d'Or (for another short, 1977's Kuzdok), and is still professionally active at age 79.
Both the features have the strangeness of another culture's conglomerated folk tales and legends, but their surreal illogic should have appealed to audiences already grokking "head flicks" like El Topo, 200 Motels, or The Saragossa Manuscript. More importantly, their incredible psychedelic visual impact ought to have been catnip to the same stoner 'toon fans who ate up repertory-calendar favorites Fantastic Planet, Fantastic Animation Festival, and Heavy Metal.
Somehow that didn't happen, with White Mare getting just miniscule US release in 1983, while the prior decade's Janos (Hungary's first-ever animated feature) got none at all. Both had become relative rarities everywhere. Anyone with an interest in animation is overdue to experience them, as they're among the 20th century's most remarkable works in that art form, certainly in terms of ambition and singular aesthetic.
Janos Vitez aka Johnny Corncob (though the actual title translation is "John the Valiant") is based on an epic 1845 poem by Sandor Petofi, and was released in commemoration of that shortlived writer's 150th birth anniversary. Its eponymous hero is a Magyar shepherd in love with a fellow orphan who is badly treated by her wicked stepmother. They're separated when Janos is banished from the village for losing his master's entire livestock flock; his wandering adventures encompass briefly joining a gang of bandits, then signing on with the army and rescuing a French princess. Granted wealth as reward for that service, he returns home only to discover his true love has died—yet somehow they're reunited forever in "Faerie Land," where both are transformed into winged angels.
One can immediately see the imprint of Yellow Submarine and Peter Max here, as trippy visuals lysergicize the whimsical story—when the lovers are presumably Doing the Deed, a thoroughly abstract representation of implied sexual intercourse "climaxes" in a sun aflame, and the sheep Janos loses are somehow pulled up into the sky itself, for no discernible reason. Perhaps the film's mind-expanding visuals didn't catch on with Western viewers because its occasional songs aren't particularly "rock," and the majority score (though gorgeous) is an orchestral one by Janos Gyulai-Gaal. Still, it's hard to see why this eye candy delight didn't develop more traction at least as a cult item.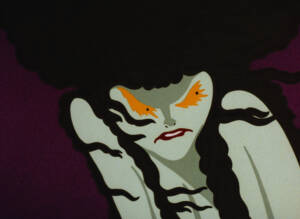 Son of the White Mare is similarly mythological and psychedelic, though the latter more on its own terms—there's not much overt Submarine influence left. Instead, its superheroic, dragon-fighting protagonist strides through a series of folkloric perils that almost fully transcend mundane matters of "story" and "character" to become exercises in pure striking graphics and almost blindingly bright colors.
As a result, the movie is admitted rather emotionally remote, its pure abstraction and relative humorlessness landing even further from the realm of standard kid-friendly cartoonage than Johnny Corncob. But as a visual experience, it is quite simply stupendous—the closest parallel amongst recent commercial animations might be Soviet emigre Genndy Tartakovsky's Cartoon Network series Samurai Jack.
Mare did attract enough admiring attention to get Jankovics an eventual offer from Disney, which thought his sensibility (at least if considerably watered down) would be perfect for their projected Incan creation epic Kingdom of the Sun. But that ambitious concept wound up completely eviscerated by nervous studio executives, until it finally emerged as the entirely reworked, comedic Emperor's New Groove. In any case, the Hungarian artist used income from any such outside gigs to fund The Tragedy of Man, a magnum opus that would finally emerge after 23 years' production as a nearly three-hour illustrated theology lesson in 2011. Hopefully it will also become more widely available hereabouts soon.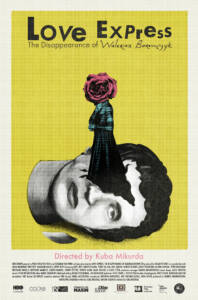 Coincidentally, the Roxie is also now hosting a new documentary about another trailblazing Eastern European animator, albeit one who eventually moved into live-action filmmaking. Kuba Mikurda's Love Express: The Disappearance of Walerian Borowczyk is a fascinating appreciation of the Pole whose short stop-motion, collage and miscellaneous shorts were like no one else's, making him a darling of film festivals and cineaste intellectuals.
Seeking greater creative freedom, he expatriated to France in 1959, a decade later making a striking exit from animation with the no less surreal feature political allegory Goto, Island of Love. But with the wittily shocking provocations of 1973's Immoral Tales and 1975's The Beast, he became typed as an "erotic" director, no matter how "strange, transgressive, and difficult" his work remained within the "dirty movie" realm it was bracketed in. Called "a huge pervert" to his face in one archival interview here, he shrugs "I only show what everybody dreams about."
His films' outrageousness and visual invention had a big influence on others including Terry Gilliam and Neil Jordan, who are among the admirers and former collaborators heard from in Love Express. This arrestingly assembled documentary is very entertaining. But at just 75 minutes, one questions why it couldn't have gone on a bit longer to encompass longer film clips, let alone several of Borowczyk's features that aren't excerpted or even mentioned at all. The man himself (who died in 2006) remains an enigma, not particularly forthcoming in the brief interview segments glimpsed, and evidently a bit of a mystery even to longtime coworkers. (Surviving wife Ligia Branice, who acted in several of his films, is not a participant here.)
Still, this very partial portrait will successfully whet your appetite to seek out some of his films, which always had its eccentric and interesting elements no matter how compromised the context—even 1987's Emmanuelle 5, a "final straw" assignment he walked out on, seems less an exploitation movie than a daft deconstruction of one.
Another fascinating archival dig is Kent Mackenzie's 1961 The Exiles, a semi-documentary hybrid BAMPFA is offering free for viewing to members just this weekend. Considered too bleak at the time for commercial release despite its festival prizes, it's now regarded as a classic in many ways—not least for its then-unprecedented view of Native American urban life, and celluloid preservation of a lower-class Los Angeles neighborhood (Bunker Hill) that was soon to be razed/erased whole from history for gentrification's sake.
This extraordinary document used nonprofessional actors and divey real locations to portray the life of reservation-fleeing Natives who find little opportunity in the big city. Instead, they tumble into cycles of alcoholism, joblessness, and jail stints. With its indelible mix of brutal cinema verite and noirish B&W beauty, The Exiles is a great slice of hidden Americana, as well as a remarkable work of art undertaken years before "independent filmmaking" would be a Sundance-endorsed Thing.