Thursday marked one year since the failed assassination attempt on Brandon Lee, a San Francisco native who was shot outside of his home in the Ifugao province of the Philippines. Lee and his supporters maintain that he was targeted and red-tagged by the Philippine government for his work as a journalist, environmental rights advocate, and defender of indigenous rights.
Last October, Lee was airlifted out of the Philippines and returned to San Francisco to reunite with his family and receive medical treatment at San Francisco General Hospital.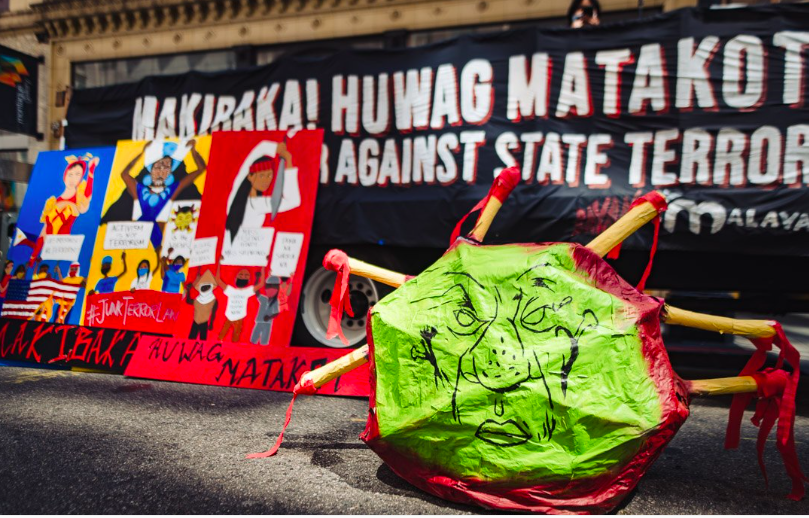 The Justice for Brandon Lee Coalition held a press conference alongside allied organizations, several civic leaders, advocates, and Lee himself to provide updates on his recovery and issue demands to continue seeking justice not only for Lee, but for all those at risk of harm under the current Philippine administration and its repressive and dangerous policies and practices— many of which are being funded by US tax dollars.
"I am forever grateful to the mass movement who watched over me, took care of me, protected me in the hospital, who fundraised for my hospitalizations and airlift, and who continue to advocate for my full recovery and seek justice," said Lee.
According to Windel Bolinget, Chairperson of the Cordillera Peoples Alliance, the organization that Lee was affiliated with at the time of his attempted assassination, the police and military have only intensified their attacks and have continued to red-tag activists who belong to CPA and who try to defend their lands against large-scale development by foreign mining companies.
The J4BL Coalition has shared that there has been little movement on following through with an investigation of Lee's attempted assassination, despite passing resolutions from the Philippine Senate and House and San Francisco's own Board of Supervisors demanding an independent investigation, as well as Nancy Pelosi's tweets of support for an investigation. So far, his perpetrators have not been held accountable, and the J4BL Coalition is still pushing forward to demand and attain justice for Lee.
"The Justice 4 Brandon Lee Coalition's ultimate demands come down to seeking justice for Brandon in a multitude of ways, which include ensuring that he is taken care of health wise, that he and his family have adequate community support, and continuing the fight to hold his perpetrators accountable in the context of widespread repression in the Philippines," shared Melissa Reyes, a member of the J4BL Coalition. "We know his road to recovery is long, so while one aspect of our campaign is focused on fundraising for his medical needs, the other aspect that is equally as important is continuing to tell Brandon's story so that nobody will forget it."
Lee's attempted assassination in 2019 garnered local, national, and international attention and put a spotlight on the Philippines' human rights violations and extrajudicial killings under President Rodrigo Duterte that have disproportionately targeted the poor, peasant communities, activists, and those who are critical of Duterte's administration.
Unfortunately, Lee's attempted assassination is part of a larger effort to quell political dissent. The Philippines was labeled the most dangerous country for land and environmental defenders in 2018, and it has only gotten worse for those who dare to speak out against Duterte's administration.
In the past few months alone, there have been major blows to press freedom. In June, award-winning journalist and Rappler founder Maria Ressa, and fellow Rappler reporter Reynaldo Santos Jr. were convicted of cyber libel and now potentially face up to six years in prison. And just weeks later, the Philippine Congress voted to officially shut down ABS-CBN, the country's leading broadcaster, by refusing its franchise renewal. Both outlets have been critical of Duterte's administration.
And to make matters even worse, the Anti-Terror Law, a sweeping law that expands and broadens the definition of terrorism and allows for warrantless arrests, was signed into law and went into effect on July 18th. This bill has sparked outrage and opponents of the Anti-Terror Law are concerned for the safety of activists, land defenders, and journalists, as this law essentially classifies activism as terrorism. Last week alone, hundreds of people gathered in front of the Philippine Consulate in downtown San Francisco for the "People's State of the Nation Address" on a global day of action organized by Malaya Movement and BAYAN USA to challenge Duterte's own State of the Nation Address and call for an end to the Anti-Terror Law and human rights violations in the Philippines.
"[The] ATL is a dangerous legislation because of its loose and vague interpretation of how a terrorist is defined. A student, an educator, an activist, a journalist, or land protector that speaks out against injustice or critique of a government's platform can be punished by law. It silences people to speak out and creates fear amongst the masses," said Rod Daus-Magbual, Daly City council member and Filipino educator.
"If found guilty of terrorism, the Anti-Terror Council, composed of the executive branch, military, and police, can jail you for life. In essence, they are the prosecution, judge, and executioner," Lee added.
The J4BL Coalition and Lee himself have connected these current struggles in the Philippines to Lee's attempted assassination and have also called out the US for its complicity in these human rights violations by continuing to send military aid to the Philippines. Malaya Arevalo of the Malaya Movement shared that since 2016, approximately $550 million has been sent to the Philippines in military aid. And right now, according to the J4BL Coalition, aid that is being sent to the Philippines for health initiatives including for COVID-19 purposes, is instead being used to militarize communities through threats of state violence and mass arrests in response to the pandemic if citizens are suspected of violating lockdown restrictions.
That is over half a billion dollars being funneled and made available to carry out Duterte's counterinsurgency plans, political repression, and human rights violations like Lee's attempted assassination.
"Most likely, the bullet that hit me in my spine and exploded to other parts of my body, leaving me paralyzed from the chest down, is from or paid by US tax dollars," Lee said. "I am believed to be the first American targeted by President Duterte's counterinsurgency plan for defending human rights and promoting indigenous peoples' rights as a community journalist and environmentalist. However, I can be considered one of the fortunate ones who have survived because I could have easily been one of the 30,000 fathers, sons, mothers, and children who have been killed brutally, mercilessly, with no due process whatsoever. That is why, despite my permanent injuries and physical hardship, I believe it is my duty to continue to lend my voice when and where I can."
Lee's story and the stories of thousands of others being subjected to Duterte's fascist regime have pushed organizations like ICHRP-US, Malaya Movement, Kabataan Alliance, and partner organizations, to put forward the Philippines Human Rights Act. According to their website, the PHRA would "suspend United States security assistance to the Philippines until such time as human rights violations by Philippine security forces cease and the responsible state forces are held accountable."
The Philippine Human Rights Act is gaining traction, with several large organizations and the AFL-CIO coming out in support of the act. However, the J4BL Coalition is urging the larger public to learn about the PHRA and contact local and state legislators to support it, especially in the wake of the recently passed Anti-Terror Law that is sure to be bolstered by US funds. There's an opportunity for US lawmakers to support this act, especially given the fact that in July, 50 US lawmakers came out against the Anti-Terror Law with Representatives Jan Schakowsky and Judy Chu considering drafting legislation to address the human rights abuses in the Philippines.
"Today I ask you to support the Philippine Human Rights Act to cut US military aid to the Philippines until human rights are respected and the Philippine government is held accountable for all of its human rights violations," Lee said emphatically. "Only through a mass movement, can we attain any real justice."
You can read about the PHRA and take action here: https://humanrightsph.org/take-action
Follow Brandon Lee's campaign for updates: Instagram @Justice4BrandonLee, Facebook @FriendsofBrandon
You can donate here to help Brandon's recovery: https://love4brandonlee.square.site