More than 500 people gathered at Harry Bridges Plaza Saturday afternoon to celebrate Joe Biden's election. The group, organized by local labor unions including SEIU Local 1021, the San Francisco Labor Council, and UNITE Here Local 2, rallied in the plaza before marching down Market Street and through Union Square.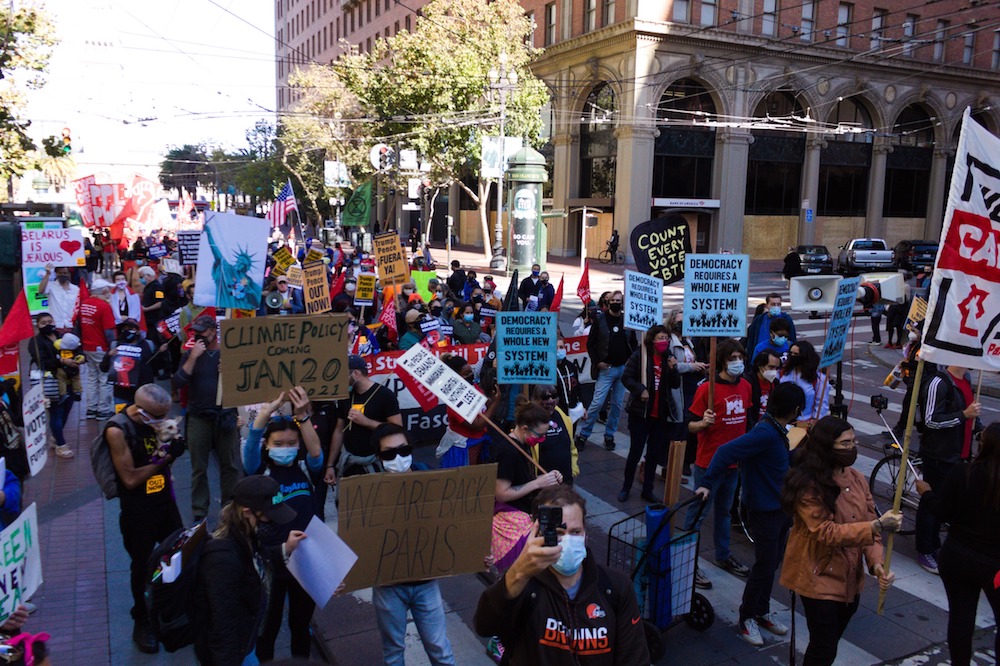 Yvonne Williams, president of ATU Local 192, an Oakland-based union that represents transit workers, said that the Biden presidency represents a return to civility, and a way of leadership that focuses on unity and respect.
"The most important thing today is that this country returns to civility, and we get a president in this country that is intelligent enough to be able to listen to the will of the people and to put the people first, not the billionaires," said Williams.
District 8 supervisor Rafael Mandelman addressed the crowd, and said that while he celebrates Biden's victory, his slim lead over Trump in many states demonstrates the persistence of Trump's brand of populism.
"I was not terribly thrilled on Tuesday. I wanted a wave election that would be a massive repudiation of everything that the last four years were about," Mandleman said. "It just means that the work is not done. We bought ourselves a window of opportunity to save this democracy. I know that we will not miss this opportunity."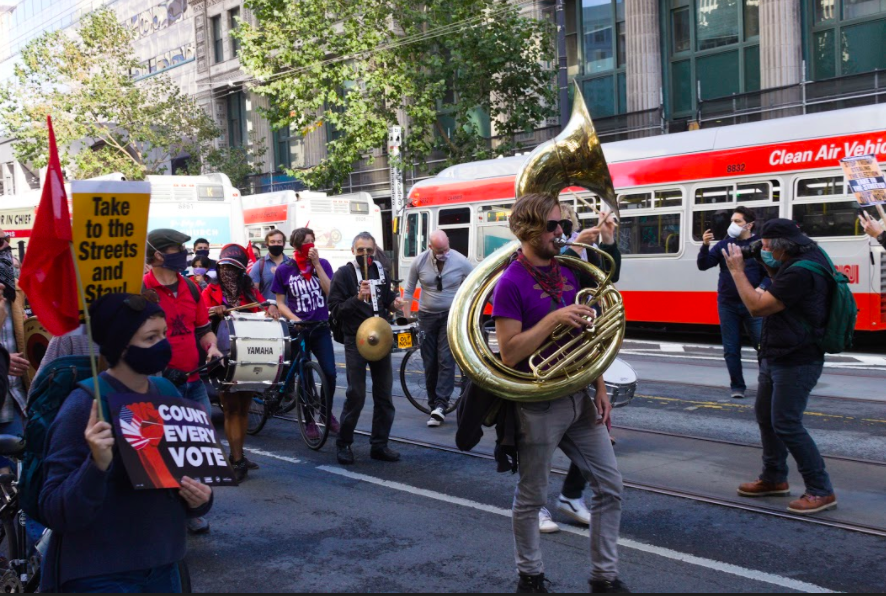 Among the younger protesters, one of the greatest concerns was the looming threat of climate change and the Trump administrations' denial of its existence. Many were enthusiastic about a Biden presidency which would be more amenable to multilateral approaches to tackling the issue.
"It's important to us to rejoin the Paris Climate Accord, and we should start the [renewable] energy transition, and the job creation that comes with that, as soon as possible," said Falcon Lai, a Portero Hill resident. "Our stance matters as an example to the rest of the world.
For local tenants, a Biden presidency is promising, but many said they believe that Biden and his administrations' top priority needs to be on protecting tenants facing eviction during the COVID-19 pandemic.
Leticia Arce, an Ingleside tenant and organizer with Causa Justa, said that she is counting on the Biden administration to help tenants struggling during the pandemic by creating a plan to cancel back rent and establish broad eviction protections.
"I'm hoping to hear more about canceling the rent, and the need to halt evictions and displacement of people during a global pandemic, and a Biden presidency makes that seem more feasible," said Arce. I made calls to people in Arizona, I made calls to people in Florida, and I did that knowing that we weren't going to win these demands with the Trump administration. All of the tenants I talk to, they're barely making ends meet, people are months behind on rent, and the conditions that tenants across the county are in are deplorable, people are having to choose between paying for rent, paying their phone bill, or paying for their food. I'm hoping a Biden administration takes pressure off our backs, maybe we can breathe a little."
Joseph Bryant, president of SEIU Local 1021, said that the Biden administration's immediate concern needs to be on getting stimulus payments to American families struggling during the economic recession caused by the pandemic.
"I think one of the interests that needs to be addressed immediately is that we need a stimulus to make sure that states, cities, counties have the resources that are needed to make sure we can fight this pandemic and to make sure that these communities are safe," said Bryant.
Bryant said that he is hopeful that a Biden presidency would shift American policy towards ensuring healthcare for all Americans and protecting workers during the pandemic.
"The victory today is a sign of change, we've been going on a trajectory for too long, we need to make sure we stop that momentum, and shift towards prioritizing working people, that healthcare is available for all Americans, and that the safety of workers is prioritized. This president has messed around too long with regards to this pandemic. Now is the time for change," said Bryant.