The Board of Supes is holding a special hearing Tuesday/22 on the School District's plans to reopen public schools.
It's a topic so heated that it has some traditional allies at odds as families continue to scramble to deal with that could at this point be more than 12 months without in-person public education.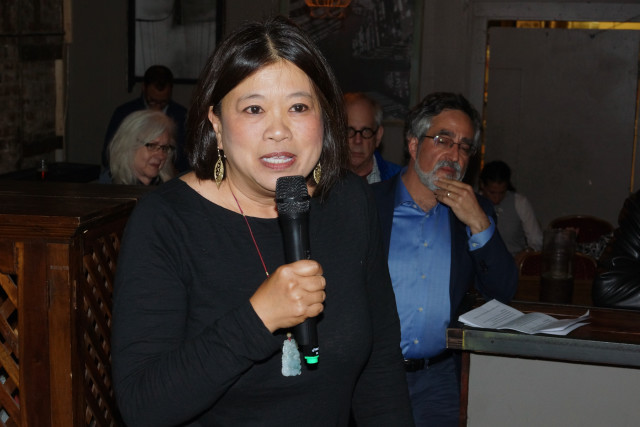 Everyone agrees that's a serious problem, particularly for younger kids and for students of color in low-income communities.
There's also substantial agreement that Mayor London Breed has not done enough to bring everyone to the table and find a solution.
"It's the power of the Mayor's Office to bring people together," Sup. Sandra Lee Fewer told me. "And she hasn't done that."
The district and the United Educators of San Francisco haven't yet reached an agreement on the conditions of reopening. The district had set a Jan. 25 date for opening a few schools for a few students back. Although some news media reports say the sides are at an impasse, talks are continuing – although not over the holidays.
School Board Member Alison Collins told me that "our plan for re-opening relies on us reaching an agreement with our labor partners, and we haven't reached that agreement. We're still negotiating."
Susan Solomon, president of the teacher's union, told me the union is still working with the district on negotiations (although both sides are taking a break for the holidays). "We are not at an impasse," she said.
The union's demands are almost entirely based on safety. They want good ventilation is all classrooms, PPE and training for all teachers and staff, and regular testing for all teachers and for students whose families request it.
(UC San Diego is partnering with the public schools in that city to do quick, easy tests; UCSF could do that too, but so far that isn't happening.)
The union also wants small, stable cohorts of students and teachers who can work with appropriate distancing, health and safety plans that comply with CDC, Cal-OSHA and state Department of Public Health standards, and safe and reliable transportation for students, teachers, and staff.
The biggest sticking point, though, is probably the union position that the schools shouldn't open until San Francisco is back in the Orange – or "moderate" tier for COIVD infections. The city is currently in the Purple, or Widespread Risk tier.
The Board resolution, sponsored by Fewer, a former School Board member, states:
There is strong consensus amongst public health experts, including Dr. Fauci and CDC Director Redfield, that schools can operate in person learning in a safe and responsible way, and opening schools should be the highest priority for any jurisdiction … New recommendations from the Centers for Disease Control place high priority on keeping schools open, from kindergarten through 12th grade, saying schools should be both "the last settings to close" and "the first to reopen" because of the critical role they play in providing meals and support services to children.
A Dec. 19 statement from the district's unions says that :
Since the beginning, SFUSD set an example by closing down ahead of state mandates and, in doing so, it saved thousands of lives. Now is the time for SFUSD to continue this kind of leadership. We all want to reopen but we cannot do so in the midst of uncontrolled community spread. In fact, school districts around the Bay Area have determined that schools cannot safely reopen while in the purple tier.
A lot of San Francisco schools are old, and have smaller classrooms, and Collins told me "there just isn't room" in many facilities to return many students with adequate social distancing. "Bret Harte has plenty of space," she said. "Carver does not."
To reopen, some students would have to go to different schools than they have attended in the past, possibly with different teachers, she said.
Fewer told me that these are exactly the sorts of problems the city can help address. "We have the ability to make resources available. There is empty city property that could be used for classrooms. But there is no plan to bring back more than a small number of kids."
Fewer said that the district has told her "we can't open because of this, and we can't open because of that, but what I haven't heard is: We could open if you gave us these resources."
Collins said that district staff have offered some suggestions, but she is putting together her own list of the resources that the district needs.
In the middle of all of this, the new interim head of the Labor Council, Kim Tavaglione, went on Facebook to attack Fewer and Sup. Hillary Ronen, who is a cosponsor of the resolution, saying:
I think it is despicable that any politician is criticizing educators and faculty of school districts for the schools not opening. They sit in their ivory towers being safe while criticizing others for caring about their safety. It's unfair and not true. All workers should have the absolute right to bargain their own safety. And for a politician to criticize that they should pack their bags and leave the city.
Fewer and Ronen are, by any standard, among the most pro-labor people who have ever served on the Board of Supes. They both worked to make sure that city workers got their contracted raises this year, even in a pandemic budget crisis – and they have faced huge political hits for doing that.
So I have to say, whatever side you are on in the debate, this isn't helpful.
"Why are we dividing ourselves?" Fewer asked.
Solomon told me that the union is not opposing the Fewer resolution. "We have bigger issues, like getting the schools back open," she said.
She also said that the mayor had not reached out to UESF; Breed has been happy to blast the union, but "she has made no effort to talk to us. I have not received a phone call. It's really frustrating – I am willing to meet with anyone to get this solved."
I would bet the mayor could also call UCSF and ask for help with testing.
As Ronen put it: "As the adults can't get it together to figure it out, the kids are suffering."