People who have criminal records are released from jail, prison, or other forms of detention almost every day. Some of them go on to commit other crimes, even terrible crimes.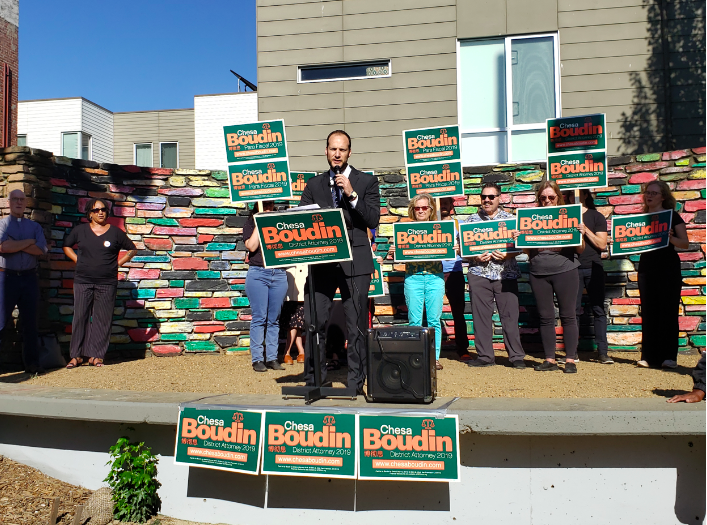 There's no question that Troy McAlister is charged today with a terrible crime. The District Attorney's Office alleges that he killed two people in a hit-and-run. He is in jail, and will very likely not get out of a long, long time. (He's also, according to news reports, a meth addict and an alcoholic.)
But the political statements and the news reports on the case – like so many political statements and news reports on DA Chesa Boudin – have been fundamentally inaccurate.
I don't think a law-and-order DA in the same situation (and there are and have been plenty) would be facing this same type of attacks.
Let's review the history: McAlister was arrested in 2015 on charges of armed robbery. He was sent to jail, and five years later, was released on parole.
Under the state's widely discredited "three strikes" law, he could have been in prison for 40 years on a robbery charge (nobody was hurt in the incident). But Boudin, like a growing number of prosecutors in the state, isn't using that law any more (former SF DA George Gascon, who handled the McAlister case in 2015 and now has the job in LA, has announced he will no longer use "strikes" to push for lengthy prison sentences.) Three-strikes was a racist failure. Anyone with any sense now agrees on that.
Five years is not an unusual sentence for a crime where nobody was hurt.
When people are out on parole, they have to abide by strict rules and can be sent back to jail pretty much immediately if they violate those rules. Their parole officers are responsible for making sure they check in regularly and follow procedures.
McAlister was arrested twice this fall on burglary and drug charges – all nonviolent offenses. If Boudin had filed charges against him in those cases, the odds are very good he would have been released from jail while awaiting trial. He would have had, like any criminal defendant, the presumption of innocence, and the city doesn't tend to lock up nonviolent offenders awaiting trial these days.
On the other hand, his parole officer could have locked him up or sent him into drug rehab immediately. That's why DAs commonly in these situations refer violators to their parole officers, who have much more authority to act quickly.
In other words, what Boudin's office did here was pretty routine. (Except that somehow the cops, parole, and the DA didn't communicate properly, which is the main reason the guy was still on the streets.)
Now that McAlister is charged with vehicular manslaugter, the San Francisco Police Officers Association is putting out the message that Boudin had a conflict of interest because he represented McAlister when he was a public defender.
Here's what KPIX put out on Twitter:

Actually, no.
Boudin never was the attorney of record for McAlister. I have read the court transcript in the case, and what happened was very simple: McAlister's public defender was in trial when a judge needed to do a minor procedural matter (setting a trial date). The prosecutor handling the case was also in trial.
So, as is very common, another DA and another PD showed up for about five minutes as substitutes so the judge could on the record set a date for trial.
Ellen Chaitin, a retired Superior Court judge, told me that this happens all the time, and that the substitute lawyers (whoever in those offices happens to be free for five minutes that day) are not the attorneys of record for the case or the client.
Here's the entire transcript of what Boudin did:
THE COURT: The Court is calling Line 14.
Do we have the D.A. here?
MS. MORRIS: I will stand in.
THE COURT: Court is calling Line 14, People v. McAllister.
Appearances, please.
MS. MORRIS: Lailah Morris, specially appearing on behalf of Michael Nguyen, for the People.
MR. BOUDIN: Chesa Boudin, Deputy Public Defender, specially appearing for attorney of record Crystal Lamb, on behalf of Mr. Mc Allister, who is present in custody before the Court.
THE COURT: In this matter I received the 1050. I understand Ms. Lamb is in trial.
MR. BOUDIN: That's correct, Your Honor.
And Mr. Nguyen is unavailable on the date that Ms. Lamb requested. We're requesting a date as soon as available. I believe Mr. Nguyen discussed it with the Clerk of the Court and it was indicated to him that July 16th was available.
THE COURT: Let's go off the record while we confer on dates.
THE COURT: Back on the record.
Having conferred with the parties, this matter is placed in this department for preliminary hearing on July 16th, 2018, at 9:00 a.m.
Mr. Mc Allister is ordered present. There is also a motion to suppress? 
MR. BOUDIN: I believe so, Your Honor. 
THE COURT: Okay. And the Court finds good cause in light of Miss Lamb's unavailability.
MR. BOUDIN: Thank you, Your Honor. 
THE COURT: Thanks.
That's it.
Here's what Public Defender Mano Raju says:
We have learned from decades of failed "tough on crime" rhetoric and policies that focusing primarily on whether the system could have incarcerated someone longer, more often, or more severely is how we find ourselves in the current scenario. We cannot let opponents of a more fair and just criminal legal system exploit this loss-of-life to convince others that the system we've long relied upon is the best we can do. 

I also want to make clear that Chesa Boudin never represented Troy McAlister.  Some are misinterpreting court minutes that show Mr. Boudin as "special[ly] . . . appearing for the attorney of record" on a "motion to continue," but this was strictly an administrative appearance that lawyers routinely make when a colleague is unavailable on an uncontested matter. On the date at issue here, Mr. McAlister's lawyer was in trial in another case and she filed the motion to continue as a result. It is common for attorneys to make "stand-in" appearances on behalf of an unavailable colleague. Mr. Boudin was apparently such a "stand-in" on an uncontested postponement of the case to a new date. He would not have had any confidential information nor presented any arguments on Mr. McAlister's behalf. Our overburdened courts could scarcely function without such courtesies. 

Of much greater importance is the recognition that we have a collective responsibility – as justice partners in the legal system locally and statewide – to redirect our efforts and resources. We must rethink our current responses to harm by centering people who have been harmed, ensuring they are cared for, and working to understand why the harm happened. We must commit to trying to prevent harm, not by attempting to mercilessly punish it away, but by disrupting the pathway to harm and violence through systems of support and care. This is what is actually needed for our communities to be safe. We as a society must delve into understanding how our systems fail people in ways that lead to tragedy and how we can learn from these mistakes to promote more healing, rather than more misery. That is what my office has begun to do and what every agency that has an opportunity to intervene should do, not just with more punishment but with more support, in order to prevent these kinds of tragedies.
Now: If Boudin had actually represented McAlister, he would not be able to prosecute him. That also happens on occasion – the DA has a conflict of interest in a case. And like every DA's office in the state, San Francisco has a clear policy on that.
David Campos, who is Boudin's chief of staff, told me that "we have a policy that if there is any potential conflict, we reach out to the Attorney General's Office, which can take over a prosecution. And even if they don't find a conflict, we can set up an ethical wall where the prosecuting DA would not report to Boudin."
Again: Very common practice in public law offices. In fact, it's not only good local policy; the state Bar Association requires it.
So what's really going on here? The POA is furious at Boudin for charging officers who killed people. The old-school establishment is unhappy that the voters chose a DA who is pushing for radical criminal-justice reform.
And his opponents are using a terrible tragedy leading to a horrible loss of life as political fodder for their attacks.