The new exhibition "CARAVANA: Mobilizing Central American Art (1984–Present)" at SOMArts Cultural Center doesn't set out to provide easy answers. Rather, its juxtaposition of past and present Central American and US solidarity art looks to provide visitors with the key questions that must be asked.
Certainly, the show provides a much need break from reductive discourse generated by heinous politicians and the media's blanket misunderstanding of the refugee crisis.
"Generally, the tendency has been to collapse the Central American experience, to flatten the Latino experience all together, into a Mexican experience," "Caravana" co-curator Josué Rojas tells 48hills. "I think the whole spirit of what we're trying to do is to complicate this."
Made possible through a curatorial residency with SOMArts, and viewable both online and through timed entry ticketing, the show was conceived by a trio of Central American community art curators who grew up in the Mission and who have worked together extensively on presenting the neighborhood's cultural wealth.
Fátima Ramírez has worked at the Museum of the City of New York, in exhibition development at the Children's Museum of Manhattan, and visitor experience at SFMOMA. Artist Mauricio Ramírez has served as an after-school program coordinator and done work with the Precita Eyes Muralist art center. Painter Rojas has a long-standing relationship with SOMArts, having participated in its Day of the Dead altar exhibition for years under the guidance of Mission art cornerstone René Yañez. Rojas recently stepped down as the executive director of community newspaper El Tecolote's organizational non-profit Acción Latina.
Under their guidance, "Caravana"—which runs through April 15—has an ambitious aim: Weaving together the Central American solidarity art projects of the '80s with the innovative works being generated by today's rising generations of creatives.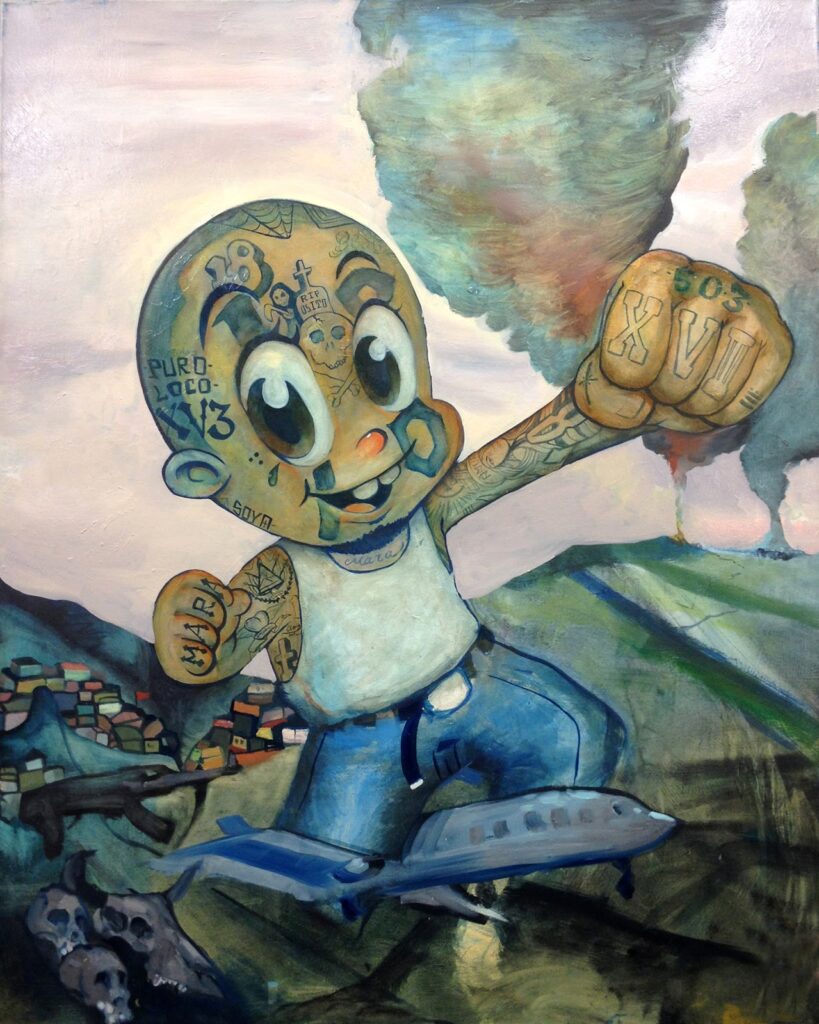 The exhibition opened March 11 and, like most SOMArts exhibitions, its programming looks to engage the center's larger community with its content. A virtual reception featured a set by DJ Femme Papi and a reading by Dr Siu and daughter Alicia María Siu of their children's book on display in the show. On April 13, Michelle Angela Ortíz's documentary on the families rent apart by Pennsylvania's Berks Detention Center will be screened virtually. Coordinated writing and art workshops focusing on stories of movement and resilience are planned for participants of CARECEN's migrant youth program, who will publish their resulting work in El Tecolote.
The show itself is a blast of emotional contrasts. The pain of modern-day family separation motoring Ortiz's Las Madres de Berk documentary must be digested on the same visit as Maria Ester "MEG" Garcia's rainbow-hued acrylics interpreting tropical beauty. Photographer Jim Prigoff's documentation of the 1984 founding murals of Balmy Alley hang in the same room as Jasmin Cañas' symbolic 2020 digital prints. Here are scenes from the Sius' children's book Rebeldita la Alegre en el País de los Ogros juxtaposed with Mission artist Vero Majano's enigmatic archival pigment print "Lo Siento."
What the show is not is exhaustive—and how could a single exhibition express the entirety of a world region and its diaspora's work over the course of almost four decades?
"It's not meant to be a who's-who of Central American expression," says Rojas. "It's really a moment in time. It really, truly is an opportunity to spark this conversation."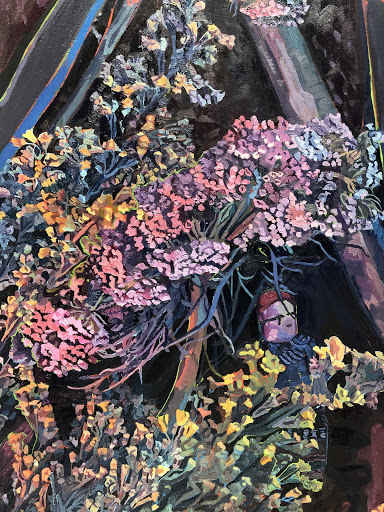 Two overarching truths emerge; one, the historic lineage in which "Caravana" takes form. Its period of reference begins in 1984 the Artist Call Against US Intervention, which activated both Central American artists and their allies to speak out against the United States' dastardly campaigns to derail democracy in the region.
In the Mission, the Call inspired the PLACA Collective to voice their opposition to such interventionism and the human suffering and displacement it caused with the creation of the city's first mural alley. To this day, Balmy Alley lives on as an ever-evolving show of solidarity with Central America.
"Caravana" participant and Mexican-Tejana-Jewish muralist Juana Alicia was one of Balmy's original creators. Several of her pieces, and their establishing sketches, are included in the SOMArts exhibition, such as the mural "Te Oímos Guatemala [We Hear You Guatemala]." Alicia says the wailing woman of the work was inspired by a scene of mourning from the 1983 Guatemalan war documentary When the Mountains Tremble.
For the master muralist, the message of "Caravana" is severalfold—a history lesson on genocide and a display of an ongoing continuum artistic power at once.
"In the first place, I hope that viewers are bowled over by the flourishing of the Central American diaspora in the US and the immense cultural contributions that our brothers and sisters have made to our communities," Alicia told 48hills, making pointed mention of creative from the region who were forced into exile; Victor Cartagena, Otto Aguilar (ex-director of Nicaragua's National Art School), and Salvador's Martivon Galindo, architect, painter, and professor emeritus at St. Mary's College.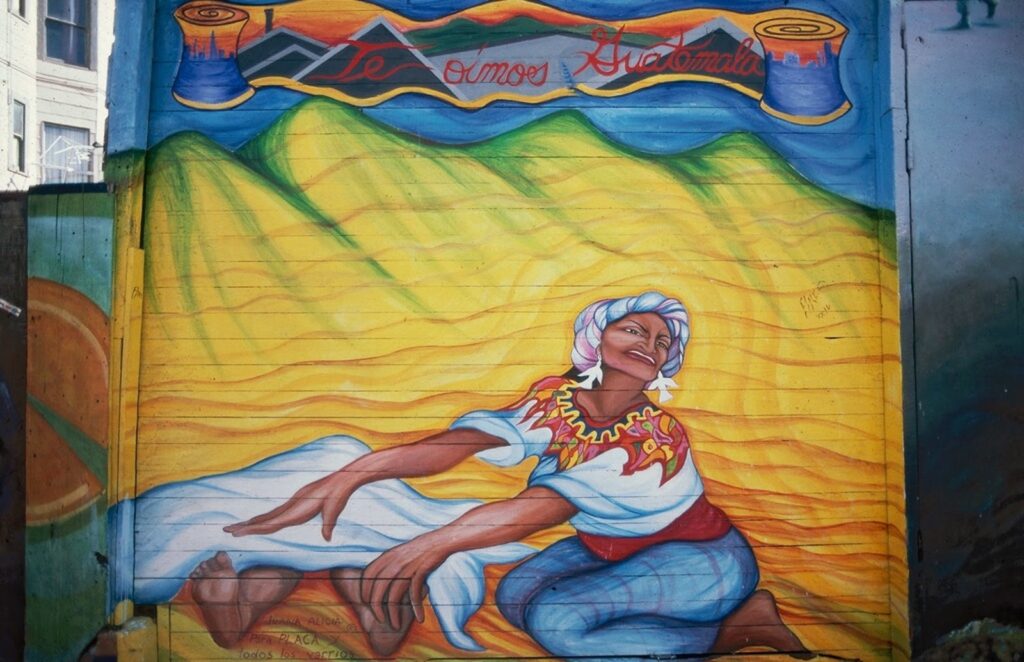 "We also witness the solidarity between Latinx communities across borders, and the work becomes a signifier for our present moment of caged children, separated families and ongoing human rights abuses of migrants, in the U.S. and worldwide," says Alicia. "Finally, I hope the show with activate its audiences to take social responsibility and political action to pressure the current administration to change its policies in these areas."
Another important underpinning of "Caravana" is the continued evolution of Central American art, innovation through the transformations that have occurred since the high water mark of the 20th century crimes of US interventionism.
It's this sense of expansiveness that will stick with visitors, of impending renaissance and complex joy. See; the cat-eared, flag-flanked self portrait of Kiara Alieen Machado, the tattoo-inspired rasquachismo of Oliver "EL MISFT" Chanax.
"As a creative, I've sought to see who is the Central American Frida, who is the Central American Picasso, Diego," says Rojas. "There's a whole new generation willing to step into—not those roles, not those archetypes—but their own, to become known for their own creative output. I'm really excited to be a participant of that, to be an usher of that, to be in line with that."
"Caravana" runs through April 15 at SOMArts Cultural Center, and can be viewed online or through timed ticketing. On April 13, the exhibit hosts a free virtual screening of 'Las Madres de Berks' followed by a Q&A with filmmaker Michelle Angela Ortiz. More information and tickets here.