Immigration reform advocates from Faith in Action Bay Area gathered outside House Speaker Nancy Pelosi's office in the San Francisco Federal Building Friday urging Pelosi to seek to persuade Congress to include a path to citizenship for undocumented immigrants into Biden's $7 trillion infrastructure plan, called the Build Back Better plan.
Specifically, Faith in Action Bay Area wants the immigration measure to be included in the Biden infrastructure plan and for that plan to be passed by budget reconciliation, a filibuster-proof legislative procedure that would allow the Democrats to pass legislation without Republican support.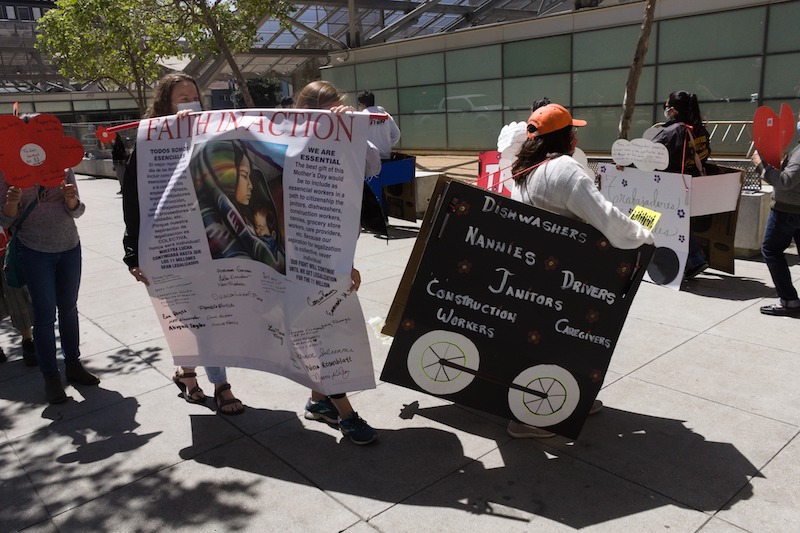 Organizers signed a letter urging Pelosi to ask Congress to add immigration reform legislation granting a pathway to citizenship for undocumented immigrants to Biden's infrastructure plan, and intend to mail it to her office in Washington—organizers were told by security that she was not in her San Francisco office today.
Adriana Guzman, a lead organizer with Faith in Action Bay Area who is spearheading the effort to get legislation outlining a path to citizenship passed, said that Pelosi's ties to San Francisco along with her considerable influence in the House of Representatives make her an ideal person for Faith in Action Bay Area to lobby to ensure immigration reforms are included in the Build Back Better plan.
"She is the speaker of the house so she can be talking to other people who have the power to move this bill into the [budget reconciliation] process," said Guzman.
Members of Faith in Action Bay Area said that undocumented immigrants deserve a way to become citizens now more than ever because of their essential roles during the pandemic, many of which involve manual labor, including construction—16 percent of employed undocumented immigrants in the US work in construction—along with the fact that many undocumented immigrants choose to pay income taxes in hopes that it will work in their favor when trying to become a citizen.
Doris Alanya, a Faith in Action Bay Area leader, was laid off from her job cleaning bathrooms at the Pacific Union Club in 2020, after working there for 12 years. Due to her immigration status, she did not qualify for government aid, including unemployment insurance, after being laid off. Alanya said that undocumented workers, many of whom continued to work during the pandemic, need a pathway to citizenship in order to qualify for government aid — which is bankrolled in part by undocumented workers who pay income taxes, such as Alanya. Undocumented immigrants can file income taxes even without a Social Security Number by using an Individual Taxpayer Identification Number.
"I did my taxes, and I unfortunately do not qualify for any assistance. This pandemic hit me very hard…Nancy Pelosi, I ask that you support all essential workers so that we may be included in this recovery package without forgetting the 11 million essential human beings have contributed to the growth and development of this country," Alanya said in Spanish.
Guzman said that having the legislation passed through budget reconciliation is necessary because this immigration reform measure enjoys no support from Republicans, who would be likely to filibuster standalone legislation after the same objective. Also, passage of this immigration reform can be done more quickly than conventional means of passing legislation.
"Right now the process of [budget] reconciliation is short, it takes less time and less votes to approve … we want to make sure they use this opportunity to recognize the work and the value of the immigrant community that has been exposed through COVID. They have been paying taxes but hthey have not received any support," said Guzman. "We have been fighting for this immigration reform for so many years…our families need it, now more than ever."
However, budget reconciliation comes with caveats; it can only be used up to three times per fiscal year—the federal government's 2022 fiscal year begins October 1—for individual bills dealing with spending, revenues, and the debt limit, respectively, and there must be a bipartisan conference agreements from each house of the Legislature called a budget resolution.
Also, the likelihood of immigration reform legislation passing through the Build Back Better plan under budget reconciliation is low.
William Hoagland, senior vice president of the Bipartisan Policy Center and an expert in US Senate budgeting procedures, said that immigration policies would likely be eliminated from the Build Back Better plan through the "Byrd rule," which allows the Senate Parliamentarian to remove amendments from legislation deemed "extraneous" to legislation being passed through the budget reconciliation procedures.
"A budget reconciliation instruction is a dollar amount, not a policy, said Hoagland. "So what are we instructing and trying to achieve with immigration reform? If it's an instruction for legalization, that would likely not have a direct budgetary score, so that's likely to throw it out immediately. I think that trying to put immigration reform, however you define it, into something that is only meant for fiscal policy purposes, into a budget reconciliation instruction, it would never pass a Byrd rule test.
According to Hoagland, the only other way to pass legislation without Republican support is for unanimous consent among Democrats, who could pass legislation with 51 votes with Kamala Harris as the tie-breaker.
As long as Republican lawmakers don't filibuster it.
Despite the low probability, Guzman said that Faith in Action Bay Area is pushing ahead with getting immigration reform legislation passed along with the Biden infrastructure plan.
"Definitely we are fearful of that people if it is not included now it will take longer and take more votes…it is something they can do so that is why we are pushing for it to be part of the Build Back Better plan…our community has been on the front of the pandemic making sure that the economy continues to run," said Guzman. "We will continue our work until everyone is dignified and everyone in our community has a path to citizenship. We'll never stop."