The Board of Supes is poised to take the next step toward creating a public bank in San Francisco.
The Government Audit and Oversight Committee will consider Thursday/3 a measure that would set up a committee with a mandate to develop a working municipal banking plan within one year.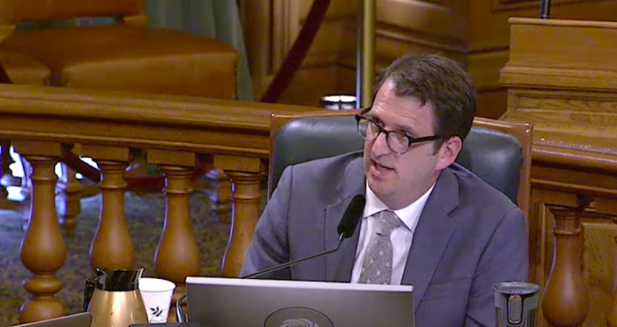 The bill by Sup. Dean Preston would create a nine-member Reinvestment Working Group, with seven members appointed by the supes and one each by the controller and treasurer.
The group would look at various options for what a public bank could do. The ultimate goal:
A San Francisco Public Bank would create a fiscally safe and sound institution to invest public funds in a manner that aligns with the values and interests of the City, including investments in City residents, businesses, and sectors that serve the public good and that are underserved or unserved by the existing financial industry.
This is the latest step in a long process. Advocates have been talking about a public bank in SF for years, and the discussion has become more serious since 2020, when the state Legislature passed a bill that specifically allows local governments to create financial institutions.
Remember: The City and County of San Francisco gets and spends close to $13 billion a year. Most of that money now is in commercial banks (BofA and USBank) that, according to the legislation,
Invest in sectors that may harm San Francisco residents or contradict the City's values. These banks continue to resist pressure from national movements to have their investments reflect values of transparency, environmental responsibility, and social justice, and they have been criticized for racially-biased predatory lending and foreclosures and for investments in fossil fuels, weapons, and private prisons.
Among other things, a public bank could finance affordable housing and small-business development. We're talking about a lot of money here: even if the bank only managed to get 2 percent on the city's money, that's $260 million a year.
Advocates and the six supes who have cosponsored the measure aren't sure exactly a public bank would do. It could, according to a 2017 Controller's Office report, exclusively do affordable housing and small business loans, or manage the city's cash, or do a combination of both.
This is potentially a huge deal – not just for San Francisco but for cities all over California. If it works here, the model could quickly spread.
The legislation already has enough co-sponsors to pass – but not enough to survive a mayoral veto. Mayor London Breed has not been getting along well with the board lately, and she would have zero appointments to the working group. So it might need two more supporters on the board.
The Police Commission and the supes will be voting this week on approving two different settlements that involve taxpayer dollars going to resolve cases of alleged police misconduct.
The big one, which the commission will consider in closed session Wednesday/2, involves the shooting of Sean Moore, a Black man suffering from mental illness who died in prison in part from wounds that stemmed from a police shooting.
The shooting of Moore has been cited as an example of what police shouldn't do when dealing with someone who, in this case, was dealing with schizophrenia.
From Mission Local:
On Jan. 6, 2017, [Offiers] Cha and Patino showed up at Moore's home in Oceanview at around 4:15 a.m. to investigate a noise complaint, and to determine whether Moore violated a temporary restraining order his neighbor had obtained against him.

"Fuck your order," Moore told the officers multiple times, explaining he did not violate the restraining order and was taking out his garbage.

An appeals court in May 2018 upheld an earlier decision that the officers, at that point, should have left, as the investigation was complete. But body camera footage reveals the officers confronting Moore as he stood on his steps, and a verbal spat between Moore and the officers escalated.

Cha eventually pepper-sprayed Moore, and as the officers tried to arrest him, Patino struck Moore with a baton. When Moore seemingly retaliated, Cha fired at Moore twice, striking him in the stomach and leg. Moore lived and was hospitalized.
He didn't live to see his civil-rights trial; he died in San Quentin, where he was serving time for an unrelated incident.
This is, I expect, going to cost the people of this city a significant amount of money.
The second case is fairly minor, as these things go – just $60,000 to settle a case involving officers allegedly attacking a man at Mission Playground who was trying to record them on his phone.
According to the complaint:
On February 24, 2019 at approximately 10:30pm, Plaintiff Daniel Alvarenga was sitting with a group of friends at Mission Playground located at 3555 19th Street in San Francisco, California. Defendant Officers HE, GRIFFIN and other yet to be named SFPD Officers aggressively approached the group with flashlights. One officer immediately asked for everyone to provide some form of identification. Mr. Alvarenga asked one of the officers if he could record the encounter, to which the officer agreed and said was okay. While Mr. Alvarenga was recording, a different officer at the scene commanded him to stand up. Mr. Alvarenga complied, only to have the officer take his phone and slam him to the ground.

Defendants HE, GRIFFIN and other yet to be identified SFPD Officers proceeded to strike Mr. Alvarenga with their fists as he lay on the ground. Defendant GRIFFIN struck Mr. Alvarenga in the head with his right knee, causing significant damage to Mr. Alvarenga's ear. Due to the severity of his injuries, Mr. Alvarenga was transported via ambulance to Zuckerberg San Francisco General Hospital where he received six (6) stiches to repair his ear. Mr. Alvarenga also suffered significant bruising and swelling as a result of his encounter with Defendants HE, GRIFFIN and their fellow officers.
The city's not even trying to fight this one.
All of which makes me wonder: If we added up all the money the taxpayers have forked over to settle cases of police misconduct, how much mental-health and community services would it fund?