Banning cars from JFK Drive in Golden Gate Park has been a goal of bicycle and pedestrian advocates for at least 20 years. I don't know how many times the Bay Guardian used the headline "Parks, not Parking," but I suspect it appeared in a least a dozen stories.
And now that vision is moving toward reality—but there are a couple of issues that are still far from resolved.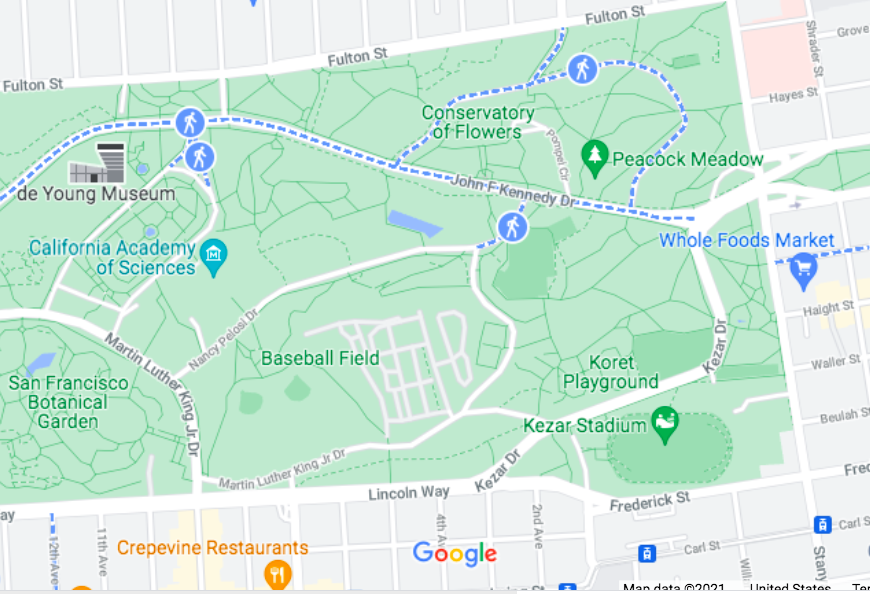 The Board of Supes Land Use and Transportation Committee heard a proposal today that would make JFK Drive car-free permanently, putting a COVID-era change into formal policy. The supes can only ask the Recreation and Parks Department and the SFMTA to take action—but still, a board resolution would put tremendous pressure on both those agencies.
And from the hearing, it appears that at least the SFMTA is willing to move in that direction. Rec-Park seems to be backing off its long-time opposition, in part because it appears that the DeYoung Museum isn't actively opposing the concept.
So, while the future of the Great Highway is still bitterly contested (and no, 48hills does not support more cars in the city or anywhere else; we published two oped pieces taking different positions on this issue), it would seem that at least a major road in Golden Gate Park could be free of private vehicles soon.
But it's not that simple.
The supes are trying to balance the need for safe recreation with the (relatively minimal) needs of the DeYoung for loading-dock access on JFK Drive—and way more important, the concerns of people from underserved neighborhoods who have no easy way to get to that part of the park on public transit.
Many speakers talked about how wonderful it's been for their kids to ride bikes safely in the park. I get it: I spent many Sundays in the park with my kids. They both learned to ride a bike on car-free JFK Drive. I hardly ever drive in the city; my bike is my transportation.
But as Shamann Walton points out, there's an equity issue here. If you live in Southeast San Francisco, and you have two young kids who want to enjoy the privilege of riding their bikes on JFK Drive, you can't get there on transit.
Seriously: You can't put two kid's bikes and maybe an adult bike on a Muni bus from Bayview to Golden Gate Park. It's impossible. Some buses (but only a few) have bike racks, but they hold only two bikes, and it's first-come, first-served.
Forget the time and inconvenience of bad Muni service from that part of town. It's just reality: If your kids are too young to ride the city streets all the way to GGP, there's no way to get them there except to drive. And then you need a place to put your car (with a bike rack on the back and maybe a couple of kid's bikes in the trunk) and unload, and you need to leave it there for the trip home.
The garage under the DeYoung is way too expensive. There are plenty of other parking spaces in the park, but that involves driving around on a busy weekend looking for a spot—and then navigating taking your kids through that same traffic to the safe space of JFK Drive.
So the resolution sponsored by Sup. Connie Chan suggests that the city should consider
providing free parking for the first four hours in the Music Concourse garage for San Francisco residents in ZIP codes that are historically low-income, underserved residents including 94124, 94112, 94134, and 94133, or by proof of Electronic Benefits Transfer (EBT) or Medi-Cal card.
But here it gets more complicated. Chan also wants people to have access to the ADA parking spots in the concourse — and The easiest way to get to them is to enter the park off Fulton at 8th Avenue—and that entrance is currently closed to all but Muni and taxis. (The entrance to the DeYoung garage is at 10th Avenue) (Most taxis don't have bike racks, and a taxi from Bayview to GGP is probably $20 anyway.)
And there are seniors and people with mobility issues who want to go to the cultural institutions in that part of the park (and some who work for those institutions).
So the resolution
urges SFMTA and RPD to manage access at 8th Avenue and Fulton Street and around the Music Concourse to allow for vehicles to enter and exit 8th Avenue, allowing for disabled, senior, and limited mobility visitors to access the ADA parking behind the bandshell, or for those with limited mobility who may not have a placard to be dropped off along the Music Concourse.
As one caller with mobility issues noted, "hiking and biking are a privilege I cannot enjoy any more. The closure makes it hard for the most vulnerable to enjoy these institutions."
But as dozens of speakers noted, if you let private cars enter at 8th Avenue, you encourage drivers to cut through the park at that point—if you can drive in at the 8th Avenue entrance, you can cut all the way south across to MLK Drive and then to Lincoln. It would, in essence, slice the car-free route in half.
Oh, and since those roads are narrow, it would also slow down the 44 O'Shaughnessy Muni line, which actually provides service from the Bayview to Golden Gate Park.
I suppose in theory you could only allow people with ADA placards on their cars to enter at 8th, but that would create a traffic nightmare and be impossible to enforce. And it would leave out families with young kids from the Southeast (and Chinatown, which also has no effective transit access to the park for kids with bikes).
The unlimited cars entering on 8th Avenue at this point seems like it's never going to work. One caller noted that you can drive into the DeYoung garage off 10th Avenue and continue underground into the concourse, and then access the concourse garage. That seems like a complicated solution.
Or the city could demand that the DeYoung (which is a civic institution) make parking in its garage cheap or free for low-income residents, even if that means that the tourists and rich people going to parties there might have to compete with families for spots. (UPDATE: The DeYoung informs me that IMPARK runs that garage under the Music Concourse Community Partnership, a separate nonprofit that represents the major institutions in the area. So rates aren't up to the DeYoung. My mistake. But the supes could push for lower rates.) And once the financing on the garage is paid off, it's going to be a big money-maker.
Or the city could invest the money into making transit accessible and affordable to a much wider range of people and needs. Some callers talked about cars as a climate crisis, and said that some European cities have created vast car-free spaces. Those cities also have vast, cheap, and accessible public transit systems.
Or maybe there's something I haven't thought of—please let me know of any bright ideas.
This is just the start of what should be a community-based process—one that considers the needs of a wide range of people.