Since an independent-expenditure committee supporting Matt Haney for Assembly opened a month or so ago, it was pretty clear that at some point they would start attacking David Campos.
The first hit piece arrived in my mailbox Saturday—and it's based on the great, undying myth of San Francisco housing: That more production automatically means more affordability.
The headline on the front: "Which candidate for state Assembly will fight for more housing we can afford?"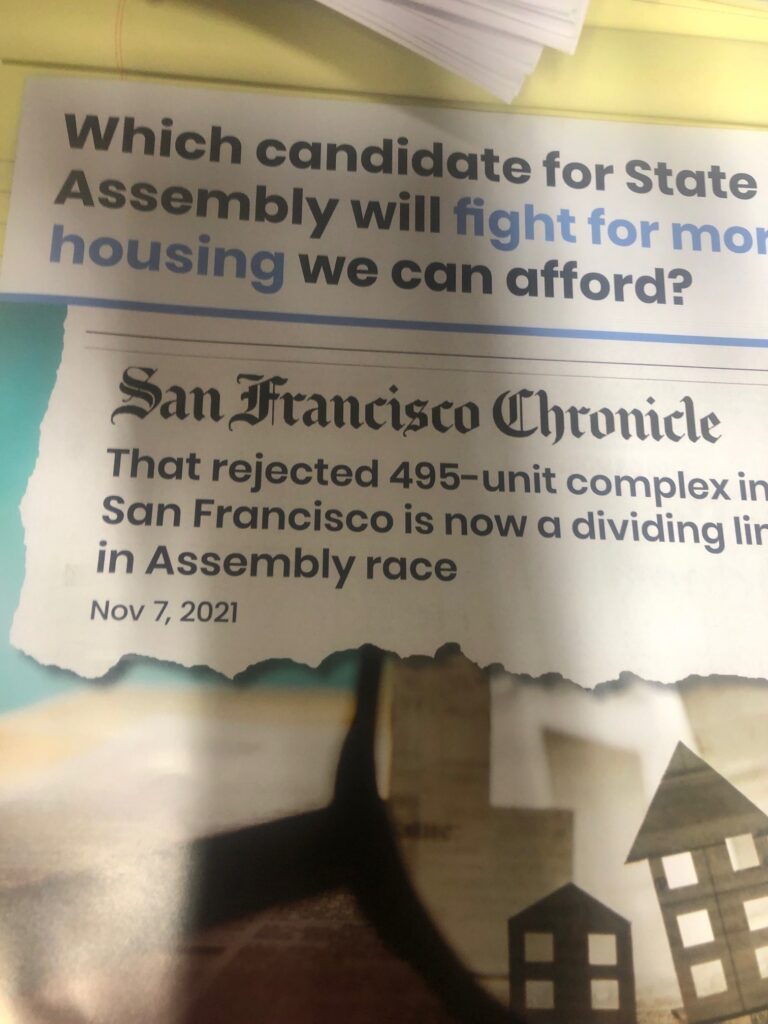 Well, actually, both Campos and Haney have supported affordable housing throughout their careers. But Haney is a stronger supporter of allowing developers to build market-rate housing, even in areas threatened by gentrification and displacement.
"Matt understands that in order to bring down housing costs we must ensure that there is enough housing for everyone," the mailer states. "That's why Matt delivered over 5,000 units of new housing to his district."
Has all that development caused the price of housing come down in D6? No. And more luxury housing won't do it in the future, either. That's a fundamental misunderstanding of the local housing market.
The mailer was paid for by an IE funded by building trades unions and the United Food and Commercial Workers, as well as a California dental PAC and some others.
The mailer focuses on the supes decision to reject the Environmental Impact Report on a building at 469 Stevenson Street. Haney was one of only three supervisors who supported the project. It's become the subject of a lawsuit—although it's highly unlikely at this point that it's going to be built anytime soon anyway.
Haney, of course, had nothing to do with the mailer. That's how IEs work.
We still have a February election and an April election ahead of us, but the supes are already gearing up for what could be a huge June 7 ballot. The Rules Committee will hear Monday/24 six different proposed City Charter amendments, some of which would significantly change the responsibilities of the mayor and the city administrator.
The two biggest changes would come from measures sponsored by Sups. Connie Chan and Aaron Peskin.
The Peskin measure would reform the way the city does recalls—and eliminate the ability of the mayor to fill vacancies in any elective office. The recall part is pretty basic and makes common sense: Recalls could only qualify after an elected official has served a full year, and could not qualify if that official will face the voters anyway within 18 months.
The appointment part would cause a seismic shift in local politics. The mayor's extraordinary power to fill any vacancy—including in the legislative body that is supposed to be a check on mayoral power—is highly unusual in California (and as far as I can tell, in most places). But this mayor, like most of her predecessors, guards that power and she and her allies will put up a vast sum of money to defeat this.
It's possible that the measure will be amended in committee to only change the appointment rules to recalls. I don't think that would stop the barrage of money opposing it.
That measure is cosponsored by Sups. Shamann Walton, Hillary Ronen, Dean Preston, Chan, and Myrna Melgar, which means there are six votes to put it on the ballot.
Chan's measure would ensure that pretty much every commission in the city has split appointments, with the supes appointing a minority and the mayor appointing the majority. The mayor still has complete control over the following:
Airport Commission, Arts Commission, Asian Art Commission, Civil Service Commission, Commission on the Environment, Commission on the Status of Women, Disability and Aging Services Commission, Fire Commission, Health Commission, Historic Preservation Commission, Human Rights Commission, Human Services Commission, Juvenile Probation Commission, Library Commission, Municipal Transportation Agency Board of Directors, Public Utilities Commission, Recreation and Park Commission, and War Memorial and Performing Arts Center Board of Trustees.
It would also allow the appointing agency to initiate a process for removal of a commissioner.
Equally significant, the measure would change the role of the city administrator, a post that has been part of the ongoing City Hall corruption scandal. Under Chan's plan, the duties of the city administrator would be more clearly defined, and the mayor would be unable to transfer duties to that office.
The city administrator is appointed by the mayor and confirmed by the supervisors for a five-year term. That wouldn't change.
But the city administrator would be able to recommend that department heads be fired, and the mayor of the relevant commission would have to decide within 30 days whether to act on that recommendation.
That measure has three cosponsors, Ronen, Peskin, and Preston. It would need two more votes to head for the ballot.
A measure by Melgar, backed by Peskin, Ronen, and Rafael Mandleman, would reform the scandal-plagued Department of Building Inspection. The Building Inspection Commission would no longer have the full ability to hire a director, and the director would no longer be able to appoint senior assistants who are exempt from civil service.
Sup. Ahsha Safai has a measure that he describes as "streamlining review of affordable housing." That's not exactly what the measure does. It would eliminate much of the Planning Commission and the supes authority over any housing development of more than 25 units, provided
To be eligible, a project would need to set aside a percentage of units on-site as affordable to households earning no more than 140% of AMI, in an amount higher than what is otherwise required by the Planning Code, or provide 100% affordable housing.
So: As I read it, a project that offers one more unit than the current legal requirement to people making $149,000 for a family of two and $186,000 for a family of four, would be approved with no review at all.
That's not exactly "affordable housing."
Meanwhile, the mayor wants a new Children's Agency, some of the supes want an appointment to the city's retirement board (and a policy that the board will divest from fossil fuels).
All of this will go forward to the full board, and the measures that get six votes will go on the ballot.
These changes to the City Charter make me wonder: Why do we keep doing this piecemeal? Isn't it time to put together a community-based charter-reform panel and update the charter for the modern era?
The Rules Committee meeting starts at 9am.