I have to be honest with you, I am far too jumpy to snake my way through Peaches Christ's horrifyingly fun annual Halloween season fright fest, the Terror Vault (through November 5 in the spooky basement of the Old Mint, SF). From all accounts, this year's installment, "The Summoning"—wherein participants/victims "come face-to-face with demonic spirits while you attempt to retrieve the severed head of an unethical vampire queen"—is the best one yet, combining theatrical stunts, special effects, and escape room vibes as only an epicly fiendish drag queen mastermind can.
HOWEVER, the deadly dawn of the Terror Vault also brings with it something that is right up my alley, and happens to be one of my absolute favorite things in the city: the pop-up Fang Bang Bar, which transforms several underground rooms at the Mint into a delightful '80s New Wave and goth-themed vampire saloon, full of fabulous creatures, Halloween-themed cocktails (actually good, not weird-colored sugar bombs), and "bloody bites."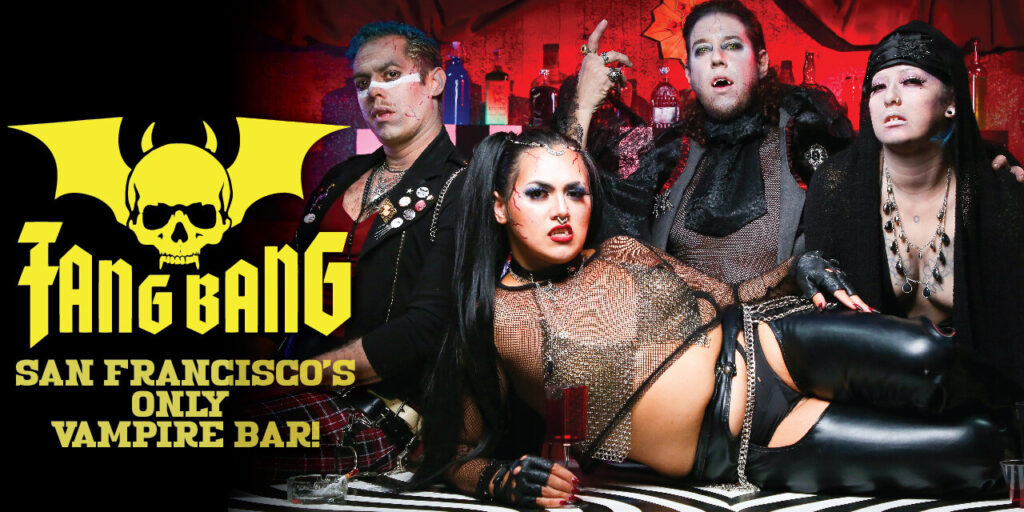 Fang Bang is open all month on Terror Vault performance nights (more here), and it's free to get in, you don't have to buy tickets to the show. But you do get to sip and giggle at the breathless, terrified crowds as they exit the Vault after being scared witless. It's fun! And hit up the show—if you dare.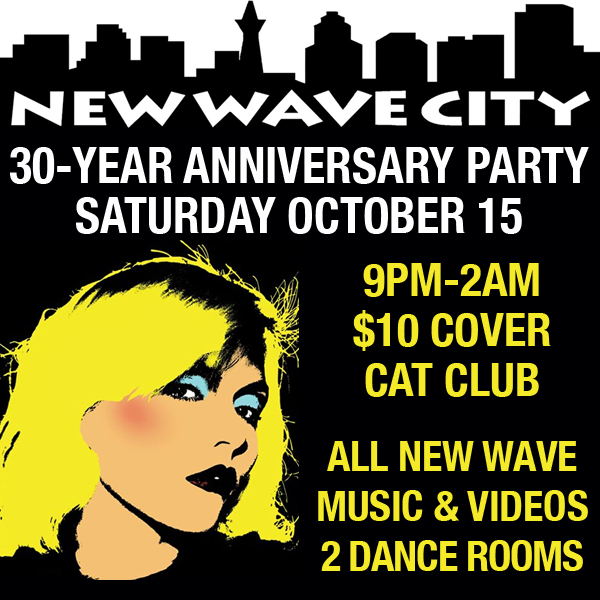 Speaking of New Wave, it's the New Wave City party's 30th anniversary, Sat/15 at the Cat Club, 9pm-2am. (That's terrifying enough for those of us who grew up in the '80s!) If this week's Pet Shop Boys and New Order concert at Chase Center got your synth-pop heart humming, this will kick it into pacemaker territory, with two rooms of videos and musical favorites from Blondie, Heaven 17, Tom Tom Club, Gang of Four, and more. (Here's a wee mix of what to expect.)
DJs Skip and Shindig launched the party almost before the '80s, that most nostalgic of pop culture decades, were over, and I can't wait to see how they'll be keeping the neon lights on in 2053.
P.S. LITQUAKE CONTINUES Don't forget that our mad, mad, mad, mad literary festival is still exploding all over SF, now in its second week. This next stretch includes Women of the Black Panther Party, a sci-fi mothership, a word/jazz celebration, Italian Futurism, and much more.
P.P.S. Don't forget to hit up our Arts + Culture page for more great things to do!
MORE ARTS EVENTS OF NOTE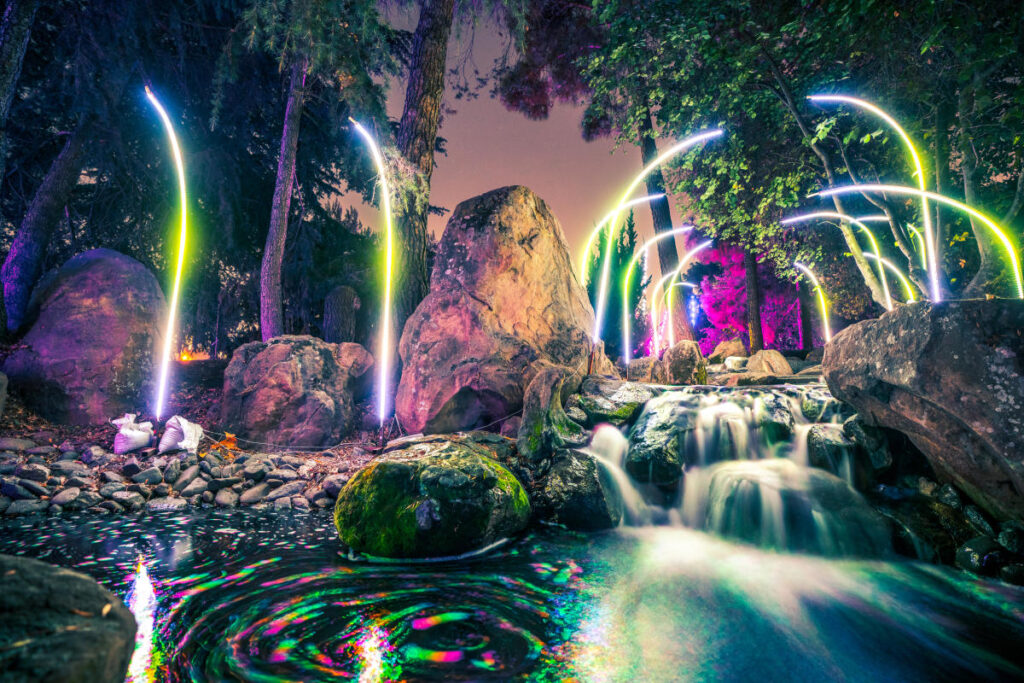 THU/13-SAT/15 AUTUMN LIGHTS FESTIVAL One of the most anticipated family-friendly events in the Bay Area, this annual show at the Gardens of Lake Merritt fills the park with dazzling, mesmerizing, locally produced glowing installations and illuminated works for three evenings. 6pm-11pm, Gardens at Lake Merritt, Oakland. More info here.
THU/13-SAT/15 OTHER MINDS FESTIVAL I adore this feast of new music: The Great Star Theater hosts three mind-expanding days of the latest contemporary and experimental compositions at this annual festival, hosting composers from seven countries and five world premieres, plus a performance by Pulitzer-winning composer Raven Chacon. 7pm-10pm, Great Star Theater, SF. More info here.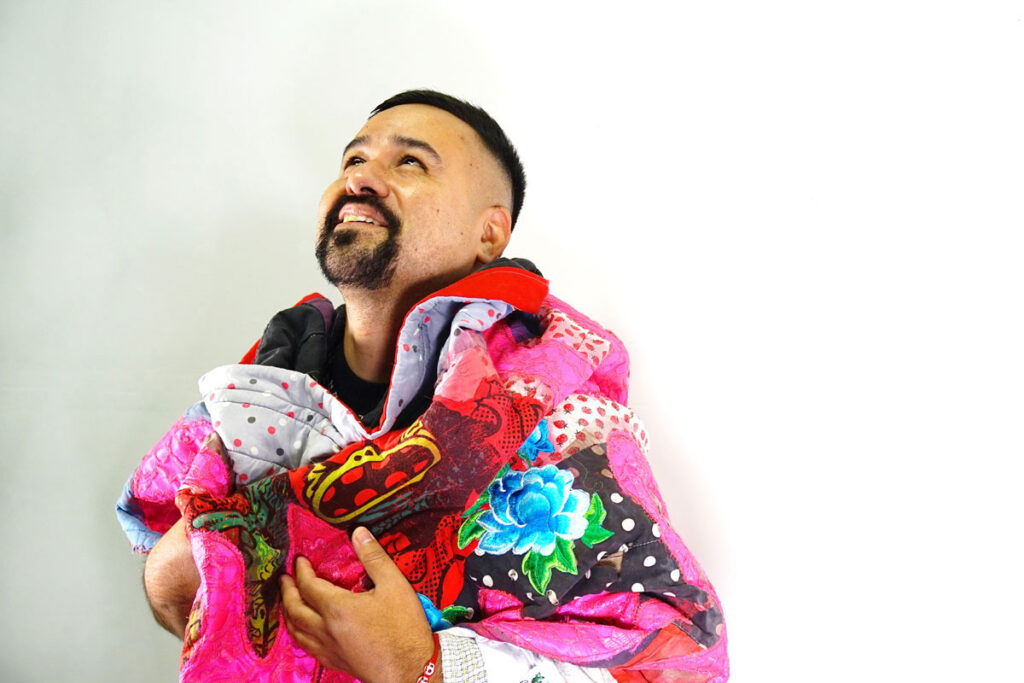 THU/13: "FABULOSO" Just in time for Bearrison Street Fair (see below), local artist Alexander Hernandez is covering the Acción Latina space with painted wall tiles celebrating diverse bodies in the city's LGBTQ Latino bear community. "This show aims to question unrealistic body expectations set by white cisgender homo-normative gay men and to dismantle the slim twink Latino lover trope." Go, Alexander. Opening reception 6pm-9pm, show runs through October 31. Acción Latina, SF. More info here.
THU/13: "WILDFLOWERS" Artists and long-time collaborators and friends Amanda Lynn and Lady Mags are "coming together once again to bring their unified vision of beauty, femininity, and nature to 111 Minna. Together they weave watercolor, bold graffiti, powerful female figures, and flora and fauna into one cohesive look." We could definitely use a good dose of femme flora right now! This is also a party celebrating the launch of the Open Studios 2022 guide. Opening reception 5pm-11pm, show runs through January 12. 111 Minna Gallery, SF. More info here.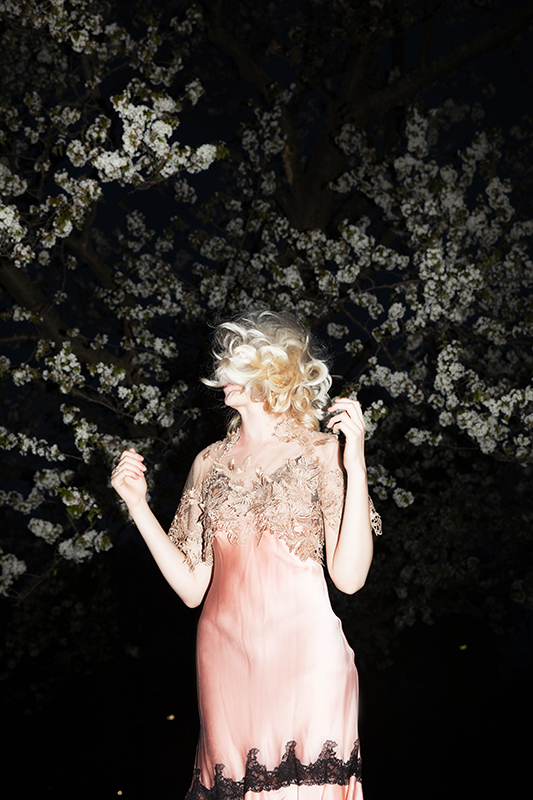 FRI/14: PHOTONIGHT AT GALLERY HOUSE Independent Palo Alto co-op Gallery House is presenting the work of some exciting young photographers and soliciting feedback from audiences. Chris Stevens-Yu, Aliona Kuznetsova, Azita Gandjei, and Dan McLean will offer up voluptuous images that span the spectrum from Gandjei' childhood growing up in Iran and England to McLean's lifelong love of the outdoors. 4pm-8pm, Gallery House, Palo Alto. More info here.
SAT/15: HOW WEIRD STREET FAIRE Gird your space loins for some '"Close Encounters of the Weird Kind." That's the theme of this year's 23rd annual How Weird Street Faire—part underground rave, part post-Burning Man, part cosmic Halloween, part supernatural mothership, part Renaissance Faire on the moon. With nine stages of electronic music from local and international DJs and performers (Dieselboy! Tommie Sunshine! Lisbona Sisters!), countless local vendors, tons of wacky costumes, and a super old school San Francisco vibe that embraces the new, How Weird is definitely something only our fair berg could produce and sustain. Get ye downtown to the faire. Noon-8pm, Howard Street at Second Streets, SF. More info here.
SAT/15: BEARRISON STREET FAIR The girth, the mirth, the fur-th—this SoMa street fair for queer bears and their admirers is in its second year, with tons of entertainment, a deadline competition, a dildo toss, a trekking contest, and lots of opportunity to eat, drink and be beary. "It's about being comfortable in your one skin," the organizers told me. Noon-6pm, on Harrison between 10th and 13th Streets, SF. More info here.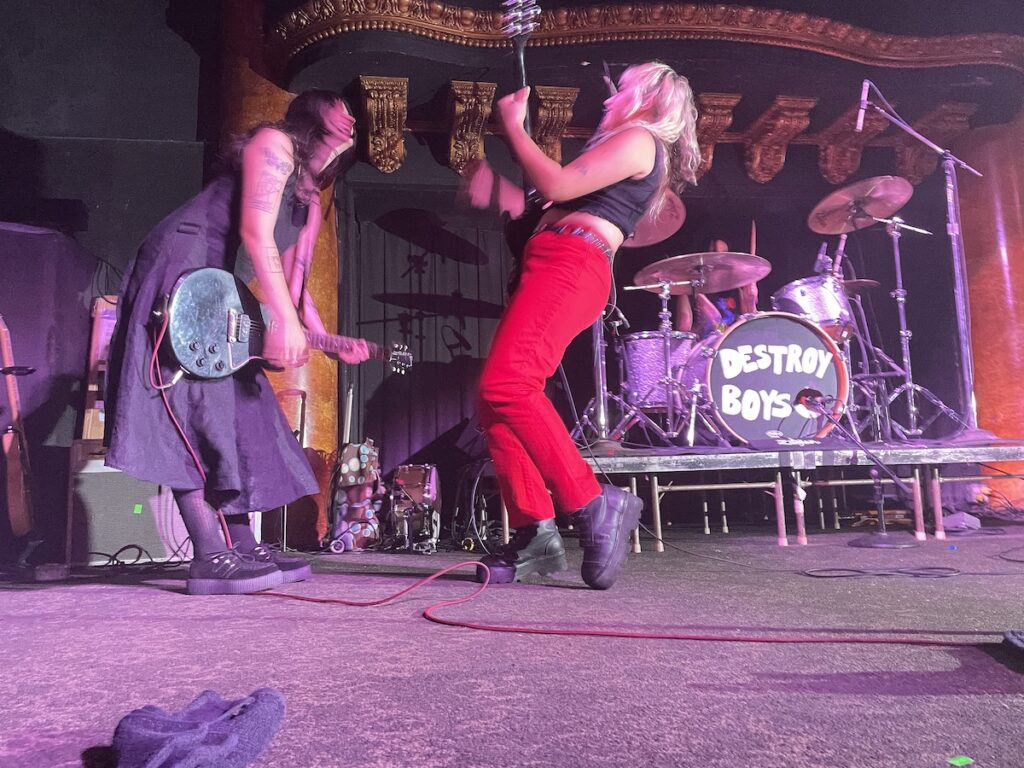 SAT/15: 20TH STREET BLOCK PARTY Not going to lie, this Saturday will have you running to a lot of fairs named after streets, so wear your comfy Keds. This one is Noise Pop's "love letter to the Mission," celebrating that good ol' indie rock spirit of yesteryear (see Estefany Gonzales' cool photos of last year's blast here.) With Destroy Boys, Hot Flash Heat Wave, The Seshen, Marinero, Juice Bumps, Sour Widows, The Umbrellas, and many more. Noon-6pm, on Valencia at 20th Street, SF. More info here.
SAT/15: MONSTER DRAWING RALLY Experience all the thrills of a monster truck rally combined with the skills of the local arts community at this annual drawing rally at Southern Exposure gallery, where 100 artists create brand new works (live and in-person) to support local arts programs as you cheer them on. They may even draw actual monsters! 3pm-9pm, Southern Exposure, SF. More info here.
SAT/15: OKTOBERFEST BY THE BEACH Oktoberfest may have officially ended, but it's never too late to hoist a stein or three to Bavarian culture—even if it's at the Irish Cultural Center. An oompah band and traditional dancing will quaff your thirst for German culture. 4pm-11:30pm, United Irish Cultural Center, SF. More info here.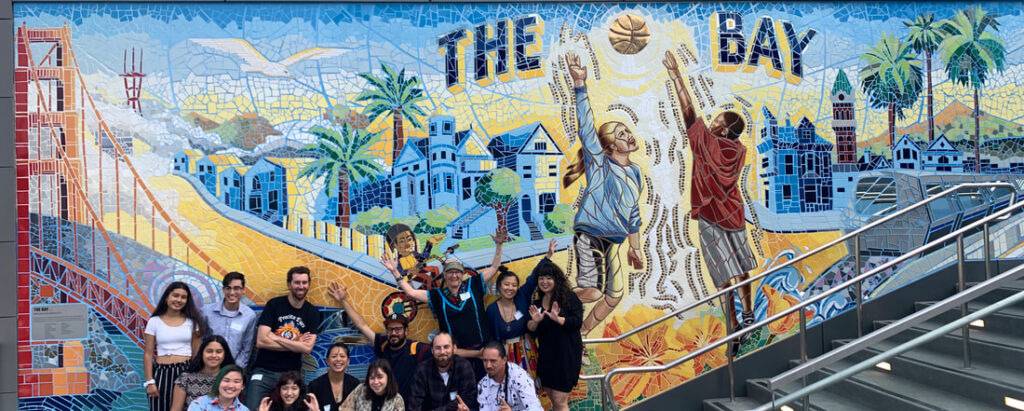 SAT/15: VIVA PRECITA EYES 45TH ANNIVERSARY GALA Those dazzling murals in the Mission wouldn't exist without the community work of the Precita Eyes organization. This benefit showcases the neighborhood's unique flavor with bands, performances, food, and interactive mural painting—all in the name of supporting SF muralists. 6pm-10am, Gray Area Theater, SF. More info here.
SAT/15 + SUN/16: DAY TO NIGHT MUSIC FESTIVAL RIP Treasure Island Music Festival, which, like the rapidly built-up island itself, is transforming into something new. The Day to Night Festival brings big, sunny rave vibes to the island with a lineup any dedicated partier would adore — Dom Dolla, ArtBat, Lee Foss, Felix Da Housecat, and Tinlicker, to name a few. Noon-9pm, Treasure Island, SF. More info here.
SUN/16: WERD 15 YEAR ANNIVERSARY OPEN AIR Can you imagine throwing a wild Sunday night techno party for 15 years? And still being alive? Kudos to the Werdos behind this long-running Monday-hangover institution that keeps that old-school spirit of partying on a school night alive. Usually Werd is at Monarch, but they're moving it all outdoors and into the daylight for some sunny vibes, and taking over the Ramp restaurant, with amazing special guest Shonky, local Texture Summit kids Zacky and Louiv, SF secret powerhouses Infinite Jess and Patrick, and so many more. 2pm-10pm, The Ramp, SF. More info here.
SUN/16: STEP/SONG/STORY The RawDance company does so many great things, I can hardly keep tabs, but this outdoor, public, monthly performance that combines original choreography, live music, and spoken word storytelling seems not to be missed. On tap for October's installment: dancers Nick Wagner, Katie Wong, and Stacey Yuen; pianist Cocoa Keys from the Women of Color music collective; and spoken word artists Jamey Williams, Bri Blue, and Kai Heartlife. Noon and 2pm performances, Salesforce Park, SF. More info here.
SUN/16: BEAUTIFUL CREATURES MASQUERADE BALL The fabulous queer freaks behind Some Are Camp, the annual gathering of queerdos in Guerneville for outré drag and shenanigans, are launching local events with this very interesting masquerade ball: "Locate your finest finery and bestest masks and guises!" With club deities David Glamamore, Kevin Hoskins, DJ Rolo, Rahni Nothingmore, Cheeta Biscotti, Fauxnique, Beatrix Lahaine, Vera Dragking, Black Betty, Dottie Lux, Mary Vice, and more. 7pm-midnight, Oasis, SF. More info here.
SUN/16: AFRICAN ARTS FESTIVAL Duniya Dance and Drum Company are filling McLaren Park with live music and dance performed by nine Bay Area ensembles representing different regions of Africa and the African diaspora—and yes, there will also be food, which I am very excited about! Plus tons of family activities and vendors. Scheduled to appear alongside Duniya: Chinyakare Ensemble, Diamano Coura, Feline Finesse, Shabbal Al Sudan, Arenas Dance Company, Bongo Sidibe and the Ton Tons, with DJ Claude Black Bangando and MC Silah Mutungi. 11am-4:30pm, Jerry Garcia Amphitheatre, McLaren Park, SF. More info here.
SUN/16: HEADLANDS AT 40 OPEN HOUSE For four decades, Headlands Center for the Arts has fostered some of our most heady and unique artists, a lifeline for many struggling to be seen and maintain their practice in this expensive area. There's a whole month of celebrations planned, but this open house party packs a lot of whammy, with performances that celebrate the physicality of the center itself. Examples: Jazz musician Beth Custer performs an ode to the Gym, dance collective Fog Beast activates the East Wing, Monique Jenkinson/Fauxnique leads a communal "Happy Birthday" musical jam in the Commons. Noon-6pm, Headlands Center for the Arts, Sausalito. More info here.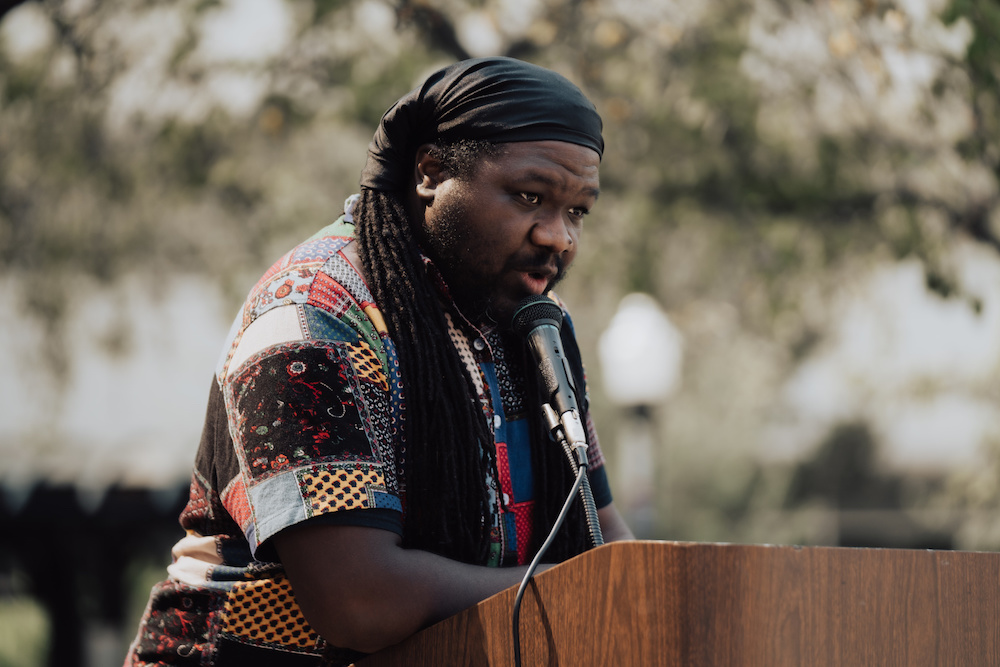 MON/17: NATIONAL BLACK POETRY DAY CELEBRATION Join San Francisco Poet Laureate Tongo Eisen-Martin, Dee Allen, Nana Boateng, Kevin Dublin and more at the new Kimpton Alton hotel on Fisherman's Wharf for a free "evening of artistic expression celebrating Black heritage and uplifting local artists, featuring original work as well as work by Black ancestor poets who inspire the performers. Many of the poets featured in the event have pieces in the recent anthology Black Rootedness: 54 Poets from Africa to America, the result of a series of West Oakland to West Africa workshops and poetry exchange." 6pm-8pm, Kimpton Alton Hotel, SF. More info here.