It took a year-long Chronicle investigation, a hearing called by Sup. Dean Preston, and repeated efforts by tenants in the city's supportive housing program to convince the Department of Homelessness and Supportive Housing to provide a policy on how and why low-income tenants can be evicted.
Most of the evictions, which are rampant, come for non-payment of rent; Preston argued in March that nobody in San Francisco today should be evicted from a city-funded SRO hotel room because they don't have the money for rent.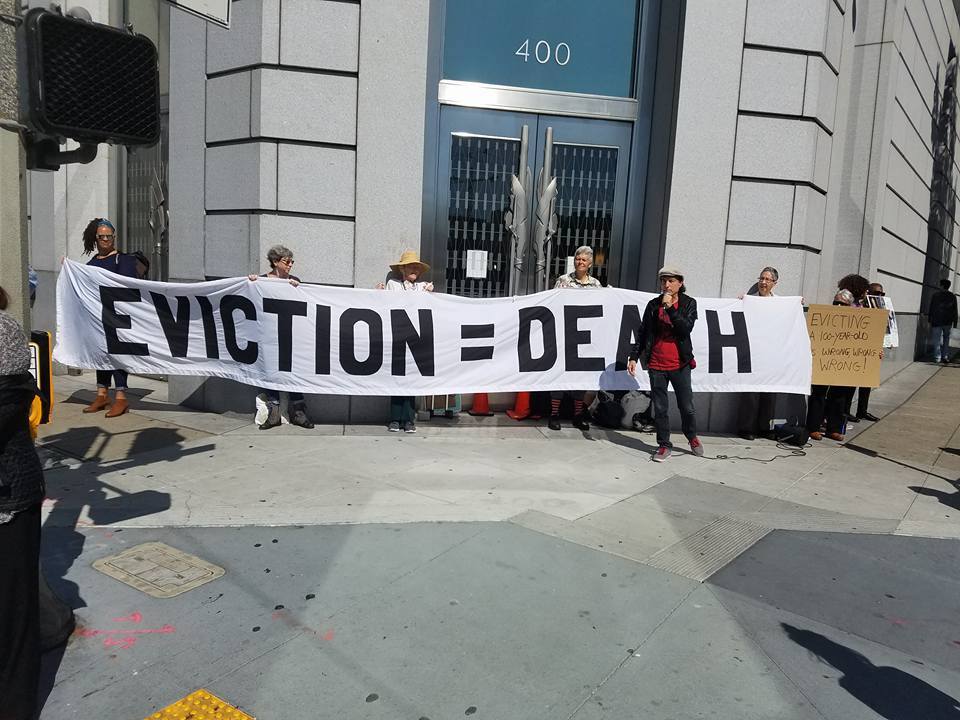 The people who are evicted often wind up back homeless on the streets—creating more of the same problem the supportive housing program is supposed to address.
When Preston's Office finally shook looks a copy of the HSH eviction policy, tenant advocates were aghast: The "policy" is actually a weak set of advisory guidelines with language like this:
Eviction should always be a last resort and never implemented until Property Management and Supportive Services have coordinated to offer all available support to help the Tenant maintain housing. Property Management should have systems of checks and balances with supervisor and/or Executive Team member sign off to ensure that all options have been exhausted before proceeding with an eviction.
Jordan Davis, an SRO resident and activist, told me that the policy was "woefully incomplete and did not address nuisance evictions, which are often not remotely related to health and safety."
Tenants have spent the last few months working on amendments to the policy.
On Thursday/3, the Homlessness Oversight Commission will hold a hearing on the policy, including a presentation from the tenant organizers. They want a policy that says "must," not "should," and that includes mandatory arbitration:
The court system has historically been sympathetic to landlord concerns, and this power dynamic is enshrined in state law. While we respect the idea of having checks and balances internally, as provided in HSH document, many tenants have been evicted for ridiculous reasons from certain permanent supportive housing providers. Given that the city has the power of the purse strings over HSH providers and given the vulnerability of PSH tenants, there must be a process above the landlord and before eviction to help salvage housing. This would be a cost saving measure.
They also want to see limits on "nuisance" evictions to actual nuisances that impact other residents (not, for example, a tenant with a messy room).
That meeting starts at 9am in City Hall Room 416.
The California Public Utilities Commission has delayed the process for approving robotaxies in San Francisco, but the issue comes back up next week. Commissioner Genevieve Shiroma, who is overseeing the isssue, has ordered all the major interested parties, including Cruise and Waymo, SF's public safety first responders, the MTA and the county Transportation Authority, to appear at a special meeting Monday/7. Depending on the outcome, the agency may consider approving Thursday/10 allowing the driverless cars to charge fares and carry passengers on all city streets 24/7.
Shiroma's order notes that the city has serious issues with this, which is an improvement over the days when the administration of the late Mayor Ed Lee let Uber and Lyft operate illegal cabs without any interference.
Among those concerns:
In public comments on the resolutions, the San Francisco Municipal Transportation Agency, San Francisco County Transportation Authority, and the San Francisco Planning Department argued that the current record is inadequate regarding the Passenger Safety Plans of Waymo and Cruise and presents material issues which they claim must be addressed before approval. The Los Angeles Department of Transportation argued that the Commission provide guidance and authority to local law enforcement on how to engage with AVs operating in local jurisdictions. More recently, at the June 22, 2023, public workshop, the Los Angeles representative stated there is a disconnect between the AVs and first responders to emergencies, as its first responders do not know how to interact with the vehicles, and there is no time to call a phone number in emergency … The San Francisco Fire Chief has expressed similar concerns.
A widely touted incident occurred on June 9, 2023, when following a mass shooting in San Francisco's Mission District, a Cruise driverless AV allegedly came to a stop on a road that first responders may have been attempting to use.
One party missing from the invitation: The city's working cab drivers, who have seen their livelihoods deeply damaged by Uber and Lyft, and are now facing the prospect of losing the careers entirely.
All this while many are deeply in debt over the purchase of taxi medallions that are now almost worthless.
The drivers will hold a rally on the steps of the CPUC before the meeting, which is open to the public. It starts at 1pm, at 505 Van Ness.