With the addition of Dolores', a new open-air dance club powered by clubs FAKE and GAY, OASIS, and Hard French celebrating the queer and trans communities, the 15th edition of Outside Lands felt like the most reflective of San Francisco yet. Promoter Another Planet says that the annual three-day music and food festival has injected $1 billion into the local economy. But tourists tend to travel to see major acts that likely aren't from the Bay Area (except for previous headliners such as Green Day and Metallica).
With Dolores', visitors got a true taste of a culture that hasn't previously been well represented at Outside Lands, and perhaps provided Another Planet with a chance to reconnect with the queer community.
"I feel like a dick!" Nicki Jizz proclaimed, touching the giant phallic hat she chose to wear for Dolores' installment of Reparations, her all-Black drag show. As she closed the hour with some final twerks, Jizz asked people to vote for her to maintain her long-running title of Best Drag Queen in our Best of the Bay Readers Poll.
My informal people-watching for the weekend turned up noticeably fewer bros and furries, more guys holding hands, and an excess of cowboy hats and faux fur. An initial plan to shoot style standouts fizzled when I quickly learned that I wasn't tempted to pull out my camera that much. Dressing up like a park ranger in all brown in the spirit of the festival mascot Ranger Dave is ever-popular, but Dave himself actually wore an optimistic short-sleeve Hawaiian shirt this year.
Half of the ticket buyers travel from outside the region, and this time, more people may have gotten the memo that it's usually hella foggy and relatively cold during this particular weekend, and a puffy jacket is kind of the way to go. Still, it's always easy to determine who flew up from Los Angeles. I didn't see any action heroes in the spirit of last year's Chicken 'N Waffleman or any Mac Dre totems, but I did catch a couple of dudes holding giant inflatable pre-rolls and working the crowd (and a table offering bags of shrooms and munchies outside the park).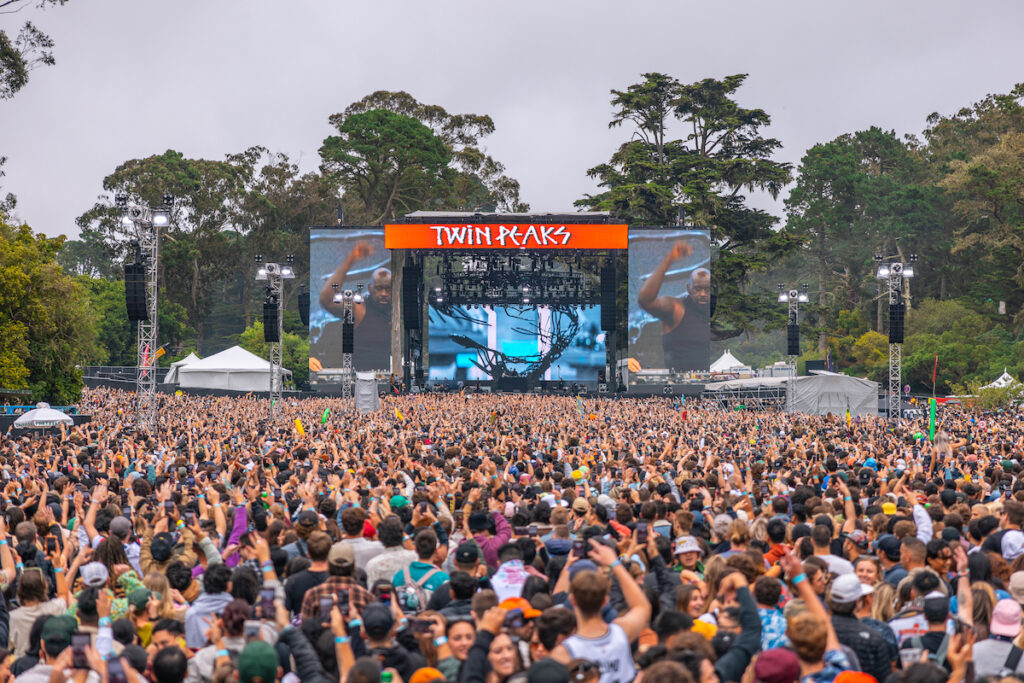 The festival still has some blind spots in programming that shift over the years, but there were heavy indications that even more inclusive styles of dance music would be appreciated at the festival going forward. The floor of the SOMA Tent, which featured acts such as Blond:ish, Coco & Breezy, Claptone and Kryptogram, collapsed, forcing it to close for a couple days.
On the third day, the SOMA Tent was converted into an outdoor area with an impossibly long line to enter. The Gasolina reggaeton party was the most crowded event all weekend at the Cocktail Magic stage. And Shaquille O'Neal aka DJ Diesel commanded a crushing afternoon crowd on the second-largest Twin Peaks stage that probably would have been just as punishing on the Lands End main stage; we were a moment away from being trampled when trying to leave his crazy atonal EDM set a little early.
Most importantly, Dolores' dancefloor was always full and representative of San Francisco on and off the stage. This was the most noticeably queer-friendly year for Outside Lands, and that's a wonderful sign for the future.
Tamara just launched the free Creative Jobs newsletter to offer listings and advice.