It hurts writing about history these days. Not just because it's often unpleasant, not just because we seem to be reliving the same bullshit as our elders (open bigotry, book-burning, a plague—more on that one later), but also the fact that we have concerns that are becoming increasingly urgent (climate change.)
There's also the fact that fixating on history can relegate it to a time capsule, rather than seeing it as the fertile ground it is from which to harvest strategies for moving forward. At its best, Left Coast Theatre's QueerStory: Forgotten Figures from Queer History (runs through August 19 at The Phoenix Theatre) is a tribute to those who were "out, loud, 'n proud" during historical eras in which such an attitude could mean death— which sadly, it still does in many places. But the show takes more of a "sketch dramedy" approach that often leaves it imbalanced over the course of its seven short plays.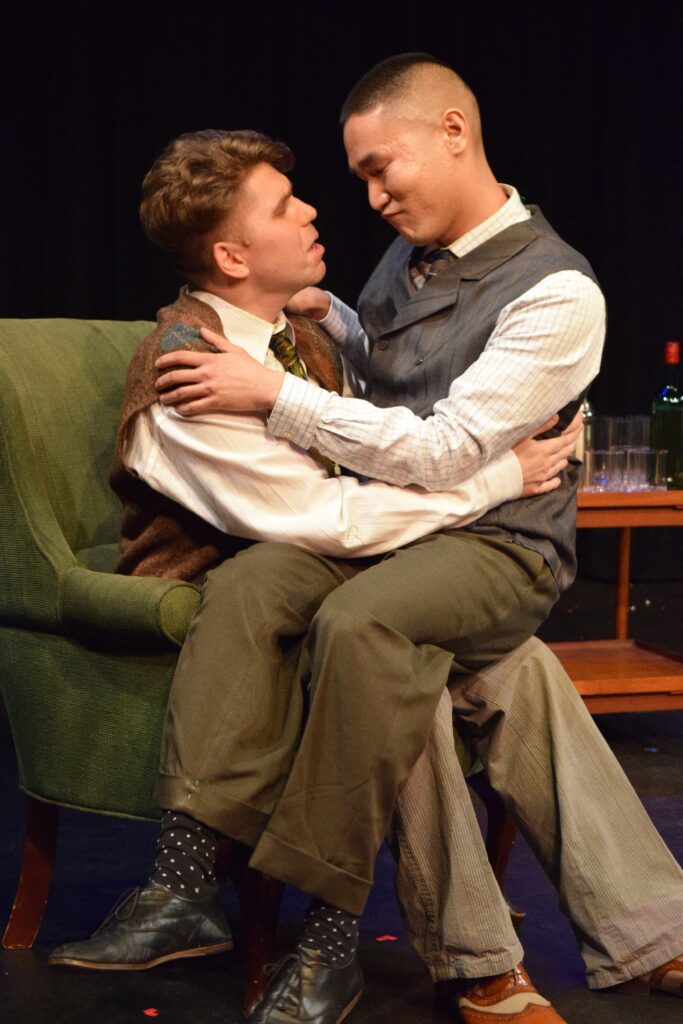 The first piece, Chris Maltby's "Billy," was particularly rough during its opening night performance. The piece centers on openly gay film star William Haines (Max Seijas), whose career reached a turning point with the implementation of The Hays Code and its dawn of a more conservative Hollywood. Though his manager Joe (Steffin Collins) thinks Billy can still work if he agrees to a beard marriage, Billy himself isn't ready give up his boyfriend, Jimmy (KML regular Alvin Lee.) The actors seemed to struggle with the cadence of the old-timey dialogue and there seemed to be a reluctance to project, which was noticeable even in the (relatively) small Phoenix.
Much better was Germaine Shames' solo piece "The Thwarted Love of Annemarie Schwartzenbach," in which Puja Tolton (possibly the night's MVP) stars as the eponymous Swiss socialite who struggled with love and her own mental health in Nazi-occupied Europe. The piece is a bit too expeditious with the narrative, but is a touching dramatization of Schwartzenbach's passion and humor, both wonderfully realized by Tolton. (This piece and "Billy" were directed by Nick Trengove.)
Next is John Barrow's "New Universe," in which the forward-thinking Rheticus (Al Niotta) attempts to win the approval and guidance of Copernicus (Collins), only for Rheticus to find his heart broken in more ways than one. It's a well-acted piece, but could have benefitted from at least one of Rheticus' lovers making an appearance, as they seem to come off more as plot devices more than people.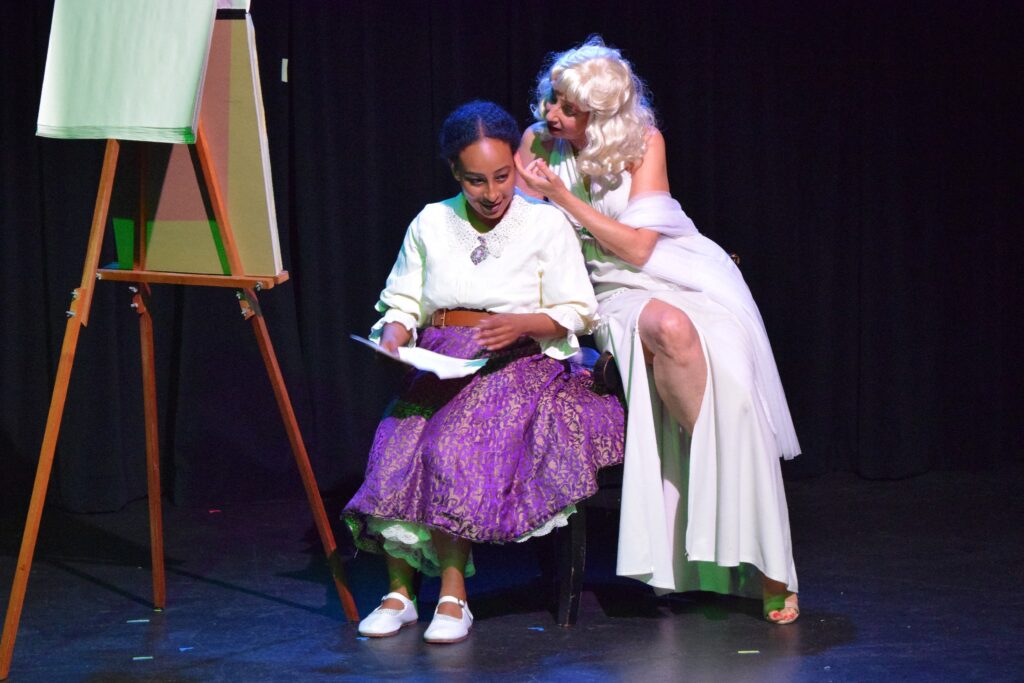 This is followed by Neil Higgins' hilarious "The Queen's English," in which newly-realized queer John (Seijas) acts as audience proxy for his first trip to a gay bar in 1953 London. Higgins being a self-professed stickler for grammar, his glee is palpable as he writes the coded bon mots of England's mid-century queer underground. When the character Graham (Scott Cox) goes on a near-indecipherable anecdote about drinking, fucking, and being roused by cops, it's one of the show's biggest high points.
Intermission is followed by the final three pieces, all directed by Claire Ganem. First is Kristy Lin Billuni's "Enter the Fool," about controversial tarot artist Pamela Colman Smith (a controversy heightened by the casting of Black actor Maeron Yeshiwas) as she attempts to illustrate a cover for Bram Stoker's "Lair of the White Worm." She finds her muse divided: pulled in one direction by the anthropomorphized worm (the ever-vivacious Kim Saunders) and the eponymous Fool from her tarot deck (Ryan Mannequin.) The piece has fun with the larger-than-life characters and calling out Stoker's misogyny, but it's another piece in which the lead's unseen lover is more idea than person.
Billuni and Ganem fare better with "Swords and Roses," dramatizing the scandalous romance between Hortense Mancini (Yeshiwas) and Lady Anne Fitzroy (Pujington.) Both performers excel in their roles and the story reminds us that social media didn't invent the "it's complicated" status we know today.
The show ends with Max Evan Chimsky's "Albert" about trans Civil War veteran Albert Cashier (Al Niotta), recalling his life at what-seem-to-be the Pearly Gates and their unnamed custodian (Saunders.) It's well-acted and informative, though there are a few too many pauses between lines. Also, the ending is a pretty heavy-handed break of the fourth wall, holding the audience responsible for letting figures like Cashier vanish into history.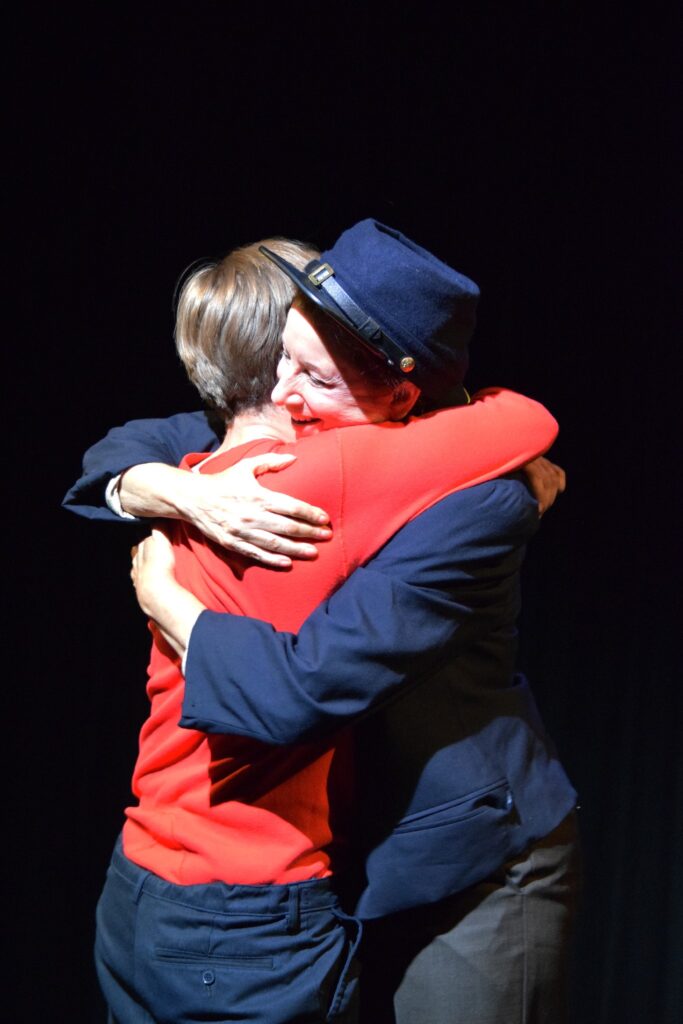 That final note is possibly the only time the show looks forward in the hopes of preventing the same pitfalls that struck its subjects. In a world—not to mention, country—where new anti-queer laws pop up every week, striving for a better future is just as important as looking backwards, lest the same mistakes be repeated.
Case in point: last month's SF AIDS Walk emphasized the fact that although it doesn't get a lot of press these days, the HIV/AIDS crisis never ended. Similarly, as COVID claims an average of 1,000 US deaths per week (amongst some 24.4 million worldwide deaths since 2020), the pandemic can hardly be considered over. But you'd never know that at The Phoenix, where—despite LCTC's usually-thorough COVID measures—the theatre's non-existent COVID safety meant I was the only masked patron in the opening night full house. My Aranet4's CO² ratings jumped 2892ppm by the end of the two-hour show.
Though the production is uneven, "QueerStory" at least serves as a primer for little-known historical figures. Even when some technical choices hinder enjoyment (projecting the dates onto the upstage curtain often made them hard to read), the cast clearly revels in inhabiting the forgotten characters. It's a serviceable reexamination of the past that would have only been improved with more parallels to the present, and a glimmer of hope for the future.
QUEERSTORY: FORGOTTEN FIGURES FROM QUEER HISTORY runs through August 19. The Phoenix Theatre, SF. Tickets and more info here.