Forgive me if I've mentioned this before, but one of the most pretentious people I've ever known was someone who argued that Showgirls is a misunderstood satire. It's not. I've heard each and every argument suggesting that it is, and every single one of them falls apart at the slightest scrutiny. Showgirls is not now, has never been, nor will it ever be a satire; it's a trashy film made by otherwise-talented people.
The reason some folks delude themselves into thinking it's a satire is because they're too stuck-up to admit that they love a piece of shit, so they imagine that it's something more. As someone who watched Peaches Christ host screenings of it at The Bridge, I can definitively say that it's enjoyable because it's not high art, not in spite of that fact.
Jocelyn Bioh's Nollywood Dreams (West Coast premiere through November 4 at SF Playhouse) is about not only embracing the ridiculousness, but gaining power from it. If you've ever seen a Nollywood movie (the Nigerian film industry that cranks out hundreds of straight-to-video flicks every year), then you're familiar with its trademark cheap aesthetic: Every storyline is clichéd, every actress could potentially take her top off, and every moment of footage looks like it was shot on an old Flip video camera.
Still, they remain unbelievably popular in their homeland, filling a need not met by Hollywood blockbusters or Palm d'Or winners. They're entertaining stories the audiences want, featuring performers who resemble the viewers. If that doesn't highlight the importance of representation, I don't know what does?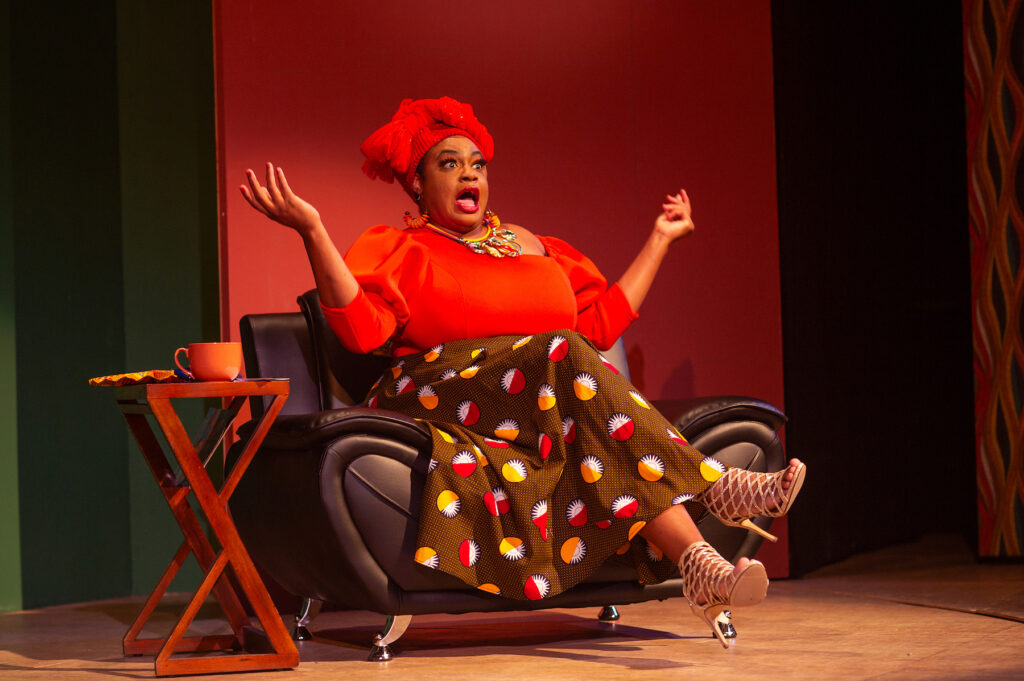 To Bioh's credit, her script carries the necessary self-awareness to both satirize Nollywood and provide genuine pathos. Our story finds us in the Nigeria of the late-'90s, when the Internet was new and video was king. Our focus is on Ayamma (Angel Adedokun), an aspiring actress who runs her parents' storefront travel agency with her sister Dede (Brittany Nicole Sims). Or, rather, Ayamma works and Dede chats on the phone all day. As Dede takes one of her many, many breaks, she switches on the TV to their favorite talk show, hosted by the glamorous Adenikeh (Tanika Baptiste, stealing every scene she's in). Her guest today is film-maker Gbenga Ezie (Tre'Vonne Bell), returning to Nigeria after several years in NY and LA.
As it happens, he's written a new film—a thinly-veiled roman à clef melodrama called The Comfort Zone—and already has handsome leading man Wale Owusu (Jordan Covington) locked in for the self-insert male lead. It's expected that the female lead will go to Gbenga's past collaborator Fayola Ogunleye (Anna Marie Sharpe), described as "the Nigerian Halle Berry with Tina Turner legs". Yet Gbenga has chosen to hold auditions for the female lead, something for which Ayamma has spent her entire life preparing.
When I saw POTUS at the Berkeley Rep recently, I couldn't escape the fact that each joke felt like forcing a square peg through a round hole. Nollywood Dreams is far more organic in its mining of laughs, lampooning things like the over-the-top acting of Nollywood flicks (during a script reading, Ayamma pronounces every ellipsis as "dot, dot, dot") to the detail of Gbenga funding his films via the infamous "Nigerian prince" e-mail scam—which, in the world of the play, he may have invented. It derives a great deal of humor from cultural eccentricities, but never falls into stereotypes. (I trust a lot of this may be due to the work of the Bay Area's own Nigerian-born multi-talent Rotimi Agbabiaka, who doesn't appear onstage, but is listed as a cultural consultant.)
Director Margo Hall (AD of the Lorraine Hansberry Theatre) and her collaborators have no hesitation in going for big laughs, which adds to our own fun. So, too, does the pathos come off naturally, with Ayamma's "there's got to be more to life than this" arc worth watching, even as we know how it'll turn out. That same balance of drama and comedy is why a character like Wale can be a smug pretty-boy one moment, a grating narcissist the next, and even a genuinely endearing person once Ayamma gets him to let his guard down.
Hall and her cast do such a good job at making us like these characters that it sort of highlights the problem with the play's ending; or rather, its two endings, which I won't spoil. Part of the aforementioned pathos finds us learning of Fayola's backstory and the sacrifices she's made (for love, of course). It makes her a fine contrast to Ayamma and her own story—we don't want to see these two against one another, but we know only one can win the role. Unfortunately, the play's attempt at a happy ending does seem to take sides and derives joy from one's misfortune. It feels contrary to all the character work that came before, and it almost ruins a romantic scene that came before (which would have served as a perfect ending).
Still, Hall and her cast have a fine time on the stage designed by Playhouse AD Bill English (who brought back the rotating set) and in the stunning costumes by Jasmine Milan Williams (from Wale's leather pants to Adenikeh's sparkly heels, they're all pretty threads).
I caught the show during its first masked matinee. In typical Playhouse fashion, enforcement of the masks was almost non-existent, but they continue to use a top-notch HVAC system. My Aranet4's CO² levels never went any higher than 522ppm during the 90-min. show.
Nollywood Dreams is two scenes too long, but it benefits from an author and performers who know what should and shouldn't be taken seriously. One or two of the accents may slip, but watching an all-Black cast revel in the entertainment value of their performance is something that never loses its appeal.
NOLLYWOOD DREAMS' West Coast premiere runs through November 4 at SF Playhouse. Tickets and further info here.