THE 45 KING, RIP
The horn riff, the Ed Lover Dance: "The 900 Number." That song informed everyone that rap had made it to MTV. A big moment behind the beat. Just six years prior, MTV programmers, call 'em gatekeepers, thought Michael Jackson and his "Billie Jean" video was "too black" to be aired on the music video network. With the CBS label threatening to pull all their videos from the platform, black and white, MTV immediately had a change of heart.
In 1988, a whole show, a very Black one, YO MTV RAPS, dedicated to hip-hop, ran up, and next to all the Van Halen and Madonna videos, you could binge along while sipping on that New Coke soft drink.
Money changes everything, indeed.
Produced by Mark Howard James, professionally known as The 45 King and also known as DJ Mark the 45 King, who passed last month, "The 900 Number" was a second theme song of sorts for the seminal YO MTV Raps show. It was originally hosted by Fab Five Freddy, previously a running buddy of Jean-Michel Basquiat, and later hosted by Ed Lover and Doctor Dre (not the West Coast one, for those keeping score). The song, a hype party break that broke people's brains in the club, got featured prominently on the show.
You could play the track today, it's TikTok-ready. Enmeshed in that wildly bizarre combination of simultaneously being fresh and corny, it's been extensively sampled, and helped us "clear our throat." But still sounds great in its original form. Rap and beat-tape historians alike could argue that the birth of J Dilla's mini-song epic album Donuts was fertilized in the 900 Number soil.
The early hustle behind 45 King started when he humbly, but smartly, approached people asking if they had any 45s they wanted to give away. That became not only his sample source but launched his epic library. Call it genius, I prefer to call it "want to." It's another important part of the vital story in the ongoing history of hip-hop during its 50th anniversary.
Yes, 45 King produced for our Queen, Latifah: All Hail The Queen remains a classic debut, and later on, he produced Jay-Z's "Hard Knock Life," and his extensive discography of breakbeat records are the stuff of legends. While it's astronomically impossible to quantify the impact of breaking down the door of musical racism on television, in the '80s, it can be said that it dialed up with the 900 Number: It gave the culture a ringtone of arrival.
Rest easy, 45 King.
But remember, It's Under The Stars, babe. A quasi-weekly column that presents new music releases, upcoming shows, opinions, and other adjacent items. We keep moving with the changes and thinking outside the margins.
Let's get to the music…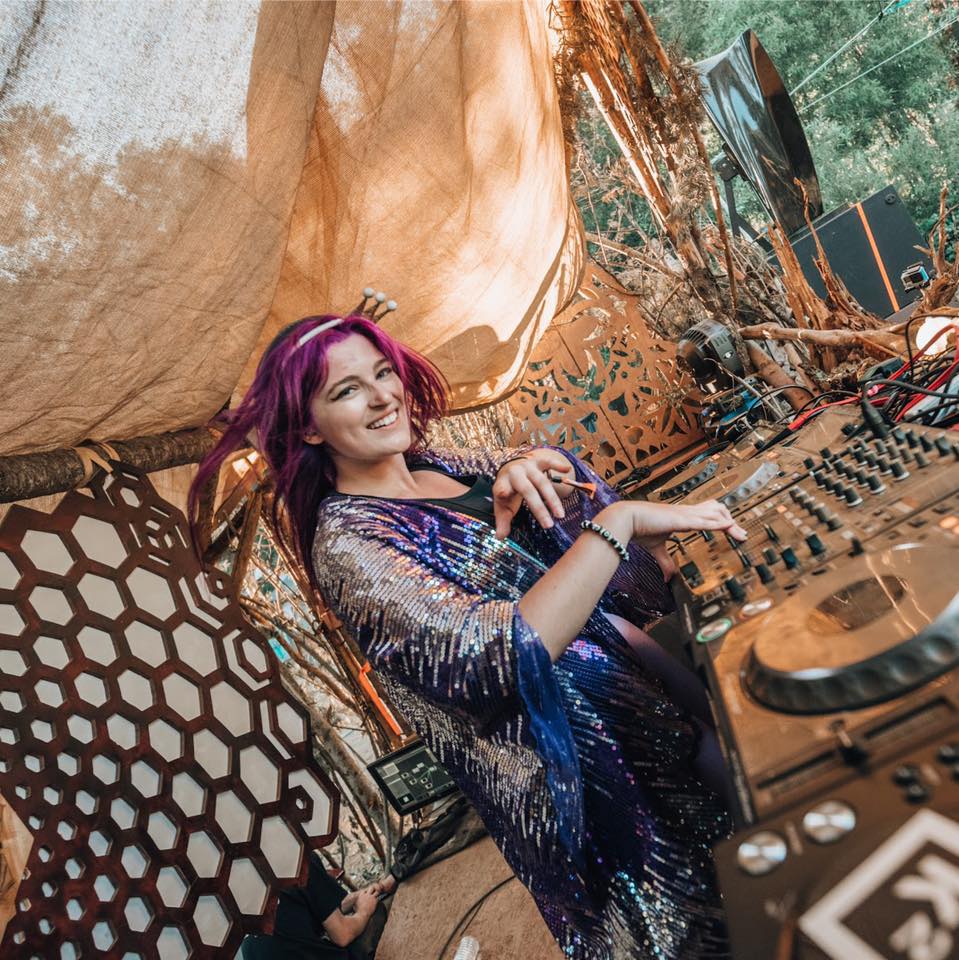 RHYTHMIC REMEDIES PRESENTS A NIGHT OF JUNGLE AND DRUM & BASS, SAT/4 AT VICTORY HALL, SF.
When DJ Sep shines a light on something, make sure to pay attention. The bat signal is no joke. If you're unfamiliar with DJ Sep, the influential figure in dub, reggae, dancehall, bass, jungle/DnB, Afrobeats, and more, then you must have been living under a rock that's even more washed than you are.
Rhythmic Remedies, a DJ collective based in the Bay Area, is hosting an incredible night of jungle and drum & bass at the newish Victory Hall club on 360 Ritch Street. DJs Duchess (Church of Drum & Bass), Olly, Sep, MF Mama, and Ada Lovebass will be there, with Corrine on the mic as well.
For those who are aware, drum & bass is experiencing a resurgence, but for those who never lost faith, it never went away. Don't miss out on this event—make it your top priority for the weekend. Get your tickets here.
APHROSE, ROSES (LRK)
"Ain't a thing holding us down, babe," sings Toronto's Aphrose (also known as Joanna Mohammed), making you wonder where our talented R&B singers from up north have been hiding. On the "smell good, feel better" chest-out soulful glider "Yaya," with slick bass lines and proper keyboard inflections, Aphrose's heartfelt singing gives you faith that straight-ahead soulful bumpers are not a thing of the past, just arrangements that not everybody gets right. Aphrose seems to have it all sorted, blending neo-soul, traditional soul, hip-hop, and R&B on her sophomore album Roses.
Pick it up here.
ARETHA FRANKLIN, A PORTRAIT OF THE QUEEN—1970-1974 (BMG)
I think we can all agree that Cynthia Erivo's portrayal of Aretha Franklin in the National Geographic Genius: Aretha mini-series from 2021 was a personal and nuanced portrayal of grace, born out of humility. Properly putting into context Franklin's award-winning compositional skills, being a gospel prodigy, and continually an outspoken Civil Rights and women's rights champion. Aretha's story is not an easy one.
It chronicles Black Americans' reaction to America and not the idealized version.
Like Aretha in the flesh, the real everyday America.
Despite the show occasionally falling into hackneyed melodrama, Erivo rises above the tropes and keeps us engaged. Regardless of the character's setbacks, Erivo navigates through the soap opera banality with the poise of a movie star, reminding us that the Queen of Soul was as strong as steel when she needed to be.
It was recently announced that a new box set, titled A Portrait of the Queen—1970-1974, will be released on December 1 by BMG. This box set will collect her early 1970s work including five albums: This Girl's in Love With You (1970), Spirit in the Dark (1970), Young, Gifted and Black (1972), Hey Now Hey (The Other Side of the Sky) (1973), and Let Me in Your Life (1974).
Additionally, the collection features 11 bonus songs and rarities. This remarkable compilation showcases her evolution as a full band leader, effortlessly covering songs by contemporary pop stars with enlightened inflection such as Dusty Springfield, The Beatles, The Band, and even outlasting Al Green, while also delivering soulful tracks that would define her career.
While rock journalists often discuss the James Brown sweet spot from 1968 to 1974 and Stevie Wonder's dominance in the '70s, it is important to note that Aretha Franklin was at the top of her game in the early 1970s too. Despite grieving the loss of her personal friend, Rev Dr Martin Luther King Jr, in 1968, she embarked on a prolific run where she could do no wrong. This box set captures some of that early 70s magic.
Pre-order here.
FRANCK MARTIN, JE ME SOUVIENS (PEACHYMANGO)
"Do you want to experience the sound of memories? Do you want to immerse yourself in a sonic journey that evokes emotions of nostalgia, sadness, and wonder?" This is the opening statement of an email sent to me by Franck Martin, a local modular synthesizer expert who hosts a monthly electronic music showcase at Noisebridge in the Mission every fourth Thursday. Born in France, his compositions draw inspiration from the works of Jean-Michel Jarre, Vangelis, and Tangerine Dream.
All of these inflections run, buzz, and whirr between the earpods, interspersed with whispered phrases from the artist (who, in turn, sounds a bit like Werner Herzog I may add) on his most recent album Je me Souviens, which translates to "I remember." If you seek a soundbath for the mind and an expansion of the imagination, these drone meets spaceships lullabies and hymns are just for you.
Immerse yourself here.
DEVO 50TH ANNIVERSARY FAREWELL TOUR AT GOLDEN GATE THEATER, SUN/5
It was New Traditionalists that made me a believer.
My first time at a two-week sleepaway camp, some candy bar smuggler in my cabin would bump the bejesus outta that Devo cassette on his boombox. At first, yeah. I didn't understand. But somehow my adolescent brain figured it out. This band, perceived as dorks, had its type of poise. "The Super Thing," was so cold. The best.
It had drums like Prince, keyboard chord progressions, and basslines like Prince too. But nerds were pushin' their type of funk.
Here I am in nature, milking cows, smelling manure, every damn day, and I'm vibing to new wave, weird vocals, and that quirky bump. Shoot. This song became a gateway.
By the end of the two weeks, that cassette, we knew it all the way through, had the entire cabin hooked.
I became a fan for life.
Currently on tour in support of their new career retrospective, 50 Years of De-Evolution 1973-2023, released by Rhino Records, the unique band, who always find humor in the downward spiral of humanity, sounds kinda right for the wrong in 2023.
Mark Mothersbaugh, the band's forever leader and soundtrack composer of the animated series "Rugrats," recently shared his experience of being on tour in Europe with Variety:
"I enjoyed doing the European shows. It reminded me enough of the old days that it was fun. And I mean, we don't look the same. But when I was a kid, I loved to go see Hound Dog Taylor and different old blues players. And you'd look at their album covers and then you'd see them in person and you'd go, 'Whoa, that's pretty hardcore.' Like, 'Oh, wait a minute, that was 15 years ago or 20 years ago when the album came out.' And so now you see kids in the audience give you looks like that. They're looking and they're going, 'Wait a minute, what's this? He didn't have that on the Freedom of Choice cover.' And you just give them a scowl and scare them a little bit."
Devo's music has always celebrated being non-members, approaching topics from the geek-rebel perspective, allowing synths to pave"new ideas, stupid moves" through bizarre tales.
It's no coincidence that the Flaming Lips took the already anthemic "Gates of Steel" and made it a centerpiece in their live show.
Devo's November 14th show at Golden Gate Theater sold out immediately, leading to the addition of a November 5th show. Witness Devo's legacy. Grab tix here.