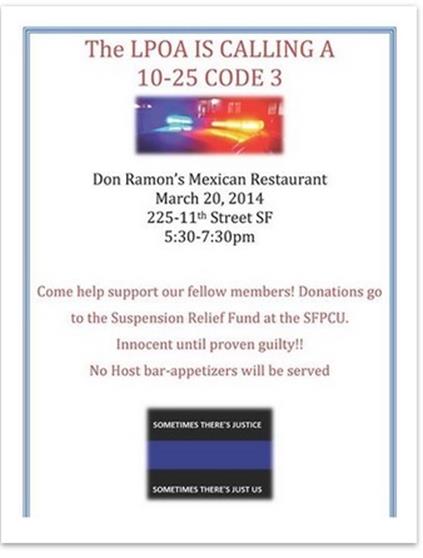 By Tim Redmond

Oh, what fun to see the Police Officers Association sending out a solicitation that ends with the phrase: "Innocent until proven guilty."
I'm a big fan of that particular part of the US Constitution. But the cops … well, the members of the SFPD, like most police officers, don't always tend to think that way. It's their job to assume guilt, to make arrests and push prosecution. Except when one of their own is in trouble.
The POA is helping raise money for the five cops who are in serious trouble and face federal charges of extortion and drug dealing. That's what a union does, of course, and the outrage over a union coming to the legal defense of its members suggests a lack of familiarity with how the POA works. The group helps pretty much all cops accused of pretty much anything.
And I agree that the officers (like all suspects in criminal cases) are innocent until proven guilty. But I'd like to take that party invite and carry copies around to hand out every time I see a cop treating a suspect like he or she has already been convicted of a crime.
State Senator Leland Yee had the support of the Political Action Committee of the Harvey Milk LGBT Club as of March 15. Three days later, the full club refused to endorse him for the next job he's seeking, secretary of state.
What happened? Was it the fact that everything in San Francisco is about tenants these days, and Yee has been missing in action at best, and hanging with the bad guys at worst?
Well, partly. I definitely heard from some Milk members who said they couldn't support a candidate with such a spotty record on renter issues. (Although Yee, in his candidate questionnaire, did say he though the Ellis Act (while a good idea) had been abused of late.)
More significant, I'm told, was Yee's stand on affirmative action. The Chron reported March 17 that Yee was trying to stop a measure that would undo the ban on using race in college admissions in California.
And between the two issues, Yee was sunk.
Every vote at the Democratic County Central Committee on the waterfront height limit was, in a sense, a swing vote, since the measure failed to win endorsement by one vote. And among those voting against it was Assemblymember Phil Ting – who Prop. B supporters say had promised to remain neutral.
Aaron Peskin, who is a backer of the proposal to require voter approval before allowing increased height limits on the waterfront, told me that Ting had promised to do what he did on 8 Washington: Stay out of it.
I asked Ting about that, and he emailed me the following:
"Aaron and I must have had some miscommunication.  He contacted me before I had even seen the ballot measure or any language.  I did not commit to abstaining."
He and Peskin apparently have what the lawyers call "differing recollections." Here's Peskin's email exchange with the Assemblymember:
 PESKIN, MARCH 13:
I am shocked that after our conversation several weeks ago wherein you promised that you would abstain from the current waterfront height limit matter and abstain at the DCCC that you voted FOR it tonight [Eds note: He meant FOR the DCCC voting against the measure.) All you get in life and politics is your word and your honor.  Oh well.
TING, MARCH 14:
I have always appreciated our friendship over the years even when we disagree.  When we talked I told you where I was leaning and that I needed to look at the measure before making a final commitment.  If I gave you the impression that I would abstain, then I should have at least given you a heads up to let you know I was moving in a different direction.
PESKIN MARCH 15
While we have enjoyed a relationship of mutual respect over these last many years, I know, and I know that you know, that you were very clear in our conversation when you represented that you would stay out of the waterfront height limit matter. You were not "leaning" towards staying out.  I recall the conversation very clearly.  I was on my way to Reno on February 4 — the day after the initiative qualified for the ballot — when you returned my call. You said that you would stay consistent with your position on 8 Washington and would stay out. I even recall saying that given the 8 Washington vote that I hoped you would actually affirmatively support the waterfront initiative but was appreciative of your commitment to "stay out." I am disappointed that you are trying to convince yourself otherwise but agree that you should have at least had the professional and personal courtesy to give me a heads up (especially because I left you a message on your cell phone earlier on Wednesday, March 12 reconfirming our February conversation). This is not about agreeing or disagreeing.  This is about one's word and ones honor. You made a commitment and you broke it and you didn't even have the decency to tell me. As I said before, all you get in life and politics is your word and your honor.
By the way, the emails show Peskin sent Ting a copy of the measure Feb. 6.