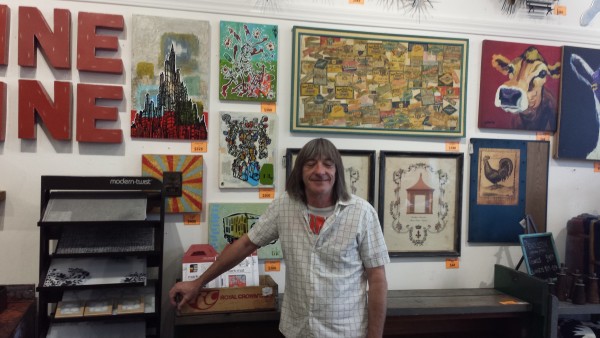 By Tim Redmond
I'm not going to cry for Wayne Whelan. He's been a very successful business owner in San Francisco; starting with $40 and one little storing selling used furniture, he's built something of a hipster empire. His company, Therapy (you know – "retail Therapy") now has 10 stores in Northern California.
It's not cheap chairs anymore, either; Therapy on Valencia is selling thousand-dollar couches. And selling a lot of them.
But after 20 years, he's shutting down his flagship Mission District store and moving the merchandise to a new place in the city of Alameda. The rent has just gone way to high.
To be very clear: This isn't the end of the world for Whelan; he's closed other stores before. He's not going broke, or facing homelessness. He'll find new slots for his current employees. He's not presenting himself in any way as a tragic case.
Still, it's something of a turning point for Valencia, a moment worth noting: When a store that sells all the stuff the new tech workers want to buy, that has been part of the fabric of the modern Valencia Street, a very successful part of a local chain, not in any way a struggling retail outlet … when Therapy can't afford the rent, is there any hope for the Mission at all?
Have we gotten to the point where the stuff that attracts the tech folks in the first place – and that's exactly what Therapy is – can't afford to stay in a strip that is becoming nothing but really expensive restaurants?
Is this out of control, or what?
Whelan's landlord wants $10,500 a month for about 1,500 square feet of space. That's and 80 percent increase over what Whelan is currently paying. It's almost downtown-level rent … at 16th and Valencia.
Right down the street, the asking price is $14,000 for 2,000 square feet. (And while Clothes Contact isn't leaving yet, no used clothing store that sells fashion by the pound can make that kind of monthly nut.)
"There aren't going to be any used clothing or furniture stores left on Valencia," Whelan told me.
Again, bittersweet: When Therapy moved to Valencia 20 years ago, he was part of a wave of low-level gentrification. "They said, 'there goes the neighborhood,' because we washed the old furniture before we sold it," he said.
Therapy evolved from a low-end kind of scruffy place to a place that catered to a new population in the Mission that could increasingly afford stuff that was bought at trade shows instead of flea markets. It's been something of an indicator species for the neighborhood.
And Whalen have profited handsomely from the changes. You could argue that he's been part of the process that has led to an absolutely brutal transformation of what was once a working-class neighborhood. He wouldn't argue with you.
But while he's opened and closed places all over the city, Valencia was special to Whelan: "I never wanted to close this store. I thought I would die in it."
Whelan told me he might be able to cover the huge rent hike – but not with his current business practices. He starts his workers at $14 an hour, well about the city's current minimum wage, and offers benefits and a matched 401 (k) plan. He donates one percent of all profits to local charities.
"I looked at the numbers, and I would be giving the landlord $850,000 for the life of the lease," he said. "I'd rather that some of that money went to my employees and to philanthropy."
The Therapy operation next door, which sells clothes and fashion stuff, is still open, for the moment, and Whelan hopes he can work out a deal with the landlord. We'll see.
But he has no illusions about what's happening: "My employees can't afford to eat lunch at any of the local places," he said.
I ride down Valencia almost every day on my bike (which I bought 15 years ago at Valencia Cyclery, which owns its building so should be okay). I've been watching the transformation for years (although, as Al Stewart, who maybe nobody under 40 has ever heard of, wrote, "you never seen the change from day to day."
Year to year, though, you see the changes, and over the years, it's stunning.
Just for fun, I went to the San Francisco public library website, where you can find a remarkable set of volumes known as city directories.
See, once upon a time, everyone had a land-line phone, and except for a few celebrities, most of them were listed in something called a "phone book." So you could just look up a number for someone you wanted to talk to, and (before the era of voice mail and answering machines — Lord I am old) they would pick up the ringing phone and say hello.
And even before Excel, it was possible to take that data and reverse it – to get every name and address and number in the phone book, and list it by address, or by number, instead of by name. Marketers loved that. Me, too. The book that did it was called "Polk's City Directory."
Polk's City Directory for 1980 is nicely scanned at sfpl.org. It allows you to look at all the addresses on Valencia and see what was once there. Now, of course, you can do that with Google, and I hope the mapping folks are keeping archives, so that I can look back in another ten years and see how many of the current businesses on Valencia are gone.
But for the moment, going back 30 years or so, we use analog. And we find a stunningly different picture.
In 1980, Valencia Street had auto-parts stores. Lots of used appliance stores. San Francisco Club Of the Deaf. Plumbers, stationers, furnace companies, auto repair, printers. La Rondalla was there, the old La Rondalla where you drank the tequila but avoided the food. A place called "Overnight Saw Service." A sheet-metal place. Printers.
In fact, Valencia in 1980 was full of what we now call "PDR" – production, distribution, and repair. Blue-collar jobs. Stuff that we are desperately trying to save by zoning a few remaining sites in the southeast part of the city to restrict offices and condos.
And we once had it all, right in the Mission.
Neighborhoods change, and it's been a while since Valencia Street was anything but a hipster food and shopping corridor. But you have to wonder: Is this the next Union Street? (No – there's retail on Union Street. Valencia is becoming all high-end restaurants, a gourmet ghetto on steroids. There's really no comparison in the city.
Is that really what the Mission wants and needs? When did we decide that?
Don't cry for Wayne Whelan. But shed a tear, maybe, for 16th and Valencia, where the commercial gentrification is so utterly, completely explosive that even the guy who made it hipster cool can't stay anymore. Wow.